Classic Car Encyclopedia
Find everything there is to know about your favorite classic cars.
Latest Issue January 2017
6 Exotic Cars to Buy Now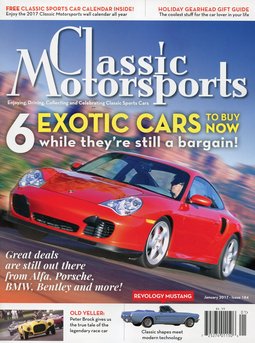 Budget Exotics: 10 classics that deliver flash and dash for not much cash.
Junkyard Dog: Buick power, boneyard parts and blue-collar charm pushed Old Yeller II ahead of its exotic rivals.
Pony Parade: We rounded up three Mustangs. Can you spot the replica?
Project Triumphant Return: Going back over our TR3's chassis.
Window Shopper: Saab 92, 93 and 96
Depreciation Station: BMW M3