Sept. 4, 2010 6:58 a.m.
I've been a longtime fan of MGAs but nice drivers that need nothing are out of my pricerange (should have purchased that nice $1500 one in 1991 I found behind a pet store).
Would this crowd be interested in a fiberglass MGA replica kitcar that dropped onto a 90-05 Miata backbone (subframes, suspension, PPF, drivetrain) with $6k base price and a $9k fully loaded price?
Just doing some market research.
Randy

Sept. 4, 2010 9:40 a.m.
I've been waiting for someone in the kit industry to make good use of the abundance of Miatas. This sounds like a good one. I'm assuming you would have a frame and seperate body in the kit, or would you go advanced and make a fiberglass unit body?Guessing a body and frame could well end up heavier than a Miata.It's been 20 years since I rode in an MGA, but could you make it with more interior room than a Miata, especially a little more length.So, have at it!
Sept. 4, 2010 9:49 a.m.
Just at the thinking stages at the moment and trying to come up with a business plan so nothing designed currently.
If I was pushed for a design I would guess a unibody. A whole tub with integrated floors and firewall that sat on the below would be my initial thought.
Would you plunk down $6k for one?

Sept. 4, 2010 2:14 p.m.
Depending on how complete the kit were and how faithful the styling was to an original MGA, I'd say "yes". I don't know how much of a market there is ,but if the price could be kept well below the ubiquitous Cobra kits you might have a chance, There'll be a significant cost in reproducing all the bolt on bits,from seats to window frames, unless it's designed to use reproduction MGA items. I imagine this will be a lot of work, but I've thought about building a kit car for years, but don't want a Cobra because they're so common.

Sept. 4, 2010 9:51 p.m.
Honestly, if I were going Miata drivetrain I'd just buy a used Miata. I don't think the MGA has a big enough fan base to make people want to build a kit. Nor are they really that expensive.
Cobra, Porsche 356 I can see, but MGA would be a tough sell.
Not that I'm not a fan of the MGA myself. I actually own one.

Sept. 5, 2010 4:51 a.m.
Basil Exposition wrote: I don't think the MGA has a big enough fan base to make people want to build a kit. Nor are they really that expensive.
With that in mind, it might be an idea to (re)produce something a little bit different/special, like this MGA Sebring body-style.
The Miata engine would be a nice nod to the MGA twin-cam, too. So, yes, I'd buy one, especially if you could keep it under $10K.

Sept. 6, 2010 2:19 a.m.
In reply to RandyS: If you want to reproduce a scarce and expensive British classic based on the Miata, why not do a replica of the car the Miata was intended to emulate? I'd rather see a Miata-based replica of the S2 Elan. Lotus Elans are rare, fragile, and a challenge to keep running, while a Mi-Lan could be a very robust and practical car. There was a quazi-Elan replica marketed in Europe many years ago (I think it was called the Evante) but one based on the Miata chassis would be very appealing from my point of view. -Doug
Sept. 6, 2010 5:58 a.m.
I was at the Lime Rock Vintage last weekend and saw this particular MG-based kitcar. It's a Devin. These were very popular in the 60s and were often fitted to MGAs (although I'm pretty sure this one is fitted to an MG-TD or TF chassis).
All my photos from the weekend can be seen ~HERE~.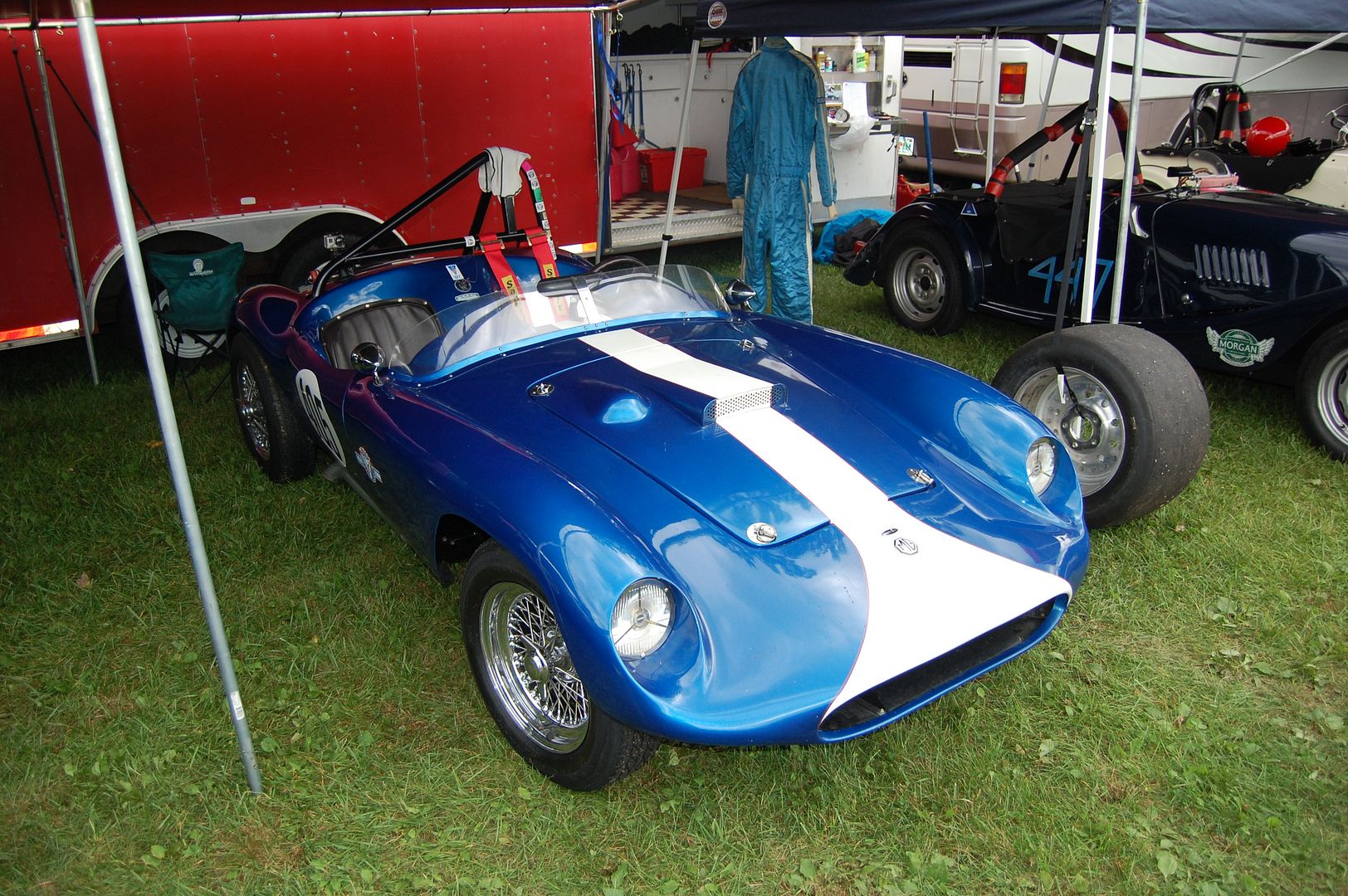 Sept. 6, 2010 10:01 a.m.
Id rather have a car that was of orginal design, maybe that was inspired by the sports racers of the late 50s and early 60s over an MGA repoduction.
Id rather tell people that the car was a "homebuilt" rather than a "reproduction" Also with an orginal design, the builder would be free to add or change what ever he wished.
There was a guy selling Fury kit cars at Carlisle the last few years...His demo had some fancy modern F1 style all in one speedo/tach. When I looked the cockpit, all I could invision was Smiths.
I for one would feel bound by orginality if I did a repo of a "real" car, in which case, I would more than likely come out ahead if I were to simply buy a real one.
Leo
Sept. 7, 2010 9:06 a.m.
There are lots of panels that dress up Miatas and you could do something to emulate another design but basically just stick-on or bolt on.
Would I want one? no, I like the Miata design as it is and MGA copy might look awkward like many kits. I would also consider a different base like some sedan the way VW's were used. This way you are upgrading something plain into something fancy. You will be stuck with FWD but a Honda Civic could be a fine starting point . Cheers Ron

Sept. 7, 2010 12:20 p.m.
In a word no. $6k for a kit; $9k finished, for an MGA replica, no. Not unusual, not unique, a pain to register and insure....no.
You'll need to log in to post.
Also on Classic Motorsports

Birthdays