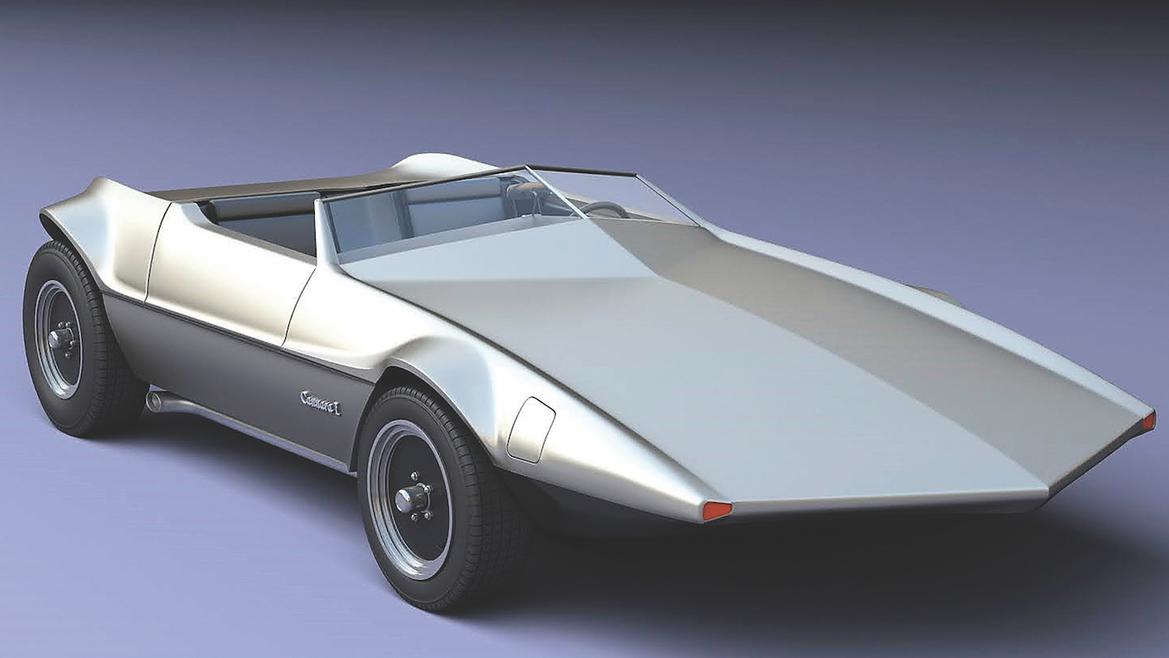 Guy Dirkin, a lifelong gearhead from Clermont, Florida, who owns three fiberglass specials (down from four), believes these cars appeal to the enthusiast who is looking for something different. When he bought his Victress S-1A, he knew little of its history but considered it an affordable beauty.
"Its lines remind me of the 1939 BMW 328 Mille Miglia Bugelfalte," he says, "which sold a few years ago for $5.4 million." Just as he closed the deal, Geoff Hacker called him with a research update. Turns out this example had been built in 1953 by Fred Bodley, technical editor for Motor Trend, and period pictures show it displayed in the showroom of the Motor Trend Building in Los Angeles.
After passing through several owners and decades of abuse, the car was in rough shape. Guy decided it deserved a complete restoration. Undiscovered Classics tracked down its second owner, and 97-year-old Chuck Glover helped with the research.
Today, it looks exactly as it did when Fred Bodley finished it in 1953, down to the almost-unobtainium Studebaker hubcaps. The Victress sits on a modified Ford frame and is powered by a Ford flathead V8. "This car," Guy says, "is a strong representative of the early postwar sports car era. Its history is an added benefit."
Guy's collection includes a 1956 Byers SR-100, its flowing lines uninterrupted by doors, that was built in 1956. Today an estimated 10 survive. This one underwent a frame-up restoration, sits on a modified 1949 Ford chassis, and is powered by a 265-cubic-inch Chevy hooked to a Muncie four-speed.
Guy originally built it to vintage race, but it turned out so well he chose not to risk a chance encounter on the track, preferring his ex-Kelly American Challenge Cutlass for SCCA and SVRA competition. The Byers car has been showcased in several concours, won an award at Amelia Island in 2010, and was featured in the 2015 Amelia Island Concours show program as a prime example of 1950s glass creations.
Guy also owns the Cannera currently under restoration. "I bought it because I thought it would be a fun, relatively quick restoration," he says. "However, when we reviewed wedge car history, we discovered this car was an early design anchor. So we are getting a lot of expert attention."
He and Geoff performed an extensive review and were unable to find any earlier car that displayed the purity of the wedge silhouette conceived and executed by Ray Cannera–extraordinary work for a 17-year-old designer.
Raffi Minisian, a design analyst, Art Center graduate and Pebble Beach judge, wrote: "What is more and more apparent is that this design is clearly one of the earliest of its type." Another element that drew Guy to the car is the highly styled interior, which features contrasting curves and a finished look not often seen in hand-crafted cars of the era.
Guy believes that Undiscovered Classics' research into these hand-built specials provides a framework that highlights a significant aspect of automotive history. "The cars and stories of Geoff's focus may well be of interest to a broader base of autophiles," he says. "Timing is everything. Years ago, when Geoff started his research, a surprising number of players from the early '50s were still alive. He assembled and documented information from them that would most likely have been permanently lost."