Story by Steven Cole Smith • Photography Courtesy FCA Unless Otherwise Credited
In a compelling example of why we need to be careful what we wish for, in 1992 I wished for a new Dodge Viper RT/10 press car. I'd been drooling over the Viper since it debuted in 1989 as a concept, and I had to be among the first to put some serious miles on one.
And there it was! Red, thoughtfully equipped with–a radio. Plastic side curtains. And a snap-on vinyl contraption that ostensibly covered the targa-like opening at the top.
The next day, a Saturday, my wife and I left on a 1000-mile round trip from Texas to Arkansas. It'll be fun, honey! We'll be like the pioneers, who also didn't have real windows, air conditioning, air bags, antilock brakes, or enough room in the cockpit for a pack of throat lozenges.
Top? We don't need no stinkin' top! Cram that black vinyl contraption in the trunk! Yes, it's summer, and sure, the 8.0-liter, 400-horsepower V10 and the side exhausts generate more heat than a blast furnace, but remember what President Richard M. Nixon once said: "The toughest steel is forged in the hottest fire!" We'll be like tough steel.
Off we went. Learned a few things quickly. We would have drawn far less attention from other motorists, and cops, had we been driving the Wienermobile. Which, incidentally, is air-conditioned. And a less expected revelation: Turns out the Dodge Viper is America's official supercar! Truck drivers, whose resentment for brands like Ferrari is palpable, honk and give Vipers a thumbs-up. People at gas stations, who would only gaze from afar at your Lamborghini, will walk right up to your Viper, grinning, asking to sit behind the wheel, imagining what color they'd choose if the lottery ticket they just bought pays off. True in 1992, true right up until they built the last Viper in August 2017.
We actually made it past the Arkansas border, parboiled despite liberal applications of 300 SPF sunscreen. We stopped at a McDonalds, ate, hosted the obligatory question-and-answer session, then tried to figure out how the vinyl top worked. Rumors that it was designed by Will Shortz, now the editor of The New York Times Sunday crossword puzzle, were never confirmed, but Shortz on his best day could never exceed the unnecessary complexity of that top.
We finally solved the puzzle, hopped in, turned the key, and–nothing. Not even a click. There we were in East Jesus, Arkansas, on a Saturday afternoon, in a broken supercar. I went through the motions of calling the local Dodge dealer, and the final revelation of the day: The only mechanic for a hundred miles who had been trained at the official Dodge Fix-A-Viper school was there and, moments later, on his way, delighted as a first-year intern to have an actual patient to operate on.
The good news: He quickly diagnosed the problem. The switch that prevented you from starting the car without pushing in the clutch was preventing us from starting it, ever. He bypassed it, and the Viper cranked right up.
The bad news: The switch was apparently available only from penguins that live in Antarctica, and they were closed today. "If you turn it off, it probably won't start again, soooo…."
So we turned around and drove back to Texas. Gassed up with the engine running. Twice. Made it home, parked it, and loaded up my other press car–a leftover Peugeot. The ignominy! After all, Dallas was perhaps the lone bright spot in the brand's waning days in the U.S., thanks to an aggressive campaign by the dealership's sales manager, who happened to be the stepfather of Robert Matthew Van Winkle, better known–or is he?–as rapper/home improvement specialist Vanilla Ice. You can't make this stuff up!
The Peugeot made it fine, thanks. But despite the heartbreak and sunburn, I fell for that Viper, which I imagine must be like falling in love with a bipolar porn star. Fun, not fun, really not fun.
Beyond interest in the model for its historical significance, which we're happy to see recognized, it's likely that many of you share my moth-to-flame fascination with the Viper. Here's a primer to help you shop those dreams.
Viper Realities
So you want a Dodge Viper? Then you have a decision to make–there were, after all, five generations offered between 1992 and 2017.
We're going to assume that you want a Viper to drive, not one to babysit while you hope that it appreciates enough to fund your retirement, so we enlisted the help of a couple of proper experts.
IMSA WeatherTech SportsCar Championship driver Ben Keating raced Vipers for years and owns Viperexchange.com in Texas, which was the world's largest Viper dealer. The store now specializes in all types of luxury and performance cars, "but Vipers still account for more than half of our sales," Keating says.
The other pro, Erich Heuschele, is currently the Manager of SRT Vehicle Dynamics at Fiat Chrysler Automobiles, but he worked as an engineer for years on the Viper. He also drove one to an SCCA National Championship in 1998.
We were looking for three Viper models to choose from, and between our experts and the Classic Motorsports staff, the first two were easy choices: The brutal, bare-bones RT/10 from the first-generation, 1992–1995 models, and we all agreed the second selection would be a GTS, the hardtop model that debuted in 1996 alongside a predominantly carryover RT/10. The GTS received incremental improvements until the close of the second-generation era, which ended with the 2002 model year.
The third choice? Kind of a wild card. Not surprisingly, Keating and Heuschele agreed that the fifth-and-final generation Viper ACR Extreme was their all-time favorite model. The fifth-generation model, following a lengthy production hiatus, began with the 2013 SRT Viper. Despite the car's undeniable charms, Viper sales sagged, and the Conner Avenue Assembly Plant in Detroit was closed for good on August 31, 2017.
Need more information to make your choice? Following are full details on each model on our list.
1992-'95 Dodge Viper RT/10
"A pure, kind of Cobra-like experience," Heuschele said. And it's also, by far, the easiest entry into Viper ownership, even though production was moderately limited. As Chrysler President Bob Lutz said as the car was introduced: "We want to keep the vehicle extremely scarce. The worst thing that could happen is for five Vipers to be parked at the Dodge dealer with numbers on the windshield."
Despite an introductory price of about $50,000, a nice example of generation one is worth about half that much now. Checking Viper sales on Bring a Trailer reveals that about $26,000 will get you a nice low-mileage Viper RT/10–one reason being that most RT/10s of that era are relatively low-mileage because you really have to be a dedicated Viperist to use it as a daily driver.
That said, the first-gen, 400-horsepower models still are, according to Heuschele, very representative of the Viper spirit, even when compared to the much newer ones. That is, if you keep the engine under 4000 rpm. The massive 465 lb.-ft. of torque makes for an invigorating launch, and since the car would lope along at 130 mph in sixth gear at about 2400 rpm, you can have a lot of fun under 4000 rpm.
How much fun? Find out: A red 1993 roadster with 18,000 miles and minor wear and tear sold via Bring a Trailer for $26,250 last July. Several more RT/10s sold on BaT in the past year for $26,000 to $27,000. Is this the bottom of the Viper market? Hard to imagine that a genuinely nice RT/10 will regularly dip much under $25,000, and it may be the cheapest way available to guarantee that valets will park your car out front.
1996–2002 Dodge Viper GTS

Photography Credit: David S. Wallens
Add a real top to the Viper, and the GTS was suddenly a livable car that bore a resemblance to the Shelby Cobra Daytona. The second-gen models, Heuschele says, "lost a lot of weight," thanks to an increased use of aluminum. "No more Dakota control arms."
The 1996 GTS had 450 horsepower, air conditioning, airbags and power windows. Then as now, the GTS cost more than the RT/10, which didn't get the 450-horse upgrade until a year later. The GTS "had a low beltline, so it's easy to see out of," Heuschle said. "And with the new suspension, it actually rides pretty well."
Keating agrees that any nice GTS is a solid buy, but he steered us toward the 2001 and 2002 models. "Those were the first two years the car came with antilock brakes," he says. "It probably depends on how you plan to drive the car, but from my perspective, ABS really helps that car, especially if you plan to take it on the track."
Bring a Trailer lists a rare Viper Race Yellow 2001 GTS with 8175 miles that sold for $48,500 last January, which we'd suggest was a very good buy.
2016-'17 Dodge Viper ACR Extreme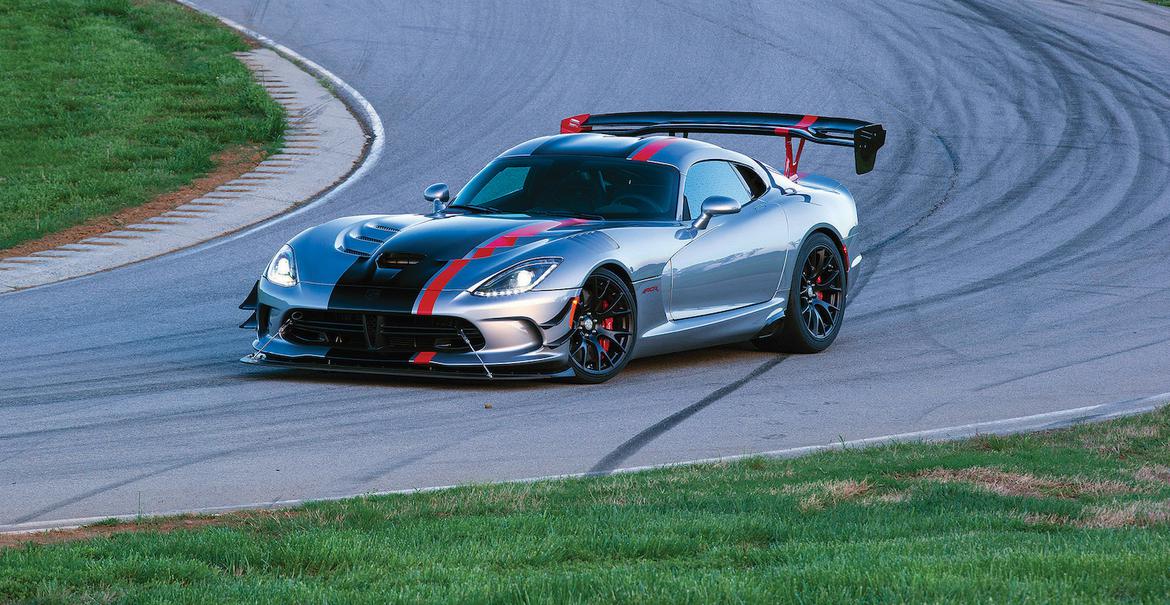 Seldom has a car's name telegraphed what it is more accurately than the ACR Extreme. Any Dodge ACR-labeled product, beginning with the Neon–the car that Heuschele drove to his first SCCA national championship–is fun, but taken to the extreme, or Extreme, it's, well, outrageous.
This one's 8.4-liter V10 pumps out a beefy 650 horsepower and 600 lb.-ft. of torque. Kumho, at the time not known for supplying the rubber for high-performance OEM cars, wanted this assignment badly and went after it, delivering some massive, very sticky tires, perfectly matched to carbon ceramic brakes that could haul down an out-of-control 18-wheeler.
But what made the Extreme so extreme was the aerodynamics. The ACR delivered some massive downforce with its own big wing and splitters, but the Extreme took it to a level not seen before or since on a street car that, to the uninitiated, probably looks like a Pep Boys test mule. The Extreme's aero package–which included an upsized wing, lengthened splitter, added-on dive planes and removable hood louvers–produced, according to Chrysler, nearly 2000 pounds of downforce and a "sustainable 1.5g cornering during high-speed turns."
This extra aero really worked on the track, something we experienced during testing at Virginia International Raceway. This is a race car that somehow qualifies for license plates. The $123,000 buy-in may have seemed ambitious, but compare the performance and price to the least expensive Ferrari or Lamborghini, and suddenly it looks like a steal.
And now, if you can find one that has been cared for, it's still–well, Extreme says it all.
"It's just the most outrageous car out there," Keating says. "And despite the fact that it has all the creature comforts, I almost see it as the spiritual successor to that original 1992 Viper. It's as crazy in its own way as that car was when it was introduced."
When it came to aerodynamics, "We broke some new ground," Heuschle says. And he loves that 8.4-liter engine, which was introduced in the fourth-generation car and was available even then with 600 horsepower. He was part of the test team that logged more than a thousand durability test laps around Nelson Ledges in Ohio. "The acceleration was like going into warp drive between Turns 2 and 3. Just as exciting on lap 1000 as it was on lap one."
There aren't a lot of ACR Extremes on the market, but Bring a Trailer's results show a handsome, heavily optioned 2016 model with 4500 miles that went for $112,500 last March. That car, according to the seller, spent much of its life on the track (as if the Hoosier race tires on the front weren't an indication), and suffered some apparently minor damage in an accident that appeared to have been properly repaired. We'd say well bought, and it's unlikely you'll find a solid Extreme any cheaper.
Comments
View comments on the CMS forums
You'll need to log in to post. Log in