Forgotten Fiberglass
Written by The Staff of Motorsport Marketing
From the March 2015 issue
Posted in Features
Story by Myles Kornblatt • Images courtesy the manufacturers
Fiberglass kit cars of the 1950s and '60s hail from an era when daydreams could be affordably molded into reality. Many of them emerged from underdog companies looking to strike it rich by mixing inexpensive, mass-produced parts into a winning sports car recipe.
Those who got it right attracted racers and enthusiasts who couldn't afford the true exotics. These owners were willing to put in the sweat equity at home to build and refine these creations.
Fiberglass-reinforced resin was the key ingredient of this new movement in car making. When it first appeared on the scene, it not only gave large companies like Chevrolet and Studebaker a new medium to sculpt, but it also allowed much smaller factories to make bodies–and even complete cars–in a space no larger than a suburban garage.
This sparked a small revolution in the industry, the likes of which hadn't been seen since the Brass Era. A surge of fledgling manufacturers entered the ring, armed with new technology and an enticing selling point: Their products could make exotic dreams come true for commuter-car money.
Today, the same holds true. Sure, some of these kit cars have achieved true collector status–Hagerty's value guide says that a V8-powered Devin SS is now worth about $200,000. But the rest of the field is still as affordable as ever.
Case in point: our own limited-run fiberglass special, a 1958 Tornado Typhoon. We're restoring and preparing the roadster for this year's Amelia Island show field, but the project is only going to cost us rubber-bumper MGB money.
Britannia Leads the Way
England laid the groundwork for fiberglass and kit sports cars as early as 1939. This was the first year of the 750 Motor Club–the name is a reference to the engine capacity of the Austin Seven.
"The Seven was cheap and readily available, and one-off specials were built using its running gear," explains Richard Heseltine. He knows this industry well, and his book, "Specialist Sports Cars: The Good, the Bad and the Ugly From a Very British Breed" outlines the U.K. companies that chased a dream with very few resources.
"The 750MC became sort of a finishing school for budding designers, with the likes of Lotus's Colin Chapman and Lola founder Eric Broadley among its leading lights in the '50s," he continues. "From this grew a tuning industry, with the 1172cc Ford side-valve fours eventually finding favor. The manufacture of glassfibre body shells was a natural progression."
If that engine-and-body combination sounds familiar, it's what powers our Tornado Typhoon. This roadster is just one in a long list of cool, small-batch fiberglass cars that never really left England in any organized manner. A visit to eBay's U.K. site can turn up a few of these rare, nearly anonymous gems. Cars with names like Unipower, Piper and Rochdale can still be affordable after shipping and make for a truly unique sight on American roads.
But be warned: Cars built from whatever was lying around don't always come with manuals to explain them. If one of these imports needs work, discovering the hodgepodge of parts that formed it may remind you of an autopsy on "CSI."
There is a slightly easier route to a British sport special: Go after the cars that made enough of a splash in the U.K. that the ripples were felt on this side of the Atlantic. A Lotus is an obvious choice, but there are also candidates from companies like Marcos, Peerless and Elva. They all made the trip over by the handful.
They still pop up for sale in the U.S. at affordable prices. A rolling, complete 1958 Peerless GT–one of maybe 325 examples built–recently sold on wirewheel.com for about $10,000. While all these cars look like a lot of fun, they were products of an unstable industry that was ripe for mass manufacturing to knock it out. Even the ones that came fully assembled could be quite crude.
"What did in the DIY sports car was the arrival of the Austin- Healey Sprite and the Mini," says Heseltine, referring to 1960s England. "Finance was now readily available, and a leaky home-built contraption suddenly didn't seem too appealing. So demand for specials petered out remarkably quickly."
The situation was not much better in the U.S. Although donor components from mainstream manufacturers meant replacement parts were available, dealer networks for these low-volume brands were nearly nonexistent. This made the cars a tough sell for companies like Marcos, whose 3.0-liter offerings cost as much as a Corvette.
TVR had its own strategy for weathering the storm. The marque teamed with New York-area Ford dealer Jack Griffith to create a V8-powered car in the vein of Shelby's Cobra. Unfortunately, a shipping dock strike delayed the car bodies, which stalled payments to TVR. This sunk the entire cash-strapped company, but not all was lost. When the TVR name emerged from liquidation, the Ford V8 remained a popular feature. This wasn't the only fiberglass-related flirtation between Europe and America.
The Americas Rework Europe
Volkswagens may have come from Germany, but North and South America took full advantage of what could be built from humble Beetle origins. The original VW floor pan has been the base for a range of replica kit cars–from nearly perfect Porsche Speedster imposters to oddly proportioned Mercedes-Benz SSKs–but there were also some unique creations. While the Meyers Manx and dune buggy clones are the easiest to find, the real prizes are the ones like the Puma.
Brazil's high import taxes meant that performance cars were homegrown. So when Puma's supply of DKW parts dried up in 1967, their fiberglass sports car was reconfigured to accept the widely available VW components. This created a winning formula that was in production for nearly two decades.
The South American cars had an Italian flavor: a coupe that resembled a Dino, and a droptop that could have fit in at Alfa Romeo. The attractive design did not go unnoticed farther north, as a few thousand examples entered the U.S.–both as complete cars and as kits that needed suspension and engine components.
Today, Pumas are genuinely desirable thanks to somewhat low production numbers, classically attractive styling, and a powerplant that's simple to fix and inexpensive to upgrade. Still, the real kicker is the pricing. In today's market, these lightweights struggle to command Miata money.
For those who were more serious about taking their VW power to the track, there were the American-made Devins. Bill Devin took the components of the Beetle and reworked them with a new suspension and a lightweight fiberglass body, creating a fleet of Porsche-killers. He built complete competition cars using a variety of components, from two-cylinder Panhards to Corvette V8s. But that's not what made him a legend.
Devin's California shop had 27 sizes of Ferrari-like roadster fiberglass shells to fit nearly every sports chassis available. Complete bodies cost $295–remember, we're talking 1957 dollars–while versions missing only a drivetrain and wheels retailed for just $995.
Devin quickly became the first name in do-it-yourself kit cars in America. These attractive and affordable fiberglass creations were the go-to option for racers looking to shed weight, build performance, or just salvage a damaged sports car. So while Devin is a very American company, the name was often seen together with the ideal European machines of the day, such as MGs, Triumphs and Fiats.
Devin was far from alone in America during the 1950s and '60s. Fiberglass car bodies took the West Coast by storm, as everyone from the local custom shop to resin/plastics mass manufacturers got into the game.
Glasspar used its knowledge of boat making to become one of the first producers of kit cars in the industry, while toymaker AMT used its experience in making model kits to produce a futuristic machine called the Piranha. In the '60s, you couldn't open a car magazine without seeing a Fiberfab ad.
Canada even tried to enter the scene near the industry's twilight. Years before the infamous Bricklin SV-1 came to be, there was another fiberglass creation called the Manic GT. The Renault 10 was the basis for this small, Quebec-built coupe. The bad news is that only 160 were produced from 1969 to 1971, but for those who can locate one, the good news is that the whole car costs about as much as one service bill on an Italian exotic.
Few Surviving Names
If there is one recurring theme here, it's that very few of these companies–whether they produced whole vehicles or just bodies–survived the last quarter-century. Safety regulations, unibody construction and miles of electrical wiring make it nearly impossible for a modern chassis to accept a new shell. A few of the classic names endure, but the spirit of the movement seems to be gone. "Those [British] companies that survived did so by moving upmarket and attempting to offer something mainstream manufacturers did not," Heseltine explains.
Lotus still produces some interesting (and expensive) cars from fiberglass, but their affordable kits went to Caterham. TVR teases us with the occasional glimmer of hope for a new car, but nothing has hit the road for years. Ginetta continues to race in the U.S., but getting a road car kit imported is a bit pricy and tough. Plus, today's home market is often more about building Cobra replicas or turning Fieros into Ferraris.
It seems the classic car world is where these low-volume fiberglass and kit cars really continue to live. Although most companies only produced cars by the handful, there are still plenty of examples out there.
The simple angles and fiberglass construction make restoring one of them a less scary home project than trying to recreate a tailfin or repair the fenders on a Jaguar. As we're learning with our Tornado, the terms "precision" and "1950s fiberglass" should not be used together.
These unique classics tend to take less time, money and materials to maintain than just about any other type of vintage car. Basically, these specialist sports cars are like intramural sports: Anyone can play.
Reader comments:

July 26, 2017 10:56 a.m.
I'm a fan - own or have owned Jensens (which didn't get a mention), TVR, Buckler and my American bodied MG http://www.rhodo.citymax.com/f/Jamaican_Article.pdf
July 26, 2017 12:20 p.m.
We've got a Marcos 1600GT in the shop at the moment.
Aug. 9, 2017 10:47 a.m.
I know everything about fiberglass from my 1954 Motor Trend Manual of Building Plastic Cars.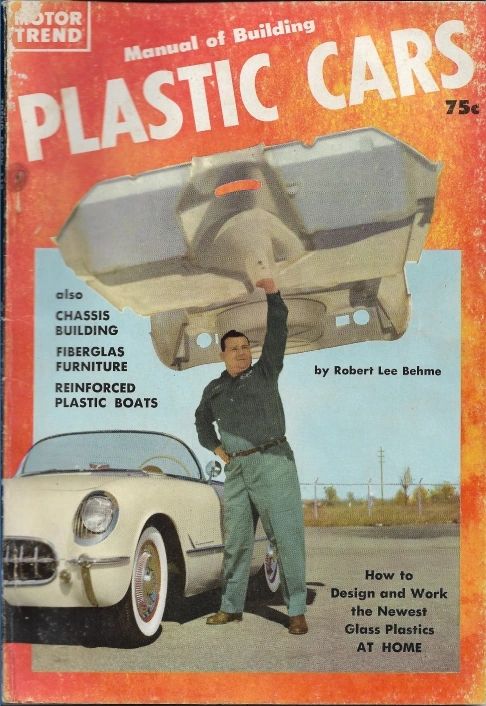 You'll need to log in to post.