One of the big stories surrounding the new Mercedes-AMG CLS 53 is the triumphant return of the inline six-cylinder, an engine not seen in a U.S. Mercedes passenger vehicle since 1999–exactly 20 years. Don't get us wrong: There's absolutely nothing inferior about a V6. We just find ourselves preferring the beautiful baritone only an inline-six can muster. (The dulcet notes of an inline-eight might be better still, but don't expect those to make a comeback.)
So why the return of the inline-six? It's inherently smooth–cylinders one and six, two and five, and three and four all mirror each other–but the real impetus may be the fact that it shares the same general shape as an inline-four, thus removing the need to totally reengineer an engine bay for a V6, especially at a time when so few manufacturers are offering V8 options.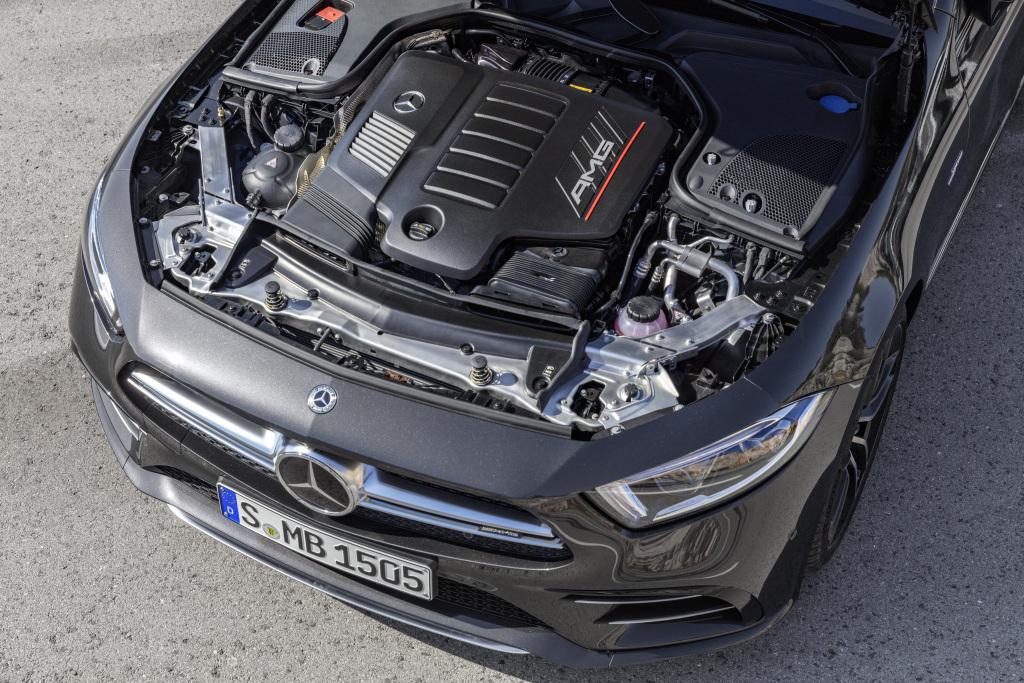 The other big story of the CLS 53 powertrain has to do with what Mercedes calls the "electric auxiliary compressor."
From Mercedes:
"The six-cylinder inline engine generates 429 horsepower and delivers maximum torque of 384 lb.-ft. Its EQ Boost starter-alternator momentarily provides an additional 21 horsepower of output plus 184 lb.-ft. of torque and furthermore feeds the 48 V onboard electrical system….

"The EQ Boost starter-alternator combines a starter motor and alternator in a powerful electric motor and is fitted between the engine and transmission. This innovation as well as the intelligent charging via an electric auxiliary compressor and an exhaust gas turbocharger all have the same goal: to enhance the hallmark AMG performance and driving dynamics, while at the same time reducing fuel consumption and emissions."
The whole inline-six with an electric auxiliary compressor setup is new, and we're supremely curious as to whether the public will embrace the technology in lieu of a more traditional hybrid system. It absolutely fascinated us, and we found the transition with the start-stop functionality to be seamless. Let's be honest: Who doesn't want an extra 184 lb.-ft. of torque on demand? That's more total torque than many cars produced only 20 years ago.
And you can bet the CLS 53 is plenty fast, reaching 60 mph in only 4.4 seconds when burying the pedal from a dead stop. And while we can say that our recent stint in an AMG E63 S wagon spoiled us with even faster times, 4.4 seconds is still nothing to thumb your nose at.
"Who doesn't want an extra 184 lb.-ft. of torque on demand? That's more total torque than many cars produced only 20 years ago."
We really dig the front-end styling of the new CLS, especially from the driver's seat. Where other models in the Mercedes-Benz lineup might seem overly sculpted, this one looks the business. It works.
But for us, the CLS's styling has always worked. Others have tried to copy the four-door coupe, but Mercedes has always seemed in tune with just what Goldilocks was looking for. And the shooting brake version? Be still, our beating hearts. It is a shame we never got it here in the U.S., however. Worse yet, it has been canceled worldwide.
When we finally collected ourselves, stopped mashing the gas to absurdity, and really started driving the CLS 53, we quickly came to enjoy our time behind the wheel. The screen is gargantuan and really ties the design together. Luxury interiors have come a long way since the old leather-wrapped everything motif in the Lotus Espirt of yore. Simply put: This is a relaxing place to spend any amount of time, especially on scenic California roads. We won't venture to call the design timeless—that distinction goes to the W126—but we've little doubt this interior will age well.
Our time with the CLS 53 ended all too soon, but we're glad for the time we had. Mercedes-Benz is really doing a great job with its current lineup and seems to be pretty invested in new technology, including its electric auxiliary compressor. We can't wait to see where the technology ends up next.
Comments
View comments on the CMS forums
You'll need to log in to post. Log in