[Editor's note: This article originally ran in the July 2011 issue of Classic Motorsports.]
Ahh, the '60s. Those of us who have reached a certain age look back on those years with fondness. And why not? We were young. We were skinny. We had hair. We didn't wear bifocals. And after a beer or two, we could do the Twist and the Watusi. Come to think of it, there was very little we couldn't do.
We also enjoyed very cool sports cars. Four machines topped our A-list: the E-type Jag, the Corvette, the Porsche 911S and the Shelby GT350. Every time we could get our hands on one of these road-burners, we drove it like we stole it.
Back then, we sucked tanker loads of 35-cents-a-gallon, high-octane, leaded gas through those powerful engines and blew cubic tons of noxious fumes out those tailpipes. We didn't care.
We didn't know how good we had it.
Same Song, Different Verse
Although each of those popular two-seaters had obvious differences—body shape, engine size and placement, and suspension layout—each was designed to deliver maximum driving fun.
Together, they reflect the approaches automotive engineers and marketers used to woo buyers in the '60s. These approaches may be summed up in one word depending on each car's country of origin: For the Americans, that word is muscle; for the British entry, it's style; and for the German coupe, precision.
We may not have fully appreciated what we had back in the day, but there's still time to revisit those '60s all-stars and answer the important question: Are those memories as good as today's reality?
As for the particular examples we rounded up for our test day at Central Florida's Gainesville Raceway, each represents an honest driver in good health. All remain close to factory trim. We're pleased to report that we drove these cars for most of the day with no problems. Our thanks go to their owners, who were generous in sharing their valuable rides and claim they had as much fun as we did.
Whoever said you can never go home again was flat-out lying. Don your bell-bottoms, pull on that washed-out Steppenwolf T-shirt and ride along.
Monumental Mustang: 1965 Shelby GT350
Photography credit: photosbyjuha.com
For Craig Brody, who has owned this Shelby for 10 years, the 1965 GT350 represents the pinnacle of American muscle cars. Craig ought to know, since he owns Fort Lauderdale-based Investment Motorcars and makes a living buying and selling exotic cars—along with vintage guitars, but that's another story.
Both his grandfather and father were in the car business, so Craig is happily carrying on a family tradition. While he loves to sell cars, he says this particular Shelby is not for sale. "To me," he says, "Carroll Shelby is America's Enzo Ferrari. I've always been a big Shelby fan. He is the king."
Locating a suitable '65 GT350 is never easy, and Craig searched for nearly four years before he found this one, which has a documented drag strip history. Craig tracked down the former owner, who shared his racing experiences and photographs. "In 1970, it was the second-fastest E-Production drag car in the state of Florida," Craig explains. "Only the Ford factory car could beat him." After the car retired from the strip, it rested—still in its racing livery—for 20 years until a later owner restored it to stock trim.
During his ownership, Craig has rebuilt the engine (to stock specifications), detailed the undercarriage and refreshed the racing stripes. Like our other owners, he intends to keep this car factory stock.
Craig enjoys cruising in this car—along with the attention it gets—and he takes it out as often as he can. He especially loves to run it on the track. In fact, he installed a new set of tires for our event and was thrilled with the way the Shelby handled. "This car is hellacious on the track," he says. "It delivers power-slide perfection. On top of that, it's been very reliable."
Photography credits: John Webber
Road: The Shelby is the rowdiest of the bunch and requires the most driving attention, but it still loafs around when you ask it to. It has a higher seating position, plenty of legroom, and the steering wheel and shifter are perfectly placed. Great visibility, too—the better to keep this high-dollar machine away from lesser cars.
Basically, it feels and sounds like a race car, especially in 1965 trim with those side exhausts. Later ones, however, were a bit more tame on the street.
Track: We'd rank the Shelby first for track use. There is so much power, and it is so easy to drive with the throttle.
The small-block Ford responds right now and pulls like a locomotive. You can set this car up and hang it out without much fear. The brake pedal felt as hard as a rock. In our session the brakes were there if you pushed hard enough, but Craig says they pretty much go away after 30 hard minutes. No matter. Those who say this is just a Mustang have never driven a Shelby in anger.
Show Field: The Shelby exudes purpose. This fastback looks like a mean muscle machine from every angle. Thanks to the side window louver treatment, the '65 may be the best looking of the Shelbys.
If there's a downside, it's that the casual viewer might not know that this car is so special. No disrespect meant, but a garden-variety Corvette will probably turn more heads on Main Street.
Teutonic Tourer: 1967 Porsche 911S
Photography credit: photosbyjuha.com
Ken Flanagan, who lives in Orlando, says this Teutonic jewel is actually owned by his girlfriend, Cindy Uehling—and yes, that name is German. Cindy's dad owned a 356, and Ken and Cindy both loved the car's aesthetics and simplicity.
So 14 years ago they bought a rusty, unloved 911S with the wrong engine and wrong wheels. On the plus side, it retained nearly all the hard-to-find S pieces and was equipped with a very rare sunroof.
Slowly they brought this car back to life. Ken did nearly all of the work in a home garage with the tub mounted on a rotisserie. He used a paint booth at the place where he works to respray the car in Oslo Blau, a 356 color.
Ken and Cindy sent out the seats to be finished, but they did the rest of the interior themselves with a kit from Autos International. Orlando Porsche specialist Sid Collins built a correct S-type engine for the car and also went through the five-speed transaxle.
Through the years, every piece of this coupe was renewed or replaced. The suspension remains stock with adjustable Konis plus front and rear anti-roll bars. The S rides on original 15x4.5-inch Fuchs wheels shod with 165HR15 Michelin XAS tires.
During our '60s day fun, Ken rolled up more than 250 road miles, his longest trip to date, with many of those run through the rain. And since Cindy may read this, we won't mention his track time. As a tribute to their assembly skills, the 911 never uttered a protest. This pair may be amateurs, but their careful restoration work rivals that of several professional jobs we've seen.
Ken reports that he was very pleased with the way this car performed. It was only his second outing on any track in any car. He puts it this way: "At speed on the track, the car feels like it's doing what it was truly designed to do. When we finished up on the track, I definitely came in with a smile on my face."
Photography credits: John Webber
Road: We found the 911 very comfortable. The engine's rear placement keeps the heat and noise back there as well. The steering wheel location right up against the dash is a bit disconcerting for some, but through the years we have gotten used to this quirk.
The cockpit is surprisingly large, and you have a great view out of the windshield. Legroom is a bit tight for taller folks, as the huge steering wheel can crowd the right leg into the shifter. The ride is firm but does not punish, and the brakes require a hefty effort.
Track: The handling is legendary, and this well-sorted example stayed right where we put it. There was a lot of body lean, but even when driven quite hard the rear end sticks like glue.
The 911 had the most responsive steering of the group, meaning you can put this tiny car anywhere you want. We didn't push it hard enough to induce the dreaded snap oversteer, but this is a very agile car and the lightest of the four. The tighter you wind it, the better it goes.
Show Field: The 911 design certainly has stood the test of time. Could you argue that it's a bit too plain?
Either way, we love the taut, no-nonsense lines of this car. You can't mistake it for anything else. It represents the best of Teutonic precision, and this evergreen design has worked so well that the 911 still looks pretty much the same today.
Shagalicious Jaguar: 1966 Jaguar E-type
Photography credit: photosbyjuha.com
Owner Kirk F. White of New Smyrna Beach, Florida, was drawn to this Primrose roadster because of its originality. "It's had very good care," he says. "When I got it I was astonished at how well it drove, how tight it was, and how good the driveline was." Since Kirk is a dealer and collector, thousands of cars of all makes and descriptions have passed through his hands over the years.
The E-type cars remain among his favorites. Along with their stylish looks and high enjoyment factor, he thinks these cars still represent a good value. As far as repairs and upkeep, he puts it this way: "As long as you stay with the early ones, they are very straightforward as far as maintenance." Although this car has covered more than 55,000 miles, it has never been restored or modified and has undergone only routine and preventive maintenance.
Since Kirk was unable to make our test day, Harold Brandner stood in. Harold owns and operates BMC Classics in New Smyrna Beach, Florida, and performs the maintenance on Kirk's collection. Harold is also a fan of the E-type and speaks from experience, since he restores and services a variety of British cars. He told us that he loves the effortless way this machine handles a long-distance drive.
Kirk prefers the look of the coupe, but for driving, he likes the roadster. "On a day when you're going to drive a car like that, you're going to want open-air enjoyment," he explains.
Kirk observes that unlike some '60s cars, the E-type attracts younger enthusiasts. "They are finding out that these cars are glorious to drive," he says, "and are just as striking to the eye today as they were in the '60s."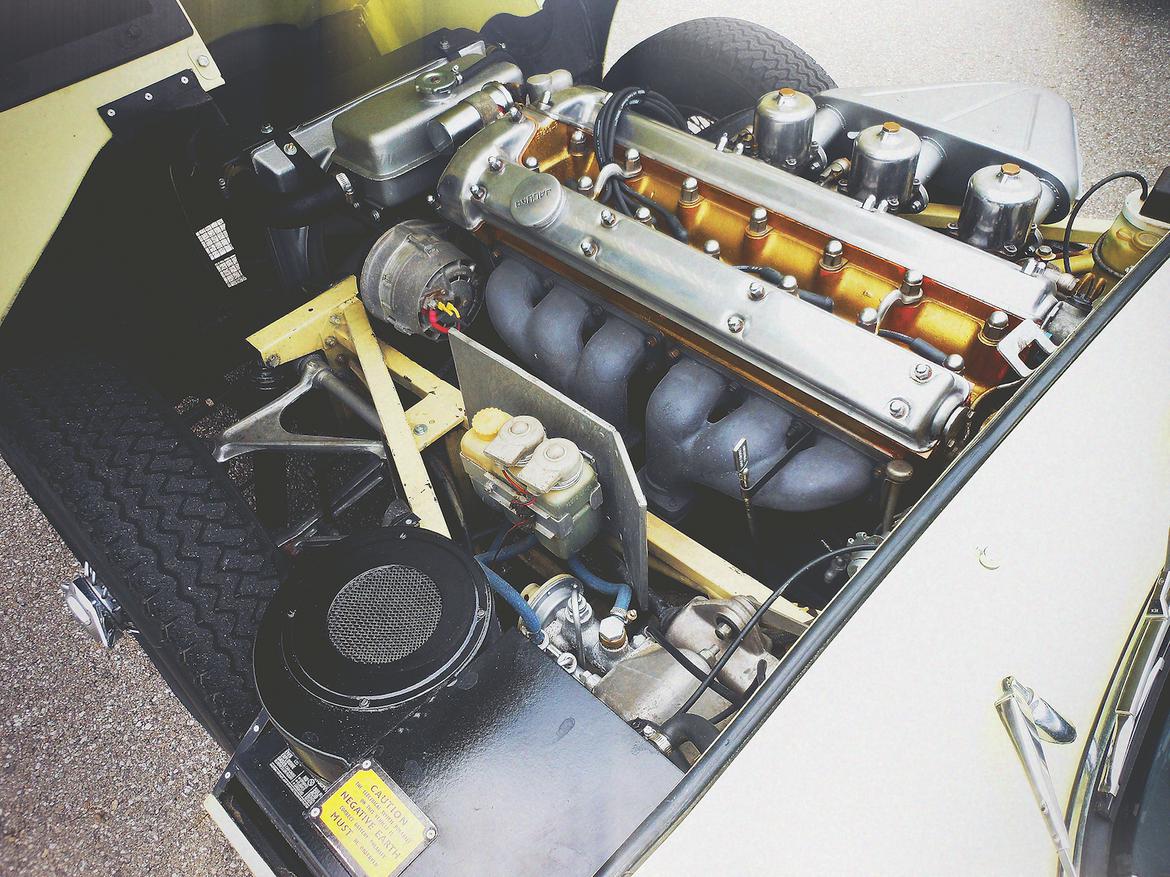 Photography credits: John Webber
Road: We'd say the E-type is more super tourer than sports car. If you want to cruise at 90 mph or so all day long, the E-type is not a bad tool to do that, even 45 years later.
However, first make sure you fit: Drivers with long legs and size-12 shoes won't be comfortable. In a machine that looks so swoopy, it's still possible to feel awkward and cramped inside. We found that the Jag was also the most difficult of the group to get into and out of due to the wide sills and narrow doors.
Track: The E-type is no slouch, but it's not very nimble in tight turns. It also has a fair amount of body roll, but the big-six really hauls. It is perhaps the best high-speed runner of the bunch.
In street trim, the Jag is not the car to throw around the track. It rolls more in the turns and protests more than the others, and the steering is a bit vague. On the plus side, the big-six offers plenty of push and sounds great.
Show Field: We'd have to rank the E-type on top in this category. Can the Museum of Modern Art in New York be wrong? They keep one on permanent display.
This beauty is more than skin deep, too. Lift the bonnet and you'll find one of the loveliest engines on the planet.
American Flyer: 1965 Chevrolet Corvette
Photography credit: photosbyjuha.com
Jere Dotten, who lives near DeLand, Florida, owns a garage full of British cars, including two Triumphs and two Jags. He bought this small-block Corvette 28 years ago. "I drove this car home," he says. "You could tell the engine was tired, but the transmission was quiet and so was the rear end."
Since then he has painted the car, rebuilt the engine and brakes, and generally kept everything fresh. Other than seals, the transmission and rear end have never been touched. He has renewed most of the rubber parts and says the body has never been off the frame.
This roadster wasn't ordered with a lot of frills, which is the way Jere likes it. "It's pretty much a stripper, with only power four-wheel disc brakes, a heater and a radio as options," he says. "No power steering and no power windows." He later bought and restored a hardtop, which he uses occasionally.
What aspect does he like best? "This car is super dependable," he says. "It starts every time. I never have to fiddle with it." The 350-horsepower, four-barrel engine provides plenty of power, and Jere says it runs cool, even in the hottest weather. He also likes the car's roomy cockpit and generous luggage space.
Jere resisted the temptation to modify this car, and it remains stock down to the wheel covers. Although he attends some shows with his British cars, he and his wife, Bonita, enjoy this roadster for relaxed cruising. They've also driven it on longer trips, including a couple of outings to the mountains of North Carolina.
"It's Bonita's favorite car because it's comfortable and has plenty of room," he says. "With any luggage, we're crammed into our Brit cars."
Photography credits: John Webber
Road: For street driving pleasure, we'd rank the Corvette first. It has the softest, most relaxed ride of the bunch. If you're looking for a roomy, comfortable, kicked-back sort of ride, the Corvette is a clear winner.
The engine puts out so much torque that you can loaf around in any gear while you're returning peoples' waves. This car shows 80,000 miles, but that Muncie still shifts like a knife through butter and the clutch and brakes work exactly the way they're supposed to.
Track: We'd have to say that this Corvette handled the worst on the track. It's the softy of the bunch.
Yes, the steering is slow and not too precise, but the power of that 327 helps make up for those flaws. Despite the soft chassis, we'd rate these boosted brakes the best of the four.
Show Field: Compared to the other three, the Corvette appears a little fussy and a bit more dated with its high-style looks. People love it, though. While we were getting gas, a guy walked right by the 911 and E-type to talk to Jere about his Corvette.
Somehow, Peter Brock's Sting Ray still tops the E-type. That crazy-cool, twin-cowl dash really puts this one over the top—but in a good way.
Something for Everyone
Folks, we're here to tell you that there is not a loser in this bunch. Many enthusiasts we know would consider a contract with the Evil One himself to house one of these machines in the garage. Age-wise, they've all reached their mid-40s, but they still look fresh and still deliver—in very different ways—the same driving thrills they did when new. Still, after getting better acquainted with each car, we had our personal preferences.
For relaxed cruising, we picked the Corvette. It's hard to beat that combination of power and comfort.
On the track, the potent Shelby gets our nod: It's a real brute.
On looks, we were split between the E-type and the Corvette, so we can call that one a draw. If we polled 10 enthusiasts, we'd probably get 10 different choices, and not one would be wrong.
The good news? These cars survived the turbulent '60s just fine, along with all the tough years that followed. In fact, they have aged much better than we have.
How do we know? Because given the opportunity, these babies can still do the Twist and the Watusi. God bless 'em.
Comments
View comments on the CMS forums
You'll need to log in to post. Log in