Well, I'm back in school to finish up my degree, and the part time job situation around here is pretty much the worst its ever been. So it's time to start letting go of the toys to pay the bills...I could use a car for the drive to school on cold winter days more than this wonderful bike. So I am willing to give it up for $2011 to GRM members, trust me, it's worth a lot more than that, or I am also willing to trade for a GRM-ish vehicle. I have an A2 VW itch these days, but also love BMWs, Saabs, the usual Japanese suspects (Miata, Z-car, GT-S, etc.)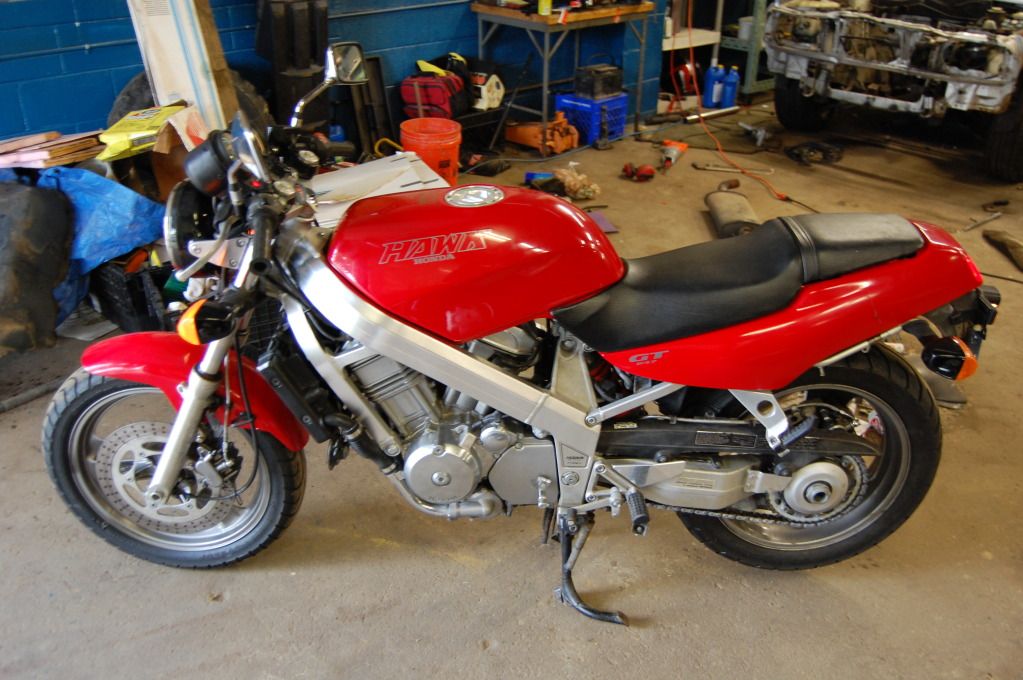 Due to financial hard times I am considering the sale of my beloved 1989 Honda Hawk GT NT650. Yep, this is the rare and infamous RC31 with the Elf Pro-Arm single sided swingarm, 647cc V-Twin, and aluminum frame. It's like a much more advanced SV650, but from 15 years earlier.
Unmolested Honda Red, the bike looks fantastic other than 1 crack in the tail section where the previous owner had a ladder fall into it. 14,xxx miles on it. Almost new Dunlop Arrowmax GT501 tires; front has about 200 miles, rear has about 1000. Goodridge braided stainless brake lines front and rear; new rear brakes this summer. Only Repsol brake fluid & synthetic oil has ever been used during my ownership. Bike has K&N pod filters and a Vance & Hines collector-back exhaust, and has been professionally re-jetted to take advantage of these. It is a VERY quick bike. I put a set of clip-ons on it, but I will include the stock bars if you find the clip-ons uncomfortable (and I will happily install them for a serious buyer with cash in hand). The only problems I can think of with the entire bike is that it will likely need a new chain next season; I adjusted it last week with the factory gauge and adjuster (complete factory tool kit & manual included) and it is just about at the "replace" mark. The previous owner also broke the kickstand, so it currently only has a center stand (never mattered to me). It still runs and rides excellent, though. Clear title as well.
I am asking $2011 FIRM TO GRM PEOPLE ONLY I ride it every day that I can, so expect the miles to keep going up. Feel free to e-mail, or call me at 414.699.9487 for a quicker response.