SOLD
1980's era LeGrand D Sports Racer chassis that was modified from it's 1000cc motorcycle engine form to hold a high performance built 2.5L Porsche 914 (type 4 VW) engine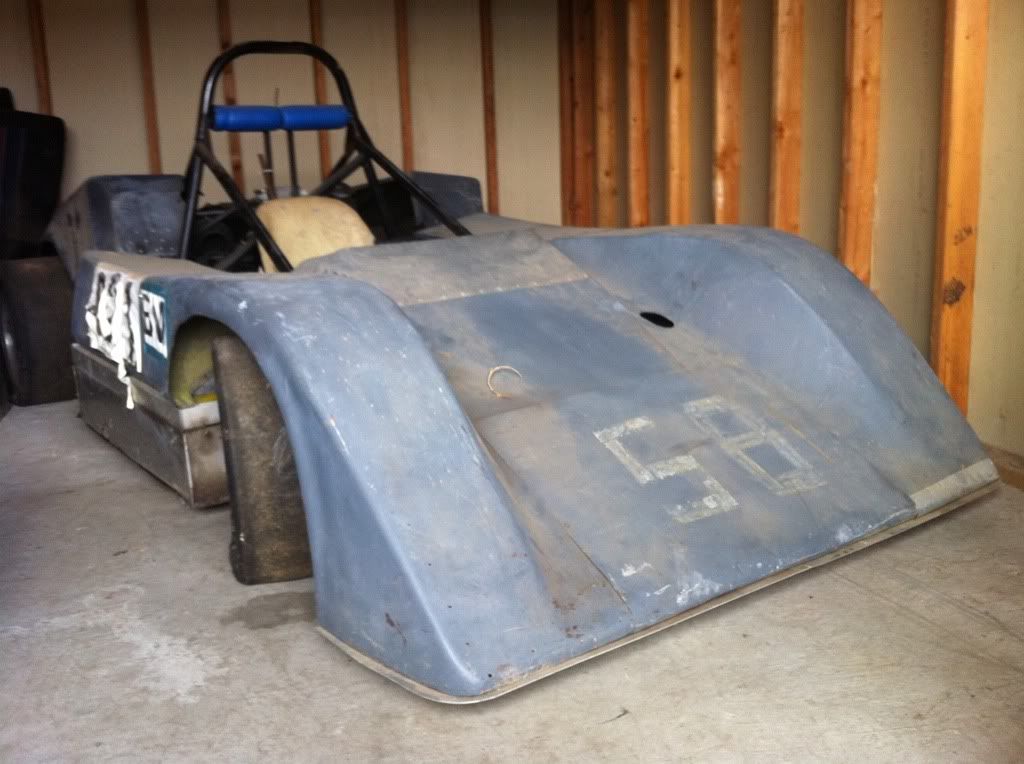 This car was modified and was raced in the B Sports Modified class at SCCA events at Qualcomm and Willow Springs. The last SCCA cert I can find for the chassis is from 1985 certifying it for full competition however it was last raced in 2004 before my uncle garaged it to redo the paint & bodywork. Illness set in and he passed away and before completing his restoration.
This car currently does not run and is not a street legal automobile chassis, it is for racing purposes only. There was never a DMV title issued, but there's a certificate of manufacture for the chassis and the SCCA chassis/car log book, that I will provide with a bill of sale.
I have the engine build sheets (blueprint & balancing) from Mark Stephens High Performance VW as well as some other receipts and technical data from the build of the car as well as an engine/chassis tuning log for the car. There is an SCCA log book and certificate as well as photos of the car running as a B Sports Modified at Willow Springs and its results from running a race at Qualcomm.
The SCCA approval certificate lists it as a Chotis Masgro 001 D S/R. The certificate lists the roll cage material as 4130 and lists the serial/chassis number 193785.
Engine & Transaxle: 2.5L Porsche 914 (VW type 4) built by Mark Stephens High Performance VW. The engine is topped with dual downdraft Webber carbs. There's a "desktop dyno" sheet that shows the car had 157hp and 148ft/lbs at the rear wheels. I feel that was a conservative estimate. Transaxle appears to be a "5 rib" and is a close ratio gearbox.
Bodywork: 4 piece fiberglass body for a LeGrand Mk18, the back section still needs modification to fit on chassis properly after the engine conversion was done.
Wheels: 3 piece magnesium Compmotive Turbo II rims 13"x9" with a 4 lug pattern that will fit most manufacturers.
Rebuild the carbs, the brakes, new tires, fuel cell, battery, gauges and you'll have a track car. Yank the engine and stick it in a buggy, Meyers Manx, baja bug, VW bus, Kharman Ghia, 411 or a Porsche 914. Go crazy and put it in a sand rail or build this into an air cooled 1/8th mile dragster.
You will need a flatbed trailer to haul away, tires will hold air long enough to load onto a trailer. Car weighs less than 900lbs and could be broken down into smaller parts and hauled off in two trips with a full sized truck. I can't crate or ship this for you but I can make myself available for a shipping company of your choosing, to load it up for you.
I need it gone yesterday so my landlord will STFU. Im asking $1200 or best offer. Will trade for cash, a running 5 Hp outboard engine or high end fishing gear. I don't need tattoos, dope or hand jobs so please don't offer.
I previously posted about the car on this forum a few yrs ago erroneously as LeGrand Mk15.
Please contact me directly if interested, I have several more pics that I can email, that are just not uploaded to photobucket.