Hi everybody. A few months ago this 1978 Dodge W150 with a Holley 2245 carb'd 360


followed me home.


Guy bought it to let his kids thrash around in the woods and arroyos around here. PO utterly ruined the box by cutting it unevenly with a sawzall and installed some rearward facing seats. Probably a pretty fun way to explore all of the great roads leading up into the mountains around here.

Maintenance, or lack thereof, was readily apparent. The 360 barely ran, died at stops and corners and was completely gutless. You could literally hear the vacuum leaks. Valve covers sat in a sad crusty grunge gasket of pathetic indifference. Everything below the valve covers was coated in 1/2" to 2" of solid gunge.


Exhaust leaks on both sides. Suspension was clapped out and steering just on this side of hilarious. Gas barely on this side of varnish leaked from the filler neck at the tank.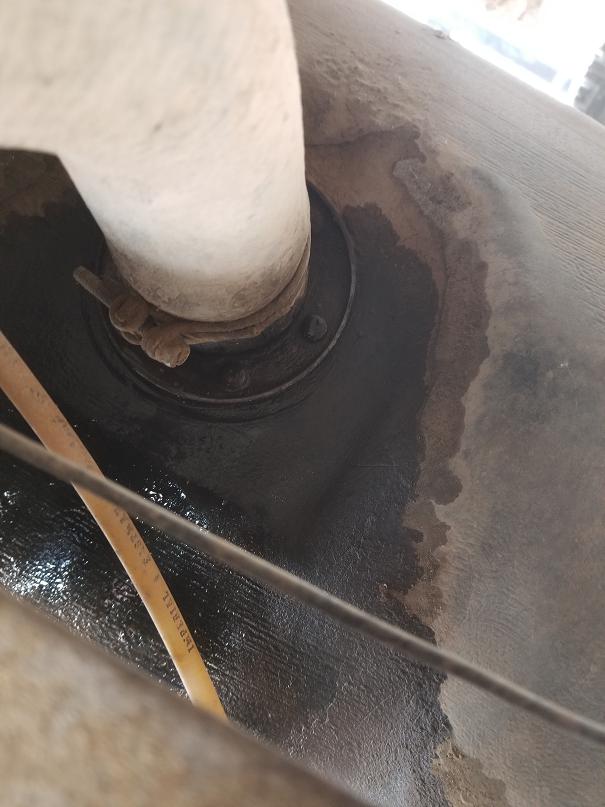 Though it has a rat rodder's dream of a patina, there is hardly any cancerous rust and none in the usually suspect areas. There are lots of random wires that connected to nothing on either end (including twist connectors, Scothlocks, wire nuts and other electrical sins) but the wiring harness and firewall connectors are mercifully unmolested. There was no fluid in the rear diff, leading to a catastrophic failure of the pinion bearing.

It sat for a couple of months and I've found plenty of time on my hands recently so I've gotten into a bit.

First order of business was to fix the grenaded rear differential. It is a Chrysler 9.25 geared for 3.55 with a limited slip differential. Driving with the case in any position resulted in the rear wheels skipping and jumping out of synch with one another at any speed over a walking pace. I removed what was left of the mutilated bed and removed the booty fabbed turn signal assemblies to ease the way.


Ah, the differential fluid is low. I guess it's busy holding all of the dirt to the pumpkin? There was none in the differential so I hope it was at least good at being grimey.



The shiny new metal deposits were on rust? Nope, it was spongy and I could squeeze oil out of it.



I'm going to be charitable and say that there was not sawdust in there. (but there was sawdust in there)

The pinion was a disgrace

I ordered a rebuild kit with all new bearings. I welded up a side bearing adjuster tool and got everything apart except the actual pinion. Nothing I did could get it out. I couldn't even get it to move in the carrier. Starting with normal means, I progressed from air tools, to increasing sizes of hammers to actually removing the rear axle housing so I could wail on it from above. I tried to press it out only to start bending my press. At that point I realize that one of the bearings must have overheated from the lack of diff oil and welded itself into the cup. The search was on for a new axle and I found one almost in Utah. It was dirty and grungy but the pinion seemed to spin freely. No limited slip but it was otherwise in good shape.

Or so I thought.

I installed it in the truck with new U bolts over the leaf springs and filled it up. I drove it about a mile and was greeted with a banshee howl from the rear end on coasting. I babied it home and saw what the military would call a Class III leak coming from the front of the differential.


I reached down and, with a sinking feeling, realized I could move the pinion in all three dimensions. Well, crap.

So, out the axle assembly came as I was getting to be an expert at axle removal. Luckily, this one came apart really easily. Maybe because whomever put it together didn't understand Chrysler differentials very well? There was no preload on the pinion nut and the crush sleeve was not deformed at all. That all adds up to an inner bearing that looks like this:


Well, there's your problem.

The pinion and ring gear in the newly junked rear end were hosed so I ordered a new ring and pinion. Rebuilding the differential and getting the initial depth of the pinion set requires a press and setup bearings. I can't imagine how the job can be done otherwise. I did get really lucky and only needed to change the pinion depth once. I got backlash set and then torqued the everloving ft/lbs out of the bearing adjusters. Reports that they can take over 200ft/lbs of torque are absolutely correct. I got everything put back together and hung the axle assembly back on the truck.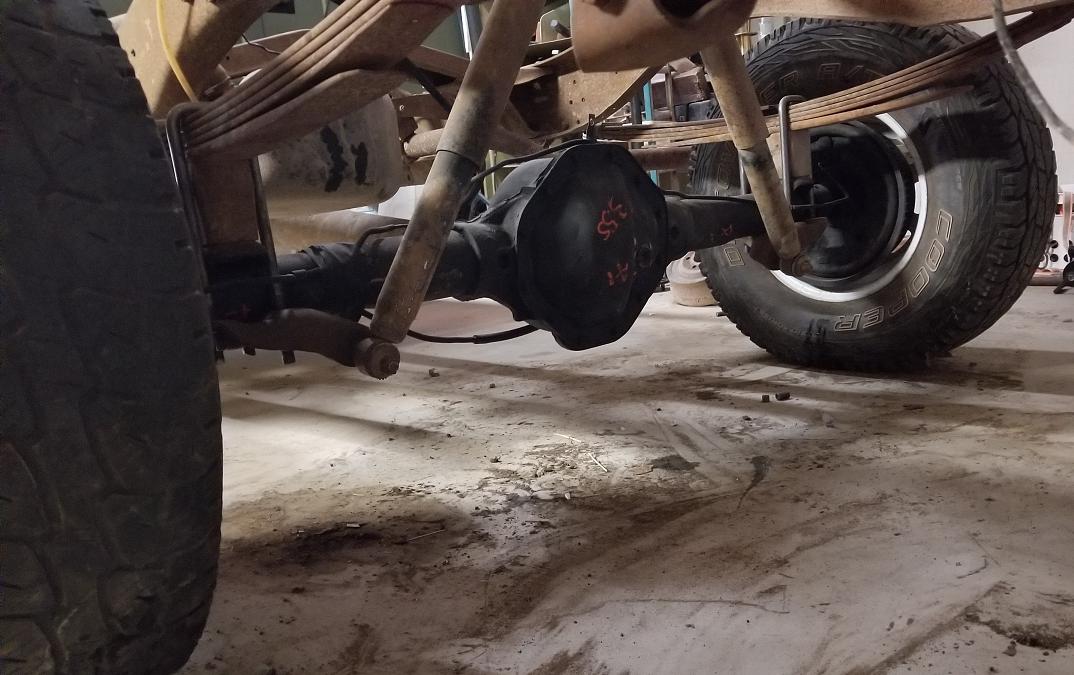 Measured alignment, rechecked torque and took it for a very successful test drive with no rear end noise on the drive or coast side at all speeds in 5mph increments up to 65, where the steering got to be a little wobblier than I am brave.

With that taken care of, I set about getting the engine to run. The carb bowl was emptying and the mechanical fuel pump, though new, would take 3x 10seconds of cranking before it would start. The hoses on the newish pump were pressed on with no clamps and were leaking away. That, coupled with a vaccum leak that was more of a series of a vacuum holes than a leak led to some very rough and rich smelling engine operations. Luckily, as a '78, the 360 is refreshingly devoid of most emissions garbage.


No EGR. Other than the PCV and a tiny pump on the passenger side valve cover that was not hooked up, the only other vacuum lines were to the distributor, to the carb thermostat and to the brake booster (which was leaking). I replaced all of the vacuum lines and switched out a functioning brake booster and MC from my '78 Dodge B300 Sportsman RV. I also refreshed distributor, wires and plugs. Though not likely to affect the way the engine ran, I went ahead and replaced the valve cover gaskets as well. Once that was all done, and without touching the mixture or the timing, the 360 really started to come to life. Other than a little bog from idle to WOT, it really started to run well... better. Not great, but better.

Then I noticed that the front crank seal was leaking merrily and that the front oil pan seal was more of a distant memory suggesting oil retention rather than a seal actually keeping the oil in the pan and off the crossmember. Since I was going to be into the timing cover anyway, I went ahead and ordered a double roller timing chain and sprockets. Good thing, the timing chain was a sloppy shadow of what it once was. There was so much slop I could get the chains within an 1" or so of each other. Slop is supposed to be <1/8". Degreasing and repainting everything actually took longer than teardown and rebuild.

Again, not sure how you'd do this job without a press. For whatever it's worth, I did not need the special aligning tool for the crankshaft seal. I seated it lightly and then finger tightened the cover back to the engine to "center" the seal. The timing chain definitely made a difference, with the engine definitely making more immediate power.

Since then, I've been into the timing, finding it at 21* advanced at ~750rpm and pulling a steady 15in pressure. That pressure would be a little low, but I'm at roughly 6000feet so it's pretty close. The mixture screws were out 6 turns and 1 turn. Not good so I reseated them and got the carb running really well at about 3 turns out each. I still have the bog from idle to WOT. The accelerator jet, while immediate, is also more of a spray than a jet and not entirely consistent. I have ordered a rebuild kit for the 2bbl but am also giving the Thermoquad in my B300 a pretty strong side eye. Anybody have strong opinions about a Holley 2245 vs a Carter TQ?

While I'm waiting on the carb rebuild kit, I've started to get into the steering, suspension and mounts. The steering is about what you'd expect for a 40 year old truck: aimless, mushy and sloppy. We live at the end of two miles of dirt road and it is a teeth-jarring experience each time I navigate it. The tie rod ends are totally shot. The rest of the steering is remarkably tight and leak free. All of the engine and transmission mounts, as well as most of the body mounts, need to be replaced. There appears to be a leak around the hub on the passenger side and there is a deep rhytmic growling between ~60 and 65, making me think that wheel bearings are in my future. I will probably go ahead and replace everything I can on the hubs while I have them apart.

Other near term plans are to further tune the carb and engine while refining the timing. I would like to install a tachometer and get the bulbs in the dash to shine a little brighter than a lightning bug's butt. Really, I just want to go through and tighten up all of the wiring while figuring out things like replacing the missing transfer case lock switch. I will also be doing the amp gauge reroute pretty quickly.

Alright, I know that was a mighty wall of text. Thanks for hanging in. I've read some of the other D/W build threads here and am really inspired by what I've seen. The plan here is to get this up to a reliable daily driver status and then do mostly weekend level projects on it until it's done. I have dreams of putting a stepside box on the back and painting it black and orange with some very 70s yellow striping. More than anything, I plan on driving the everloving hell out of it.