This will be my first thread on GRM. I have trolled the board for years and have posted in other threads just a handful of times (if that). While I have buit cars in the past (normally on GRM-like budgets and with GRM-like goals), I always put the build threads in car-specific forums.
That said, this is my co-build thread. (I'll fill in Jason's user info, if he joins).
After modifying cars just to do it for years, I finally tried autoX in my 2008 Legacy 5MT (non-turbo) a few years back and I loved it. I did a few minor mods, bought dedicated wheels and tires, and had a lot of fun autoXing the Legacy. After a while I decided to build a dedicated track/autoX car. I started with a '92 e36 318i 5MT, but just as I got it road-ready, I had to sell it to buy my grandfather's 1988 Jeep Comanche (he had recently passed away and I wanted to buy it to restore it).
A few months later, I found the cash to buy a new track toy- a 1988 BMW 325. I worked on that car so much that I never even took the Legacy to the track. I had it nearly where I wanted it to be to track it- built top end, "i" head swap, all new belts, hoses, nearly every suspension bushing and component replaced, new springs, Bilstein sport springs, track wheels and tires...it was ready to go. But the car had lousy paint and somewhere in the build of the drivetrain I had SOMETHING that was clanking and thunking, and not in a good way. I made the mistake of making too many changes at one time, and I could not trace the noise to a specific source without dumping new parts and a lot of time into the project. After months of chasing the noise, I parted the car back to stock and sold it.
With the proceeds, I traded in my Legacy and bought my realistic "dream" car- the newly released 2011 WRX 5DR with the wide body. I LOVE this car. I have done a fair amount of suspension work to the car, and after 18 months of ownership, I have finally tracked it. But tracking your DD is not always the smartest move, which takes us to the topic of this thread.
One important note: I live about 20 minutes from Summit Point Motorsports Park, which is not only fun for the "real" tracks that they have, but also for the DC SCCA Rally Cross venue that is on-site.
After months of hearing Josh (Irish44j) gush about how awesome RallyX is, I paired up with a buddy and we bought a running-but-not-driving 1987 325 sedan. She isn't pretty, but she runs. We looked over dozens of other cars on the forums and CL, looking for the perfect base for a budget rally cross car, and this one finally was good enough to fire on. We focused on e30s due to my familiarity, a bin of leftover parts, and the fact that we have a pretty good network of other e30 enthusiats locally, which helps with tech stuff, parts hunts, and general community.
So the car:
1987 BMW 325 sedan. Manual transmission, 216K (working odometer). Bilstein HD shocks, only 2 small rust spots, some recent receipts, and a fair enough description from the previous owner about what has been done and what needs to be done. When we bought the car, the P.O. had tried to bleed the clutch but failed miserably. The car had new (brand new) exhaust, some replacement bushings, a verified timing belt history, and was generally in fair shape. The blower motor was out, the power windows did not all work, and there were some serious stink issues on the inside. But she fired up right away and made no nasty noises. Other than the clutch issue and a couple of minor leaks, she was not bad for what we wanted to do, and she was in our budget.
We got her for $900, with no extra charge for the dents.
Here we were during the initial visit:
We debated looking for one with less minor issues, but decided that we'd rather be working on the car than driving and looking at other potential candidates. I figured that we could sort out the major issues in one afternoon, so rather than spend another weekend or so going shopping, we'd just get dirty and fix the bird that we had in the hand.
After a couple of days arranging for the tow, the trailer, and a time with the seller, we managed to get her loaded up, tied down, and on the way for the 60 mile trek home: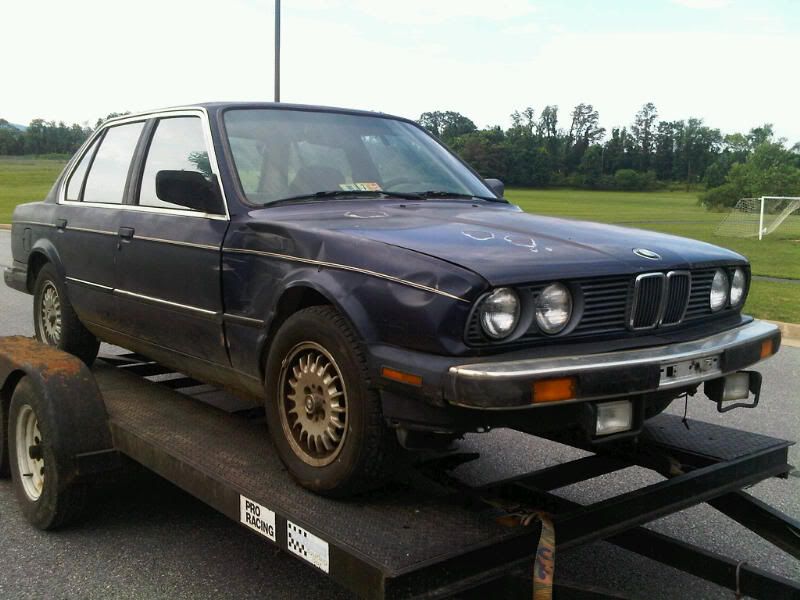 The very next day, we got to work on her. High on the list was removing the utterly disgusting carpeting, which smelled like a barnyard and a port-a-potty had engaged in a battle of stink.
As we will be running in RWD Prepared, we will be retaining the seats and dash, but everything else not required is coming out of the car.
We went to work removing those things that woudl be completely useless in a rally cross car- like a motorola 3-watt kit and all of the associated wiring.
After removing all of the interior upholstry and some of the dash trim, we had her looking a lot more lean:
We also stripped the trunk deadening:
With all of that out, her altitude was a bit loftier than I had expected: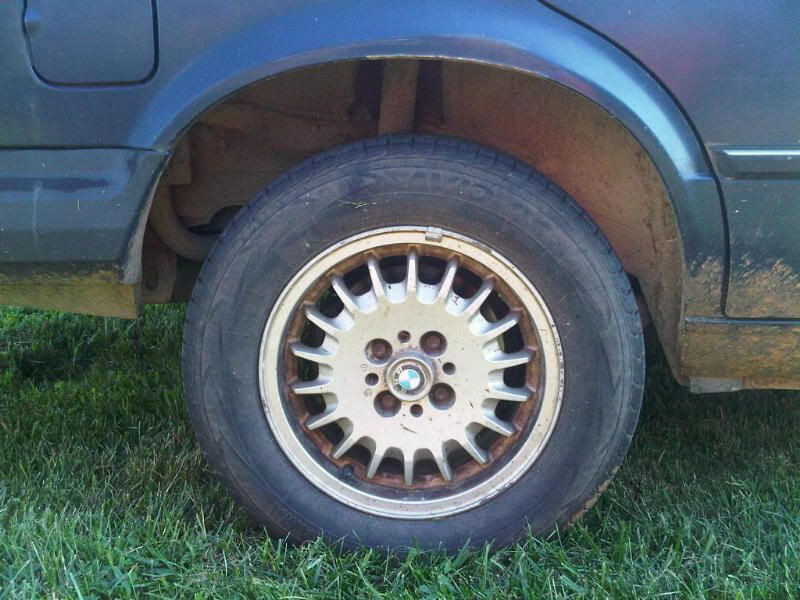 So with all of that done, we plan to add back in some Lexan door panels (just to prevent cuts and scratches), and we need to swap in some better seats. Right now, we swapped the passenger seat to the driver's side and will be hitting the JY for either a better pair of seats or another passenger seat to go back in the car. The adjustment levers are on the wrong side (as is the seat belt recepticle, for now), but I don't care about that in the least.
Next steps are:
Fix leaking fuel injector
Fix leak in valve cover gasket
Remove A/C system
Re-install blower motor
Add skidplate
Add underbody protection for fuel lines, fuel pump/filter
Get snow tires
Look for a LSD (3.73 preferred) to replace the 2.93 open diff
Remove mechanical fan and replace with electric fan
Undercoat or truckbed-line the interior
Replace dented fender and rattlecan the exterior
Replace the steering wheel
Install cabin venting
Not all of those are in a particular order.