Copied from my other thread;;
I'm not really sure if the briefness reason should be split it into another thread but for now I will start it here at least.
I have always wanted to do real racing (road tracks), but where I live there is something like a 10-12 hour drive to the closest track with any racing series. So I never even really considered that. But a couple of years ago the people who now own the abandoned airfield where we do our track days, ran some company events with 6 hour endurance races for "scrap cars". That evolved into a cheap 4 hour endurance series with rules to keep costs down.
In the summer of 2014, when I had my Capri at the Motor Week event, some people I hang around with started talking about getting a team together for the races. I said that I would be in, if someone had a workshop and if the other people were serious about going racing. Since one of the guys owns a metal working company he could provide the workshop space.
During the fall we started to make the plans more in detail. The rules are strict, the car has to be available for 5000 SEK (around 600 USD) on our "Craigslist", maximum 150 bhp, no engine modifications, no forced induction, no coilovers and "road tires".
We made a list of available cars and tried to rate them on weight vs performance. Of course, things like Honda Civic CRX 16v are in a class of their own, but cheap examples are disappearing fast. We also had a limit on how far we could travel to pick the car up.
Eventually we had a number of prime suspects when we saw this listing: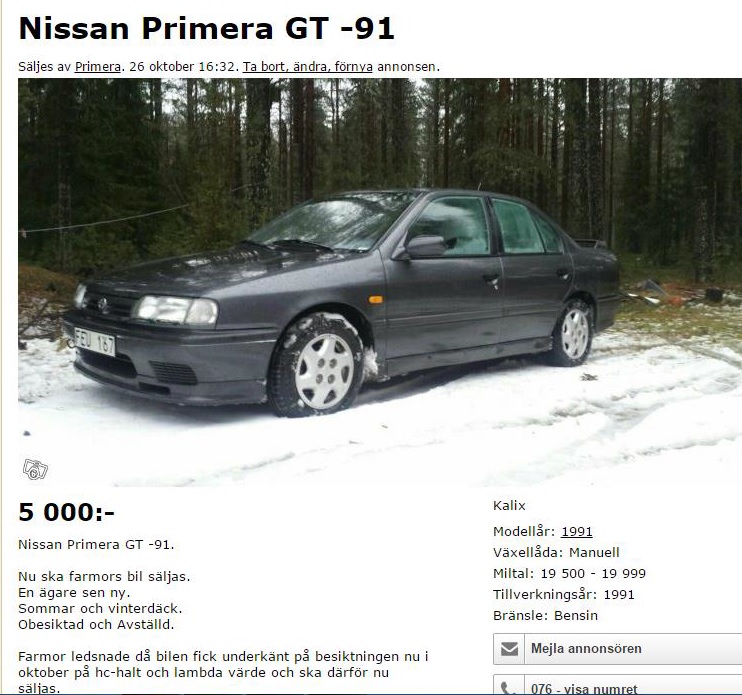 "Grannys car is for sale", and I remembered that the Primera GT (Infiniti G20 in the US) got a lot of praise in the early 1990's. With 149 bhp it should be in BMW 320i territory looking at the power-to-weight ratio.
The car had a failed emissions test but we did some researh on the SR20DE engine and it seemed to be rather bullet proof so we took the plunge. The car was a good 2,5 hour drive away, not too bad. The two other team mates went off and I got a picture: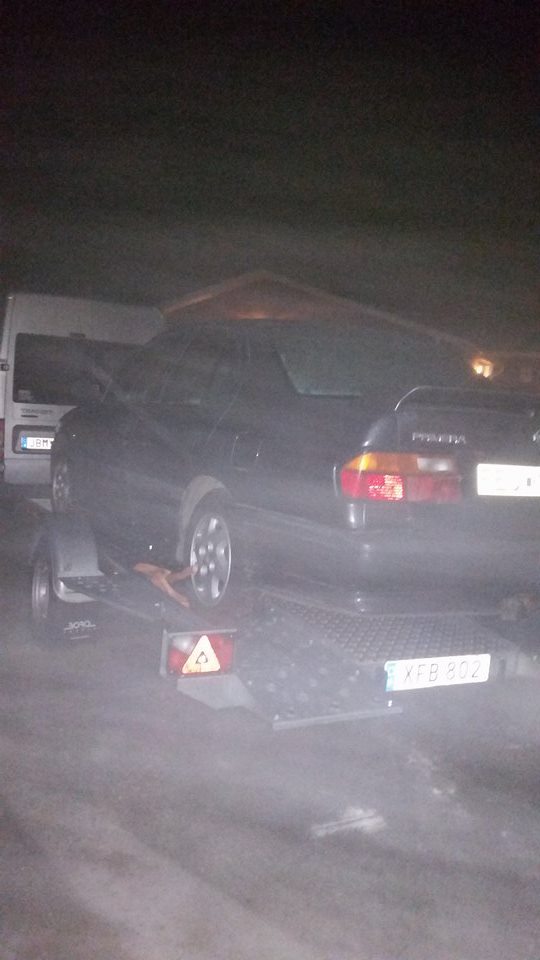 That meant we were on a roll for 2015, already in december 2014. And perhaps it's time for the next project thread.
Gustaf