I'm hoping just the title was enough to get some attention. Here's the story of why I'm building a dirt track car at all, let alone a Subaru:

I really wasn't into dirt oval racing, or roundy round racing at all. Our local dirt track, located at Allegany County Fairgrounds in Cumberland, MD, hasn't had a promoter since 2013. The last promoter left a bad reputation for dirt racing with the county commissioners, community, and even racers. A new promoter was on board to have the track up and running for 2015, but some miscommunication and apparent mismanagement left it up in the air. Local racers didn't hear any news about the track for nearly a year, until this article was on the front page of the local newspaper, with an out-of-town consulting firm stating:
"We're suggesting that you eliminate the racing oval, except for the straightaway in front of the grandstand, which is used,"
Obviously, this didn't sit well with the local racing community, myself included. I had been down to the disused track a handful of times in 2016 at this point. I had plans in motion to start a grassroots, wheel-to-wheel, folkrace style rallycross series at the speedway. The local dirt track racers started a loosely organized group aimed at finding a promoter to prove to the county that the dirt track is an asset worth keeping. I, of course, also wanted to keep the track around, because it's hard to run a race without a racetrack, ya know? That's how I got involved with the dirt track guys. Anyway, the group turned into some dedicated volunteers, a promoter stepped up, a manager with some racing experience was found, and 2017 was the first year the fairgrounds has seen racing since 2013. With a full dirt track schedule squashing plans of running a rallycross series, I decided I'd be foolish not to race something at the venue. I picked up a very used, very abused 2004 Cavalier that was already set up for FWD, 4 cylinder dirt racing.


Yeah, she was rough. The class called for a mostly stock car, but I found out pretty quick everyone was cheating. During my ownership, the car had:
-welded diff
-shims under the rear hubs to toe both rear wheels to the right
-some strategically cut springs
-ECU reflash from SBR Performance
-Balance shafts deleted
-Lots of camber in the RF
It was really good at breaking trailing arms, falling apart, and overheating, but it limped through the season to a few podiums, all top 5s, and 3rd in points.
Cavaliers and Cobalts dominate the local 4 cylinder classes, but I'm just not a fan. I also didn't like the cages or general safety of the builds of the rest of the cars in the field. I threw some ideas around, including a Saab 900 w/ a B212 or anything with a 2ZZ (my autocross car is a 2ZZ MR2 Spyder), but cost, local part availability, and oiling issues in the case of the 2zz turned me away. I bought a FWD 1995 Impreza for my girlfriend and friends to rallycross, and it got the wheels turning on a FWD Subaru for dirt track. The benefits include:
-Lower COG - the block is 7" lower than the heads of the cavalier, and the intake manifold is 1.5" lower
-Longitudinally mounted engine, moving the weight of the trans more toward the center of the car
-Lighter chassis than Cavaliers and Cobalts
-165hp/167tq from the 2.5
-Independent rear suspension
-Lots of "stock" choices for suspension components
-I already own 3 other GC chassis cars

The first one I found on Craigslist was a 2001 5 speed wagon for $400. Who wouldn't love a dirt track wagon? Come to think of it, why aren't there more dirt track wagons?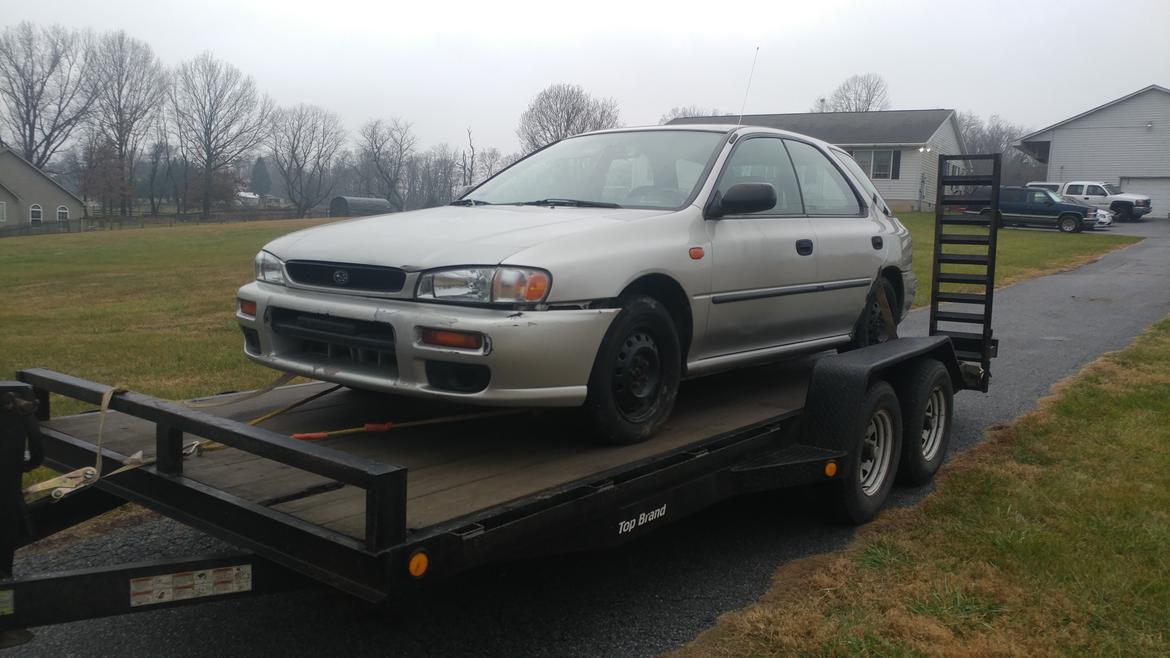 I'm still working on the cage, which is almost finished. I'll update with pics this evening. I'm already wide open on this project, but who has some input / ideas?