This is mostly a "built" thread, than a "build" thread. Though I'm sure there will be updates with repairs and upgrades.
A while ago I bought a 65 Buick Skylark. It had been converted to an Enduro car, and had been raced a few times.
Enduro racing is a step up from demolition derbies. A lot of contact, and minimal prep for the car. Basically gut the interior, weld the doors shut and go. Roll cages are optional, but encouraged.
I bought the car cheap, with the plan to run it as is, and get experience with rear wheel drive racing. Since most of my racing experience was with FWD.
But once I started going over it, there was a bunch of stuff I wanted to change before racing it. Including changing the drum brakes off the front.
The project stalled for awhile, then the local circle track announce they were bringing back the Thunder car class. Also known as street stock, it is a v8, rwd class filled with Monte Carlos, and Camaros.
I've run the 4 cylinder class for years, and have wanted to do this class so I signed up with plans of using the Buick as a proper race car.
But as I tore into the Buick again, I found even more problems. Some minor, drum brakes on front, and a longer than ideal wheel base. Some scary problems. A roll cage not attached to the frame, and really sketchy welds and gaps that were all covered up with foam padding.
That is what I found as I cut the cage out of the car. The cage originally had been in another car, which I knew, but it had been cut up to fit the Buick, and welded and fitted back together badly.
So to save time, money and headaches I abandoned the idea of using this car. Instead I bought a chassis with a cage already welded on.
I found it on Kijiji. It was a 85 Monte Carlo. Someone had started to build a Thunder car properly, but didn't finish. So I bought the rolling chassis with cage, and he threw in tons of parts because his wife was making him clean out the garage. I got a fuel cell, spare axle, 7 race rims, gauges, exhaust, etc. Basically everything I needed except an engine, tranny, and body. It even already had the load bolts installed.
So my son and I chopped off the body of the Buick, and pulled out the driveline.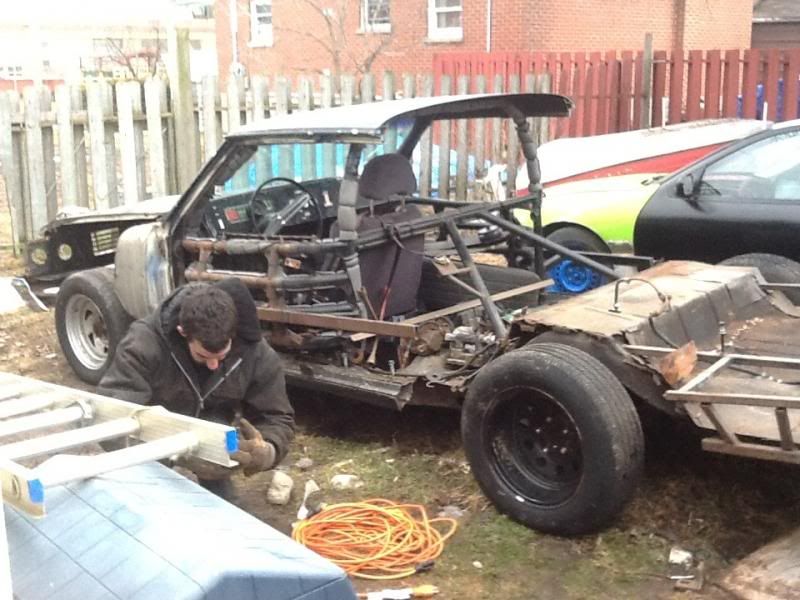 We had to cut out 9 inches from the center of the body to make it fit the chassis.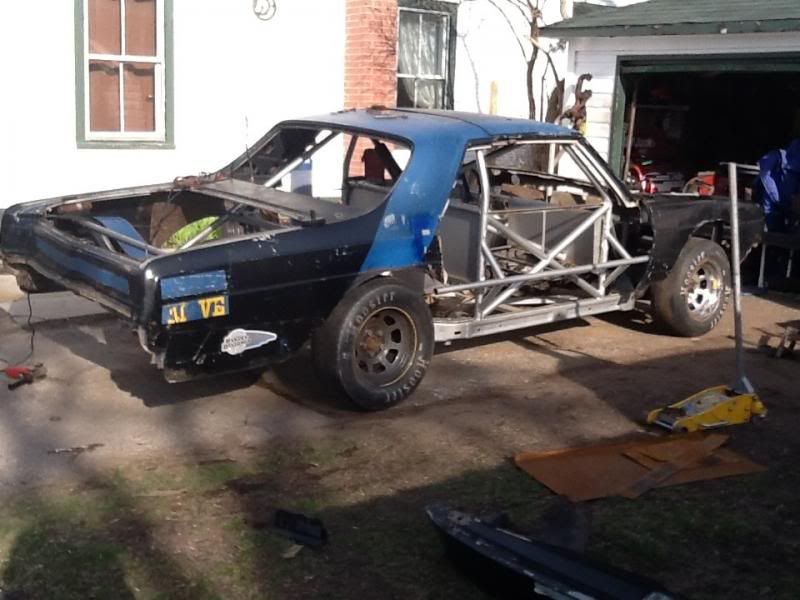 We dropped the engine in that was in the Buick. It is a low mileage, Chevy 350 with 4 bolt mains, originally out of a cube van.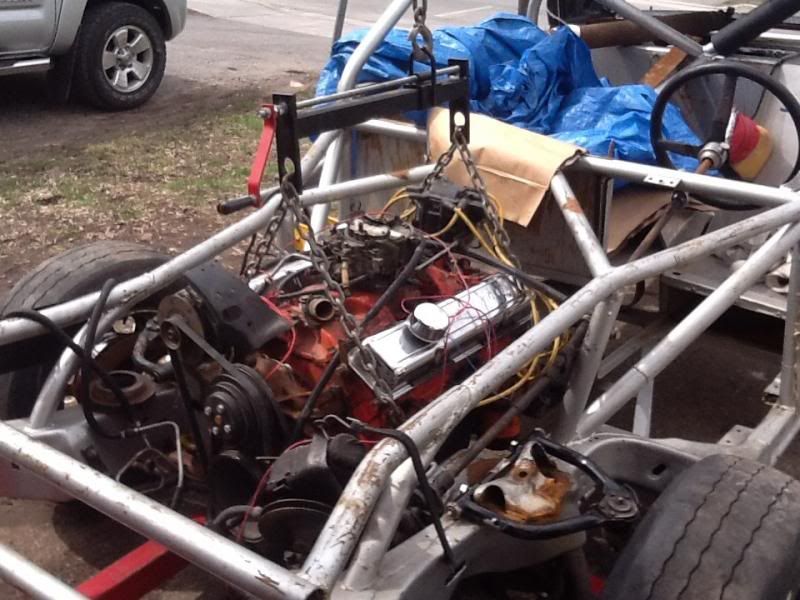 After reviewing the rules, and talking to other racers, we moved the engine 6 inches back, and dropped it a couple inches as well. Withe meant we had to notch the crossmember for clearance of the fuel pump.
With moving the engine and tranny back, it created a problem with a driveshaft that was too long. Most guys just have a custom driveshaft made. But my budget is tight, and I do have an auto wreckers as a sponsor. So spent a day in the wreckers with a tape measure. The other catch was the transmission I was using (Turbo 400) doesn't have a slip yoke for the drive shaft. It is supposed to use a 2 piece drive shaft so there is some give when the axle moves up and down. Something else that the guys who built the Buick didn't consider, because it had a solid one piece driveshaft.
So after much searching the driveshaft from a 2002 Ford Explorer is the right length, and is a collapsible in the middle, giving me the flex I need.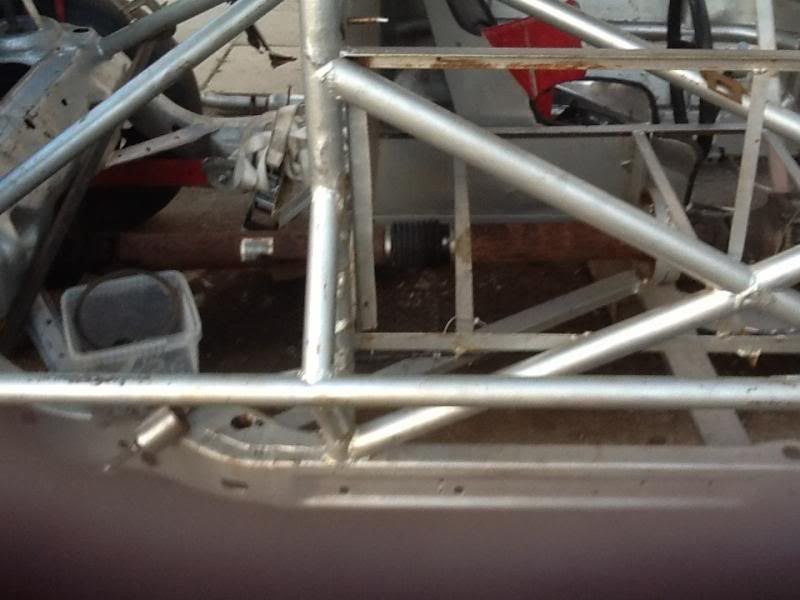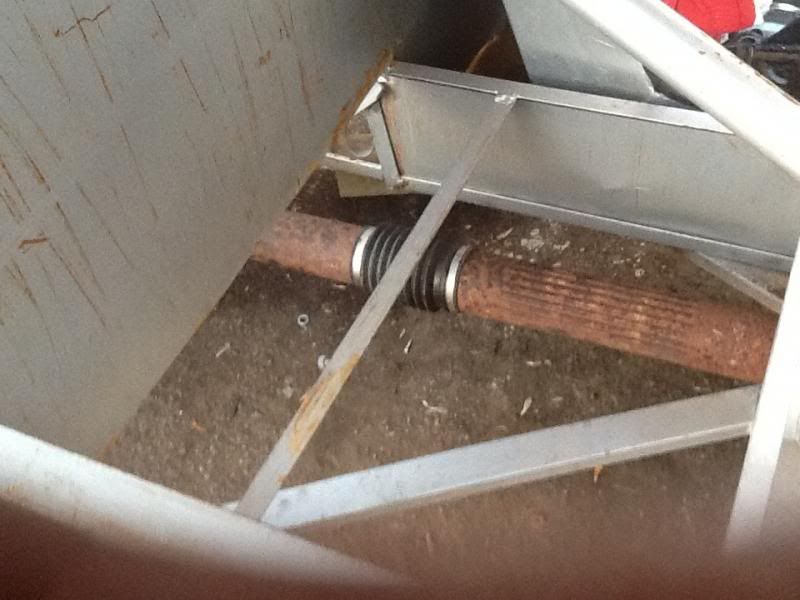 That all for now, I'll have to continue later to show you how it came together.