Every good build starts with a good story, and this one does not disappoint: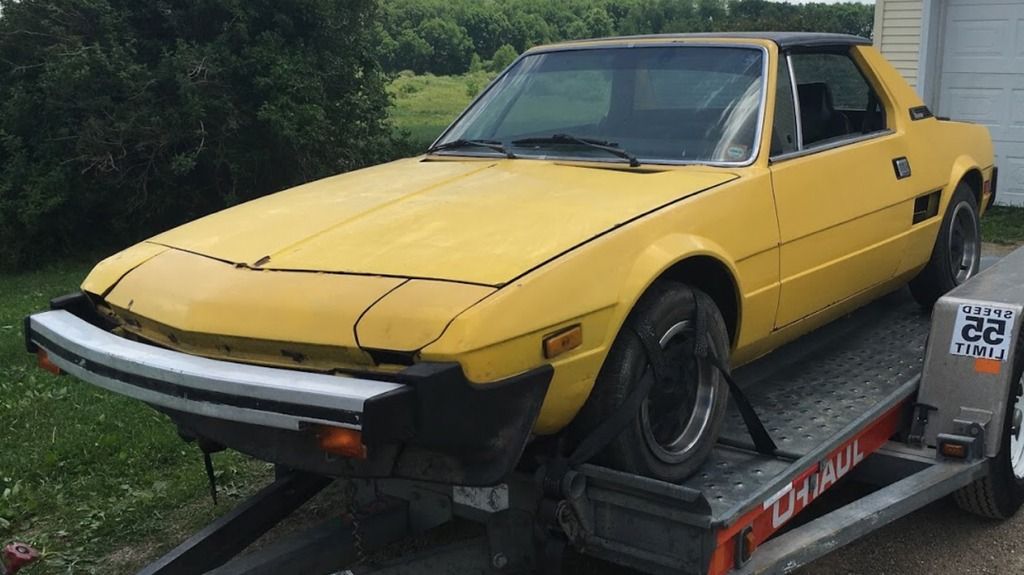 John's photo - I did not rent a trailer, that would have been too smart.
About 10 days ago I agreed to buy this 1980 Fiat x1/9 from John for $250 (John mentioned that he bought it previously as part of a large package from forum member grafmiata). Last Friday was the day identified to go pick it up.
The car was in Climax MI. I am in Chicago IL. My buddy and teammate Ian, who will be hosting the car for at least the primary build phases, lives near Detroit. I do not have a trailer, but I do have a tow bar, and I am full of hubris because I just flat towed my challenge car to and from the challenge with a tow bar with great success. John assured me that the x1/9 was a roller, but that it rolled well enough to be flat towed. My plan was simple, drive from Chicago to pick up the car in Climax, flat tow the car to Ian's in Detroit, have a party for planning the build and starting a team, and then drive back to Chicago Saturday morning.
I researched online before leaving how I was going to hook up the tow bar. I had a plan. I didn't need many tools to enact that plan, so I packed light. I also grabbed the planned power plant for the car - a disassembled 2004 GSXR 1000 motor+wiring+accessories+extras that I bought a couple years ago for $300. Truck was loaded up and I was on my way.
John lives in a beautiful house on an even more beautiful and large plot of land. I think I was 3-5 days before peak season for fall colors. The road to John's house has big deciduous trees on both sides of the road forming a tunnel. Wow, just wow. John was waiting for me when I arrived. He quickly showed me around the car which I found to be better than described. We transferred $ and paperwork and John even helped me hook up the car to the tow bar. (and we ended up needing the slight use of an angle grinder, which I of course did not pack). Tested the lights, shared some stories, talked challenge build plans, and then I was off.
In this story, as with many other times in life, the highest highs and the lowest lows came shortly after Climax. Got to the highway no problem, car was pulling great. I could barely see the little car back there in my rear view mirrors, and I really couldn't even feel it. I was so elated (and excited to get to Ian's where the initial build party was starting) that I set the cruise right at about 75. And then a few miles later, BOOM. Blew a tire on the fiat. I pulled off into the nearest gas station, and confirmed my fears.
$250 cars generally don't come with spare tires, and honestly sustained 75 mph is a lot to expect from tires that might come on ANY $250 car - looking back, of course this is clear to me. So now it is after 5 pm on a Friday night, in the middle of Michigan, with daylight waning. I'm 87 miles from Ian's, and I need to find either a 13 inch tire, or some wheel that will fit on the fiat's 4x98 bolt battern. Nice.
Called John. He was the person who I knew who lived closest to where I was. Did he have anything? even a donut from a 4x100 car should work. Unfortunately he did not. John actually started rallying rescue rangers for me. THANK YOU JOHN! No Walmarts had any 13s in stock. I called a Tractor Supply that was about 10 miles away, and luckily, they had a 12 inch 4 bolt trailer tire in stock. I decided to take a chance, and I learned that as long as you take the fiat brake caliper off, a 12 inch 4 bolt trailer wheel and tire will kinda-sorta bolt onto a fiat. Standard trailer bolt pattern is 4 x 4 inch or 4 x 101.6 mm. But trailer wheels have really big lug holes, so it worked. Torque carefully.
Of course I didn't disconnect the parking brake cable and the brake line (I put the trailer spare on the rear, even though the blowout was on the front, since I thought the rear might have smaller calipers that would clear - they do not clear it turns out), so now I had to affix the caliper to the fiat somehow. I didn't bring zip ties... Seriously!?! Who does that?!? so I had to clip a random wire from the engine bay of the fiat to literally tie the brake caliper to the control arm.
The level of jank was getting really high really fast. I was sure I was going to roll up to Ian's house missing a perfectly good brake caliper. But I was back on the road - now at a much more old tire friendly 57 mph (70 mph speed limit + michigan = I'm almost going shiny happy person slow). Luckily I didn't have any more problems, and I made it to Ian's about 3 hours later than expected.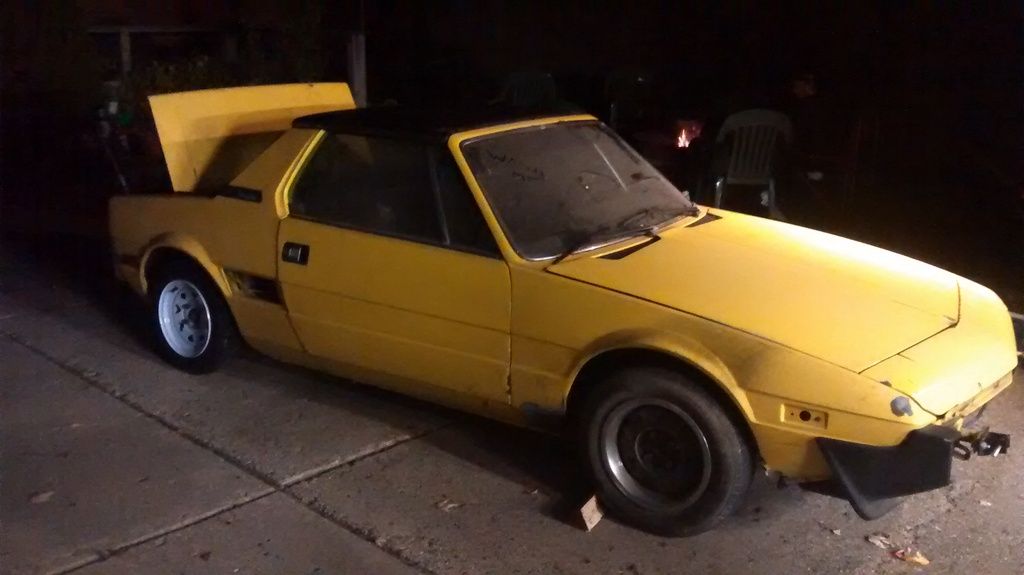 The build party was already roaring when I rolled in, and the fiat did not disappoint in the dark. We unloaded the car, snapped a pic, cracked a beer, and started discussing detailed "engineering" plans around the campfire. The next morning Ian and I grabbed a local diner breakfast to ward off the headache, and I drove home. Stay tuned.