So, a few years ago, I bought this VW 412 from the builder of it that did amazing amounts of work to it. Almost unbelievable. Because of other projects, I really just couldn't get to it. Finally, making some progress.
It came with a 1800cc engine with about 65hp. It was supposed to be the move upmarket for VW from the Bug. It was not. However, it was unique and had some neat traits.
Anyway, the owner of this one decided to upgrade everything. He rebuild the steering box. Made custom bronze steering link bushings. Custom delrin control arm bushings front and rear (with zerk fittings). Custom camber adjustment on the front suspension. He rebuilt the 4 speed manual transmission (unique to the Type 4) with upgrades for reliability. He upgraded all of the suspension. custom strut bearings, Audi 4000 strut inserts, Superbeetle and Nissan hybrid strut bearings, Superbeetle stress bar, BMW E30 M3 springs, doubled rear sway bars, and Ford Econoline shocks, Porsche 944 brakes all around. Custom speaker housings inside plus a sub in the back. He reupholstered the seats. Then, the engine. He purchased a 2056cc kit from a renowned Type 4 expert, Jake Raby. Mild cam, mild heads, and he used the best intake manifolds, plenum and throttle body combination, along with a Mallory ignition and programmable SDS EFI.
Long story less long - he touched everything, made everything better. After using it a bunch and ironing out the wrinkles, someone broke in and stole the radio faceplate and the SDS proggramer unit. Then it got backed into on the front corner in a parking lot. After all the work, he was done, and wanted out. I bought it.

I haven't been driving it for very long, but I did run into a wobble that felt like it was coming from the right front. I suspected the custom wheel bearing inserts (to use the 944 hubs on 412 spindles), but once up in the air, I bolted on a buddy bar to be able to stress the steering and see what was moving. Had to drill a new hole in the bar, but still. When I say up in the air, it's in the alley by my garage, because I have 10 car projects and indoor space for 5 projects. I know you all understand.
Quickly told me it was the relay steering box - the passive one on the passenger side. The steering arm was not 100% tightened down anymore. I know he's driven it hard and for many miles, so just a heads up.
The nut was a nylock, as it should be. There wasn't a washer, so I added a dished washer to help lock and spread the load, and a dab of medium loctite to be sure. After that, there was no play at all. I also greased the custom delrin control arm bushings that had zerks and the ball joints at the bottom of the struts. More work soon.
I should be able to do the clutch slave cylinder and see about fitting the IDF manifolds and ITBs this weekend.
[URL=https://s61.photobucket.com/user/greggearhead/media/VW%20412/DSC_0155_zpsfiylmo5j.jpg.html]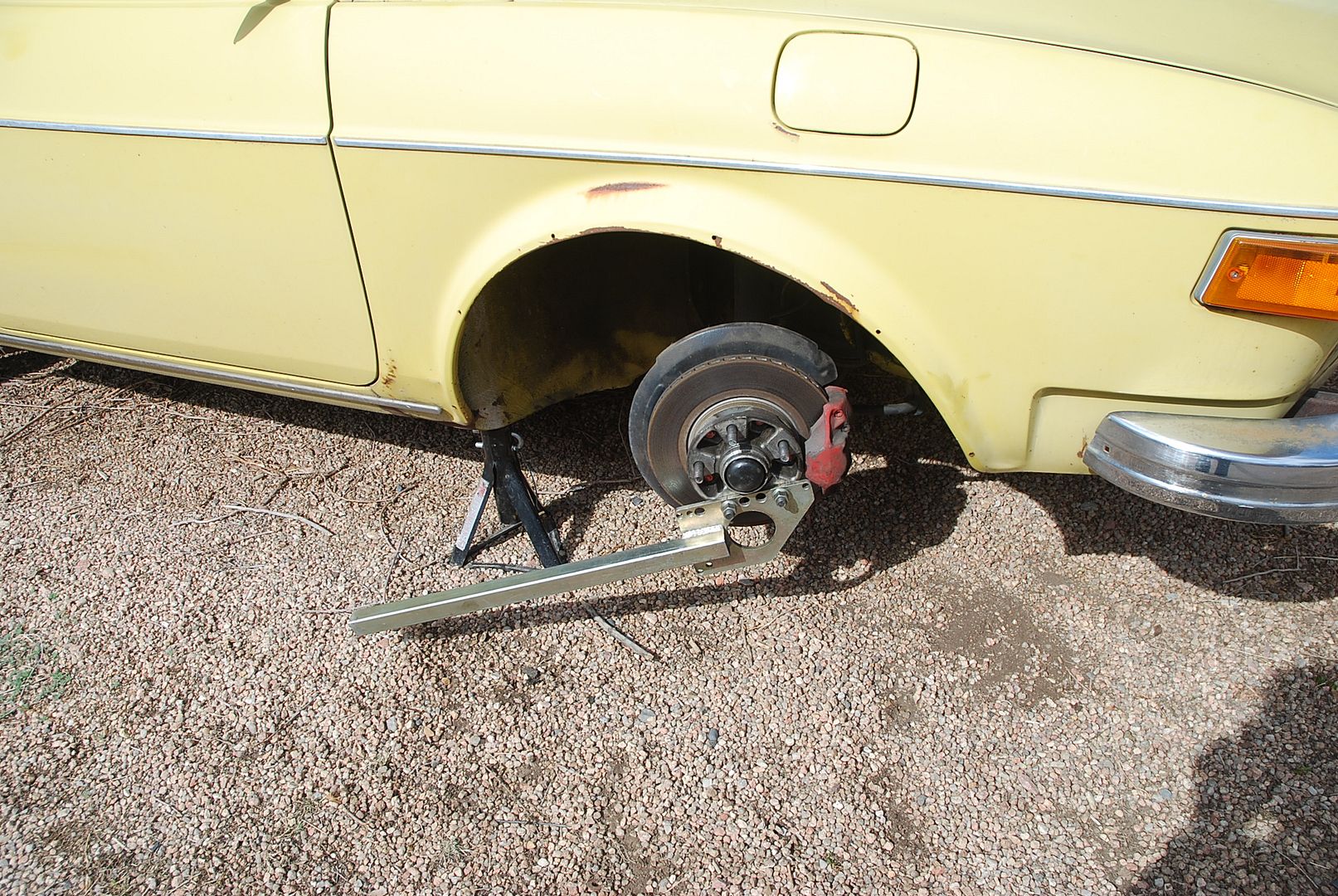 [/URL]
[URL=https://s61.photobucket.com/user/greggearhead/media/VW%20412/DSC_0156_zpsvjm6ugcn.jpg.html]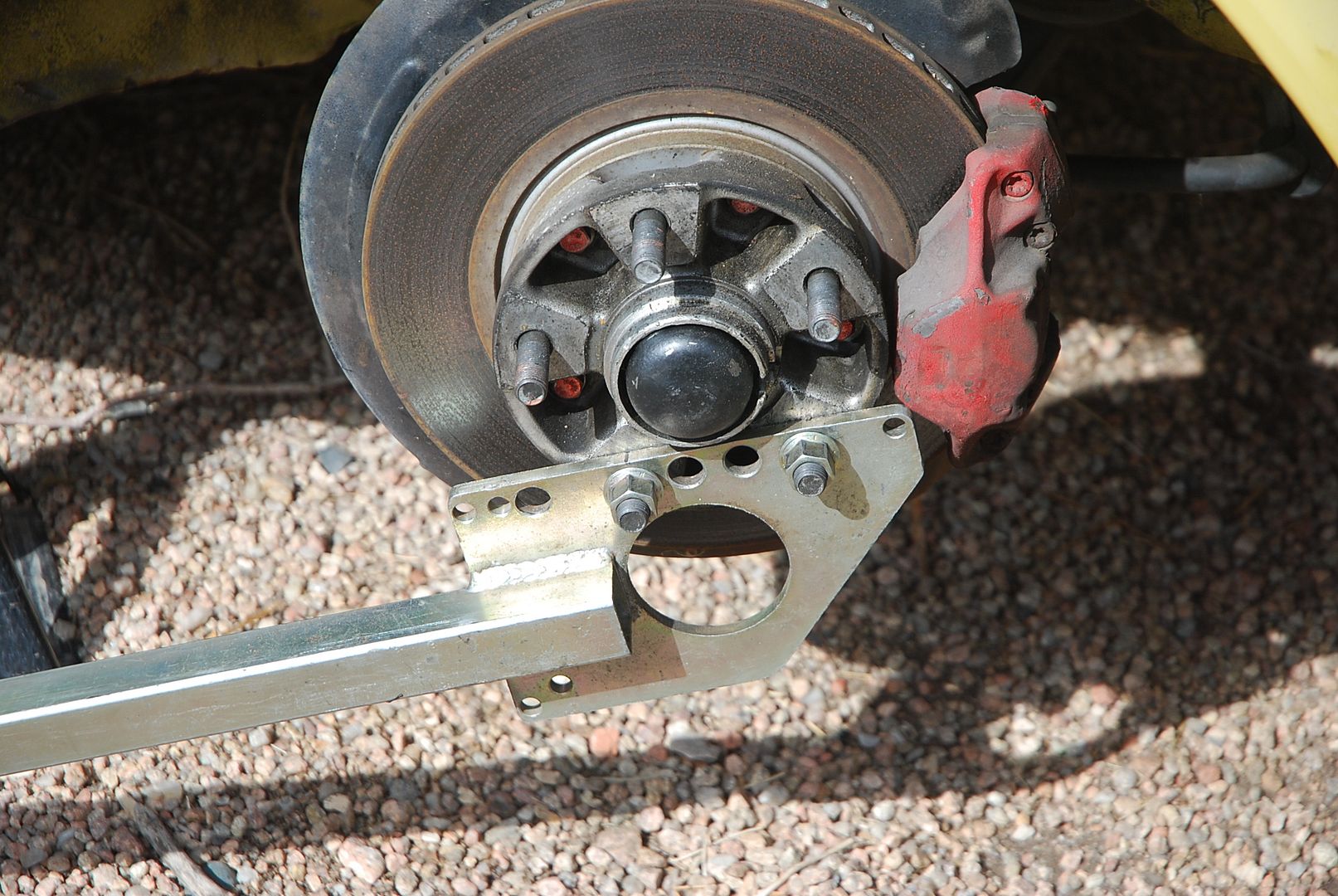 [/URL]
[URL=https://s61.photobucket.com/user/greggearhead/media/VW%20412/DSC_0157_zpshjf7v3mb.jpg.html]
[/URL]
[URL=https://s61.photobucket.com/user/greggearhead/media/VW%20412/DSC_0158_zps9a0kj5mw.jpg.html]
[/URL]