Hello all, this is my official build thread for the $2000 challenge so i hope :) I have always had a passion for the DC2 chassis and with this build being more nostalgic then i anticipated keeping it as a track only car may be harder then i thought. This car is a 1995 Acura Integra GSR, was purchased from Co-Part in July of 2018 and was salvaged due to severe hail damage.
With a quick trip to Denver, i quickly realized how good of shape this car is mechanically and there was life left in her yet. First inspection was grim as there was glass shards everywhere. Motor started right up and gearing was great. No grinds or knocks when shifting. First after leaving the auction yard we took the car to a local car-wash to attempt to get the car road worthy to make the trip back home to Blue Springs, MO. A good inspection at a local Firestone with an oil change showed the car's suspension, wheels, and tires were in great shape. Motor was burning and leaking oil, transmission was encouraging fluid also. This put more concern on the drive back and more of a risk to either pay for the full tow back home or continue driving. I stocked up on Oil and Transmission fluid and pushed on, stopping every hour or 40 miles to give a good inspection and attempt to trend the leakage. After a few hours into the trip, i quickly fell in love with the motors low rpm response, i kept the motor under 4k, it was still very responsive and provided enough power to maintain a normal speed on the I-40 route. 13 Hours later we finally made it home!!
On to the diagnostics and attempting to get a baseline of what mechanically is wrong with the car. Over the course of the next few months i worked slow and steady taking time to research and discuss what symptoms the car had with other Honda Buddies ive acquired over the years. Aka OmieHomie(S2K Godfather)...
First thing i did was attempt to assess the health of the motor, opened the valve cover and found the seals to be horrid, spark plug galleys had tons of oil in them. This was for sure the cause of the oil leak as i found no external leak spots for oil.
3 out of the 4 cylinders showed decent Compression for its age and mileage, however piston 4 was rather low. Before i went any further, i pushed forward with the basic tune up. Spark plug removal and clean up of the galley. Piston 4 was the worse as far as oil in the galley.
The spark plugs that were in there had seen better days. Lots of oil burn off. Replaced the Spark plugs with the OEM recommended NGK IX. Two of the spark plug wires literally fell apart while removing them, so easy fix there too. New set of NGK RC-HE64. Valve cover seals were replaced properly and galleys fully cleaned with long qtips. For the valve cover seals, i went with a Oriely's brand, i figured spending the extra money on OEM seals would be a waste in terms i may have to be opening up the valve cover again and again for further troubleshooting.This was tedious as there was so much build up. Wish i could have gotten a picture of the galleys but they are bone dry and clean now.
After that work, i conducted another compression test and all cylinders are reading at or 1-2 less the same reading, 4 is no longer way below. From what ive researched so far the B18C motor should be around 220 for a healthy low mileage motor, however with the mileage of this motor being over 130k Im feeling good about the state of the block. Honda Guru's tell me im wrong lol.
It was time for a test drive.
Initial response up to 4k was good and an improvement, however once past 4k and the VTEC hit point, the tach goes nutty and the motor is struggling, not jolting but you can hear the struggling im talking about in the video. Before i started the initial work i purchased an Ebay Tune Up kit for the B18C GSR, really good deals for stuff like this on Ebay. It included new Plug wires, Distributor Cap, Rotor, both lower and upper VTEC seal's, and a replacement PCV valve.
First up was the distributor cap and rotor, and yea i found the problem with the tachometer going nutty pretty quick. Can you tell which is the old/new?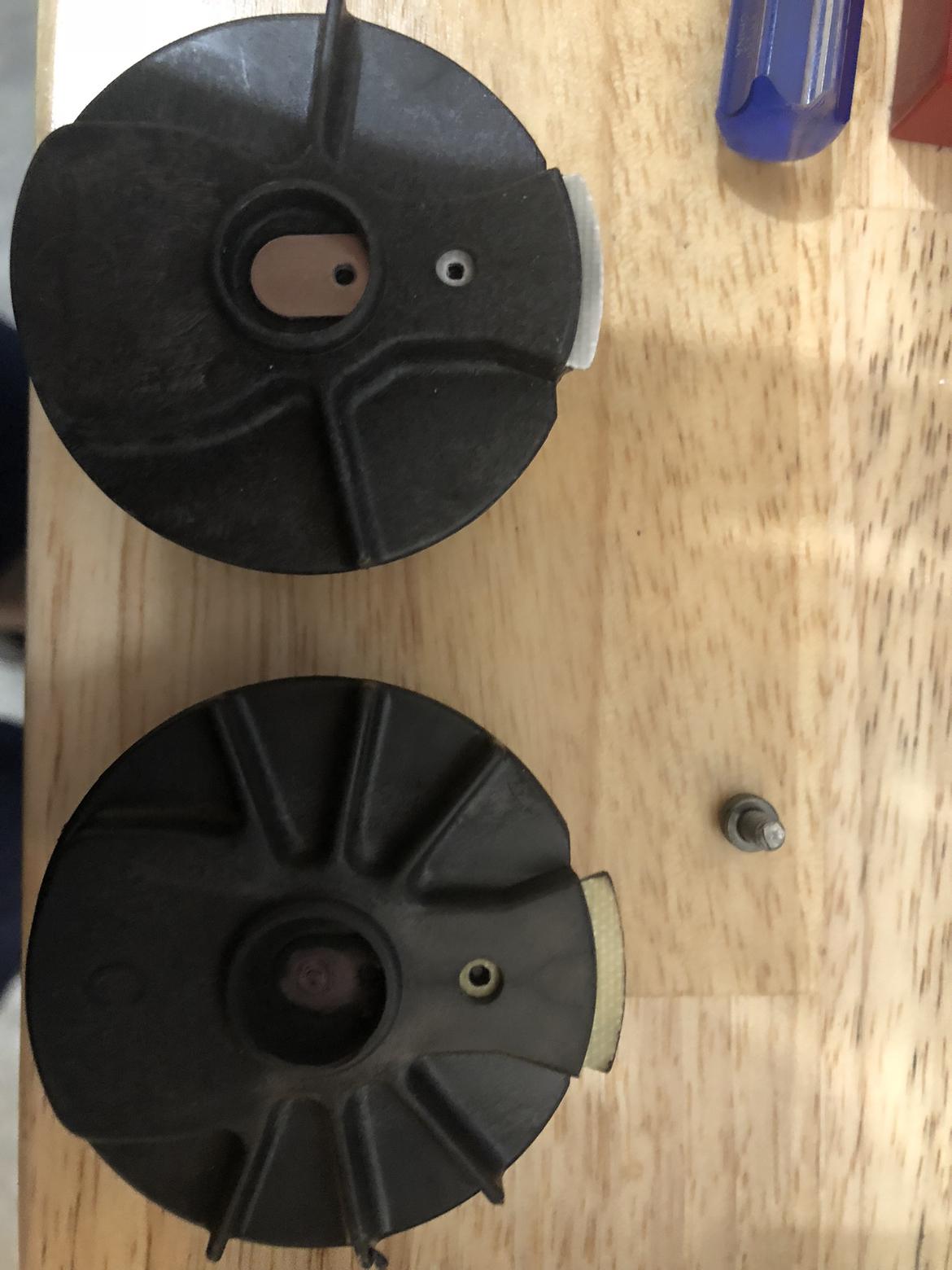 With the cap and rotor replaced, it was onto the VTEC solenoid, which is right next to the Rotor, thus perfect time to take it off the block and give it a good cleaning.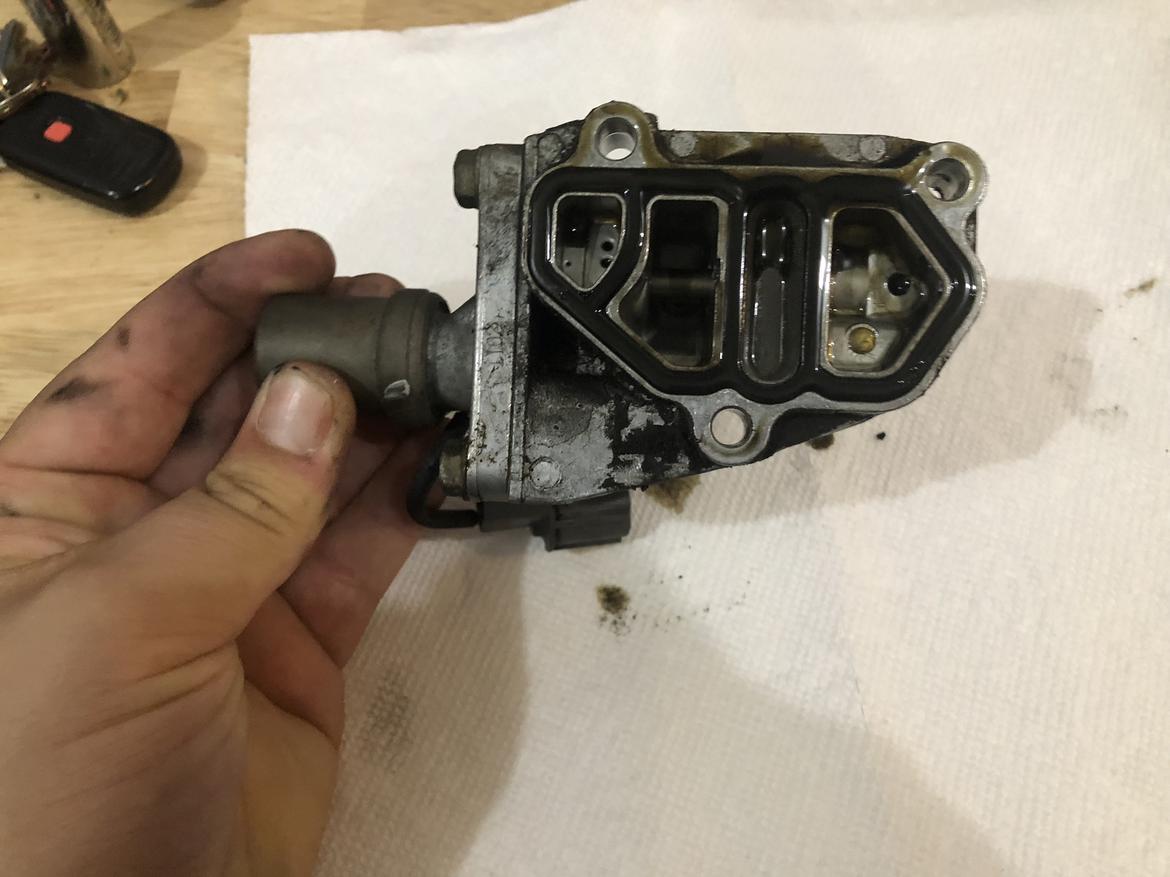 With the solenoid off the block and in my hands it was clear these seals have also failed, lots of oil build out around the housing and near on the block itself. Onto the cleaning and removing the old seal!!! Seal fell apart on removal.
All clean and shiny!!
New seal with a little bit of old oil to lube went in with no issues, placement back on block required some cleaning also.
Tach issue resolved and VTEC engagement is working like a champ.
With my mind at ease on oil leakage i began to move onto the transmission fluid leak issue. I was able to narrow down the leak coming from either the Inner shaft seal or the passenger side axle seal. The drivers side was completely dry, however the passenger side had a thick film of transmission fluid all throughout the passenger side lower suspension and underbody. This was no good and limited my testing as i did not want to damage this transmission. After several thread reads and youtube videos i was dreading having to replace the inner seal, i started small and worked on the passenger side first, this was something i can do with minimal work and did not involve dropping or removing both side axles.
With the passenger side suspension dropped from the A arm i was able to keep the axle still connected to the hub and pull the inner axle end out of the transmission. This allowed me direct access to remove the axle seal. To my surprise i found right away where the issue was, there was a small tiny rock logged in between the seal and the housing, creating a small gap where fluid could rush out during drive. Its hard to see from the picture but this seal was very brittle and clearly re-used from the last time the Axles were replaced. The axle shaft boots on both end looked fairly new.
With the old seal removed, new seal installed and a fluid flush completed i was ready to get back on the road for a leak test. Success!!! no new leaks, i still have some cleaning to get the remaining fluid off the underbody.
At this point i began to start removing non-essentials. AC lines along with condenser have been removed. I have yet to remove the actual AC compressor as i need to source an Integra Type R non-ac Belt.
Next step to really get road worthy is replacing the rear hatch glass. At first i hit the local glass shops, i debated trying to source a Lexan variant for light weight, however the cost was to high for what im shooting for. So i started looking at local Honda/Acura forums in the KC area. I found a great deal on a complete used hatch off of a 1996 LS Integra, glass complete. I was excited until i got to the guys house to find this hatch has been sitting in his back yard for the better part of 8 years. Needless to say the hatch itself had a decent amount of rust. At first i was thinking i would just replace the whole hatch, however with rust in mind and this car coming from Denver this car had very little rust. Only one spot on the car had rust and it was due to a shotty bondo job to replace what looks to be a quarter panel impact.
This quarter panel will be a whole other project as i do intend on removing this cancer!
As far as the rear hatch i wrote of using the hatch itself and will just use the glass. I fully removed the old seal and any left over glass from the current rear hatch. It is clean and ready for a new piece of glass. I sourced a local glass shop in the KC area that quoted me $115 to remove the glass from the hatch i bought and install on the current hatch.
More to follow as the next ask is working my budget to have the glass replacement complete before i work on anything else. I want to get this car road worthy and on a track for some testing. Road worthy as in allowing my son(5 year old) to go for a ride with me :) He has been a huge component to building our "Race Car" very exciting times.