alright, so I got a more detailed image from klodkrawler via email (which is downsized again, but placed for easy comparison sake):

which I tarted up a little bit...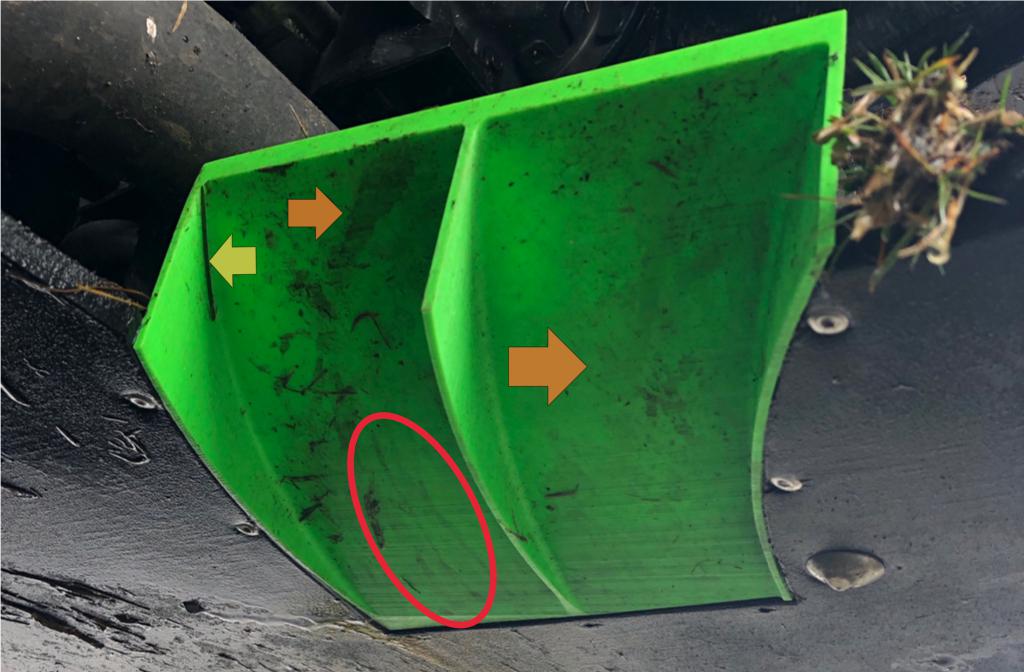 I'll start with the yellow arrow first. It's tempting to see this being aligned correctly as an indication of proper flow, but I really expect this is more coincidence than anything... I wouldn't read much into it.
The orange arrows are "mud impact" splotches... so their size, direction, and propagation are basically meaningless.
There's about 3 streaks inside the red oval that are encouraging. They clearly show attached flow that's attached to the duct for the first ~50% of it's length. There's pooling at the end of them... so it might be because y'all came back in quickly after the off, and it didn't have time to propagate the whole way. It could be that they ran into debris and stopped propagating because of that. Or, it could be because the duct is 'kicking up too much' that the flow is slowing down and separating after 50% length.
It's tempting to make a claim about the presence of these streaks only in the "inboard" duct, and not the wider/more-aggressively-expanding outboard duct... but I think there's too much variability going on here to be on any kind of ground about that.
tufts, and two gopros are needed... and they need to be sync'd (start them together, "clap", then mount)... point one at the tufted ducts (tufts being ~2" in length, the lighter the better... not black... probably red... so you can track them across the green of the duct and the black of the splitter); point the second one so it can record the speedometer. It'd be better if it was pointed at a pitot probe speed output... because wind... but "ground speed" is a start. If you can run one way down a straight road ~60mph, then flip a u-turn and run back the other way, that'd help negate the wind not being in the speed.