It aint the first, wont be the last.
I am going to start this thread and try to maintain it through the tear down, build up and driving phases. My intent is to build a sub-$10k street, autocross and occasional track day missile that is highly reliable and maintainable. Targeting a 400hp and ~2250lbs LS1 powered go kart – no body. Like roadkill's C4 hack, I will remove the entire body, except the A-pillar/windshield. Delete the front and rear portions of the frame that protrude beyond the axles and then install a roll-cage, likely using NASA specs. We'll see how it goes!
Donor car search parameters were simple, C5 around $5k, 6spd, no or minor frame damage, more-less complete vehicle. Turns out only ~20% of C5s are 6spds and of the wrecked/salvage or deplorably maintained cars ~95% of those are automatics! After a couple months a potential candidate was posted to a Copart facility only a couple hours from home. After jumping through the various Copart hoops I placed bids on and "won" a '98 convertible. Winning bid was $4750. After taxes and various Copart fees, my actual total was $5800. Considering I had only seen some low quality images of the car, it was more money than I wanted to spend. But I hoped, based on the pictures, that the car had a lot of sellable components compared to others I had seen sell. It appeared to have only damage to the front bumper area and mostly cosmetic at that.
After wiring money to Copart I went and picked it up. The vette was delicately placed on the trailer with surgical precision…. Giving it the once over for the first time I was pleasantly surprised. Long tube headers! Full length aftermarket exhaust! Optima battery! no apparent mechanical damage! clean interior! only 89k miles! ¾ of a 1 dollar bill! Six magnum condemns! One shoe! Obviously, this was looking to be a veritable bargain. It wouldn't start on the trailer using my jumpbox, so we continued home. Delighted.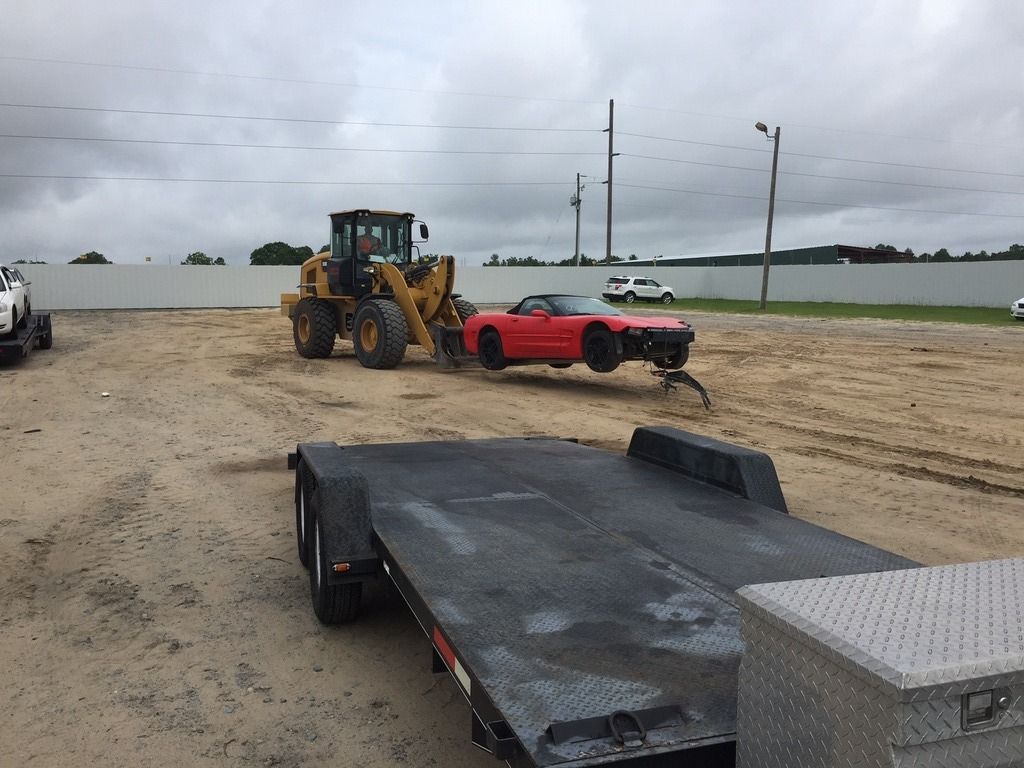 At the house the battery read 6 volts. Dropped in a new battery, the LS1 thundered to life immediately. It is certainly sounding like the PO threw a cam in it and what a glorious sound! it had no water in it and no air filter, but getting it situated in the driveway using only 1st and reverse the driveline felt good.
Currently, I am awaiting the salvage title from Copart. I have a $30 C5 radiator from craigslist, a fast and furious style air filter from advance auto, some generic yellow trailer indicator lights to use as turn signals. When I get the salvage title I will be off to the visit the fine folks at the DMV. Filing for a rebuilt title and the inspection process will surely be sweat pump inducing events. Assuming I get through the title/tag effort I intend on putting a couple hundred miles on it to get a warm fuzzy that the driveline doesn't need significant repair. Then, the teardown and sell-off of the interior and body work will commence! Those funds will hopefully somewhat offset the large expenses to come (seating/belts and rollcage) keeping the budget under $10k. But, I doubt it.