I managed to borrow an engine hoist Thursday. This morning a friend came over and we went after the motor. I had everything ready to go, we hooked the hoist up and started jacking. Then I discovered I had to remove the power steering lines from the pump. Which barfed nasty fluid all over, luckily I had the catch trays underneath it.
Tried again with the hoist, had to figure out which way to rotate the motor/transmission but we got it out!
Big hole in the parts car...
Next step was separating the engine from the transmission. That went pretty smoothly once I realized I had to remove the engine mount bracket.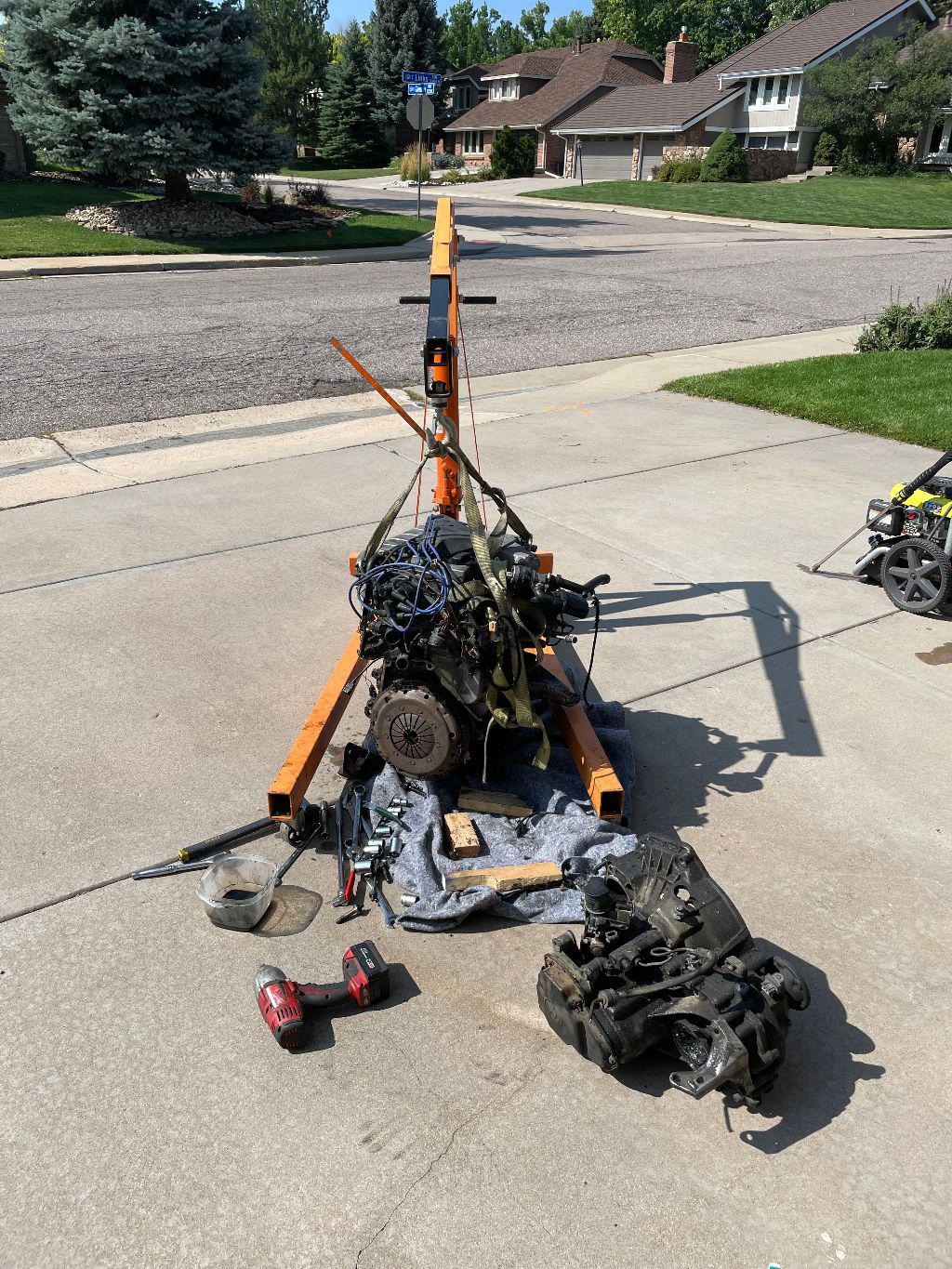 Transmission is super gross. Hit it with Simple Green and wanted to pressure wash it but the pull cord snapped on my pressure washer! Ugh. Hit it with the hose instead, wrapped the axle flanges in zip lock bags with zip ties, stuffed the thing in a 55 gallon trash bag and into the basement storage it went.
Next up was removing the axles, which were totally seized in the knuckles. Literally had to beat them out with a hammer. Got them tho and they also went into the basement.
Hooked the drivers side ball joint back up to the control arm so the car could roll, then took my friend out to lunch for helping me.
After that I moved all the other parts to the basement and took the BBS RX2's over to Discount Tire to have them mount up tires. Then I started working on the inside of the good corrado.
It had the wrong sun visors and sunroof motor cover. I'm still trying to find a grey sunroof motor cover but at least I got a black one. Started here, the tan really was shocking against the grey
Ended here...
Next up was removing the torn stock shift boot and shift knob to put the leather shift boot and Momo shift knob on
Then Discount Tire called me to say my wheels/tires were done. Went and picked them up and installed them too
After that I vacuumed out the interior and installed the floor mats and trunk mat. Then I had to clean up and take my son to soccer practice. However I noticed the car is leaking coolant. Hopefully it's just a loose clamp somewhere.
After dinner the guy who was going to buy the shell came by with a trailer and picked up the shell and the motor. Paid me and left. Super happy, got rid of the parts car in a week! All the cars are back inside the garage. Corrado is up on the lift, need to start the car and then get underneath it to find the coolant leak. Will hopefully do that after my sons soccer games tomorrow.