Way back in 2013, I participated in an event sponsored by my local Triumph club called the America's British Reliability Run. We did a two day drive out to western PA from eastern PA and back. I drove my 1972 GT6 and it was a good time. At dinner Sat evening, we were meeting at a restaurant in a town and were told parking would be at a premium. Since I was there alone, I chose to car pool with another solo participant. He drove a TR7. After spending a day driving across much of PA in my GT6, I was struck by how... modern... and comfortable... the TR7 interior was.
A seed was planted...
A few years ago, one of my Spitfire group friends bought a TR8 from one of the parts dealers we're friends with (Ted from TSI Automotive). After spending some time with the car, I was again struck by how comfortable the car was... plus there is the rarity of the TR8 - with roughly 2700 cars built over the 1980 and 81 model years. I casually mentioned how I'd like to have one some day.
A short time later, Ted sent me an email... "Hey... I have a TR8 for sale if you're interested..." Being buried in projects, I regretfully declined. This continued for another car or two.
Fast forward to 2020. The Triumph group is making plans to do a 2+ week trip to Nova Scotia. My plan is to drive my GT6, which has been out of action since the transmission locked up during a test drive back in 2014. But I have transmissions to install... but the needling thought in my head was there... "do you really want to spend 2+ weeks in a GT6? Really?" Regrettably, that answer right now is, No. It's a cramped car. It's hot.
As my "get the GT6 done or else you're driving the MINI" deadline neared sometime in July, I get another message from Ted, "Got another TR8. It's a good one!" However, my space and time constraints have not really changed. But... I think about how comfortable the car would be for a long drive... and a few messages later, ("Umm.. Chris... willing to store a car for $$?") and I decided to buy the car.
Some back and forth about details later, and in late July I mail a check and Ted mails me the title. I transfer the title and start making plans to get the car. I started on work to possibly trailer the car home with my minivan with a friend's Trail X aluminum car trail (with the TR8 on it, would be "just" under the towing capacity of a Grand Caravan), but in reality I really, really wanted to drive it home.
Setback #1: My usual go-to for these sorts of adventures is a friend from the classic Volvo and MINI groups. Unfortunately, his daughter entered the hospital and he can't get away.
Setback #2: back up for these crazy trips is my intrepid 73 year old mother. He biggest problem is her "wheel time clock" started running and goes "ding" at about 5 hours into a trip. So while I can make the drive out to Ohio where the car is located in a day, the return trip would exceed my mother's seat time allowance, so the trip would need to be a 3 day event. We started making plans... and then we both get a message from my cousin - my 87 year old uncle (mother's brother/oldest sibling) is in the hospital. She and her two siblings are flying into NJ that weekend (translation: prognosis is NOT good). So we are delay traveling too far from home until we know what's going to happen. Last weekend (Aug 20), we got our unfortunate answer. Funeral on Sept 3. We leave for Nova Scotia on Sept 6. So I have one weekend free to get the car.
To add to my own complications, work is nuts the two weeks before I leave for Canada, requiring me to be at a site in NJ for 4 of the 5 days last week.
After work on Friday, I pick up my mother and we drive out to Ohio, over-nighting at a hotel near Akron. The next day, we drive to Lima, OH to get the car. As I first saw it: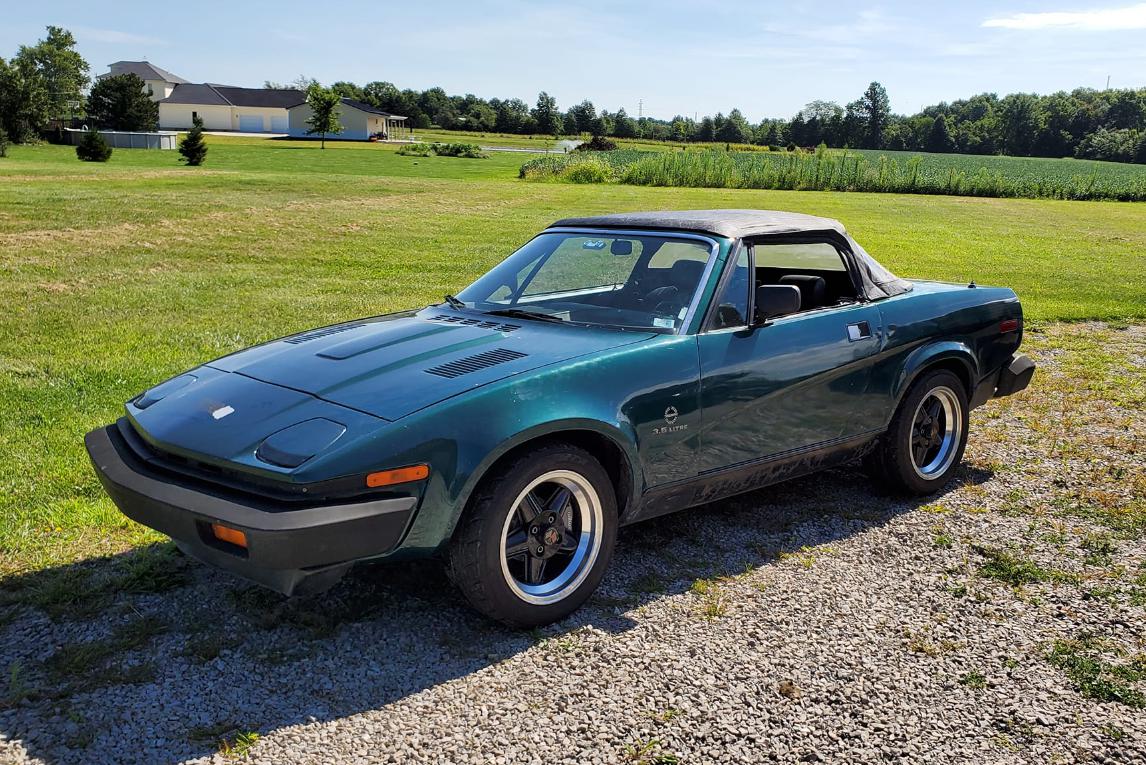 1980 TR8. Original BRG paint that looks good from 50 feet, but in reality, a repaint will be in the future. I recall Tim's article some years ago about repainting his '67 Shelby and how there's a difference between "original paint with patina" and "original paint that's just tired". The paint on this car falls under the latter description.
That said, the previous owner was a man after my own heart - he cared more about how the car drove than how it looked. And made numerous changes to meet his vision. Some I agree with, some... notsomuch.
We'll start with the good:
Edelbrock 4 bbl carb and intake manifold in place of the original dual Z-S set up.
Stainless 4-2-1 headers into Magnaflow resonators into dual OE-style mufflers. It makes nice V8 noises, but isn't too loud.
EZ Steer electric power steering with a TR7 manual steering rack in place of the original hydraulic P/S setup. I don't have any experience with the OEM P/S, but the EZ Steer system feels great (and confirms I want one of these systems for my 1800ES).
Wilwood front calipers and what appears to be larger rotors. This appears to be a The Wedge Shop kit. The website says it needs 14" wheels, but going by how tight the clearance is with the 15" wheels on the car, I cannot see how. Also fitted is a TWS 50-50 proportioning block, although Ted is not convinced of its effectiveness ("my son and I both agree the car doesn't stop as well as those 4-piston brakes would hint it should"). Given Ted's history of racing these cars back when they were new, I'll take his comments under consideration. I didn't really push the brakes hard, but they don't seem bad. They are vacuum assisted, so the pedal feel is similar to a modern car.
Two sets of tires. Sticky and ridiculous. When Ted got the car, it had a set of practically new Toyo R888R (TW 100) tires on the wheels. Also included were a set of unmounted, but at least slightly more street worthy Nitto NT05 (TW 200). Planning to drive the car home, I asked Ted to swap over the Nittos. He didn't actually say what tire model the Nittos were in the emails, but having seen them, well... I'll just say I'm glad the forecasted rain didn't occur and I was gifted a dry drive home. Those tires in the wet and hwy speeds look scary. But in the dry - boy howdy they grip. The tires definitely grip better when cornering than the seat can hold me in place.
Dash mounted AEM Air Fuel Ratio meter. Not sure it's really needed, but it gave me something to look at ... since it occupies the radio slot.
What appears to be an extensive stereo system that doesn't look cheap. But...
From what I can tell - no rust. While the paintwork isn't great, I don't see any rust. Granted, I haven't put it up in the air yet.
The not so good:
GPS speedometer - placed in the filler panel for the radio slot next to the AFR gauge. This alone wouldn't bother me, except he disconnected the OE speedometer and odometer. While I can somewhat understand the speedo change - it's an 85 mph speedometer, and the car on the hwy can easily bury that. I had it up to 80 a couple of times and there was plenty left in reserve. But the lack of an odometer will simply not work with my OCD need to track fuel mileage. And where he placed the AEM speedometer gauge (down where the radio would be) isn't exactly easy to see. I tended to watch the GPS readout on my phone navigation more than that gauge.
Air Conditioning - the car was originally fitted with it, and most of the parts were included, but it was removed. I want to A/C all the things, so that will need to go back in at some point.
The radio... I'm well... "old school"... I still listen to CDs in the car. I do like being able to connect my phone to my stereo for calls and the occasional pod cast, but I don't keep music on my phone. The system added to this car is some sort of hidden bluetooth setup. I have a ton of paperwork that came with the car and hopefully some info about this is in there, so maybe I'll learn to live with it, but for now I'll be shopping for a CD stereo.
The carb tune seems... odd. At moderate hwy speeds, the temp gauge will show the engine running on the high side of the scale. Not quite into the overheating zone, but definitely "hot." Comparing this to the AFR, it appears the carb runs a bit lean at these speeds (pretty much anything under 70 mph in 5th gear) showing ratios in the 15+ range. Above 70 MPH, and the needle drops back to straight-up-normal. Stop and go driving with a lot of idling- also straight up normal. And the AFR seems to agree with this, showing ratios in the 13-14 range. I wonder if the gauge has a data logging output... However, that tune also netted about 24 MPG HWY, so maybe I'll leave it be.
Hot restarts are a bit finicky. A whole lotta cranking before it fires. But once started, it stayed running, even in 90 degree heat, so by British car standards, that's not too bad. Cold starts are pretty fine. I think it has some sort of automatic choke, but I haven't dug into it. But being late August, "cold" was in the 70's, so not really that cold. We'll see how it does in October during the ABRR.
The seats feel like they're a bit tired. There is zero lateral support, although I don't know what these seats in good condition should feel like. But a rebuild or replacement could be in the future. That said, they didn't bother me too much for the two days and 570 mile trip home.
The car apparently sat with the windows and the top down for some time, so the windows are stiff to crank up and the rear top plastic is pretty foggy and required some effort to zip into the top. So some lubrication of the window mechanism will be on the to-do list and I might look into a new top.
The car begs to be driven on long trips, but at the same time, my 52 year old right knee was begging for either cruise control or frequent stops to stretch.
There is a always-on USB charging port and volt gauge in the dash. While the former is welcome (and was used during the drive home), I'm sure the latter means I'll need to install a battery tender.
And thus starts the story of the 3rd Triumph in my fleet. More to come (although probably not until late Sept when I return from Canada).
"Little British Cars are like potato chips - you can't have just one."