Relisting for a good friend of mine. The car started life as a 1980 264 GLE.
Somebody needs this as a Challenge Volvo Gastropod. If I can help facilitate the purchase in any way, let me know
--------------

So, before I tear this thing apart next month to transfer parts to my 78 GLE, I figured I'd see if anyone wanted to buy it as a (mostly complete) working vehicle first. I have a few select items I'm planning on keeping, but some others I can part with. (Even if I have to redo them on the new car)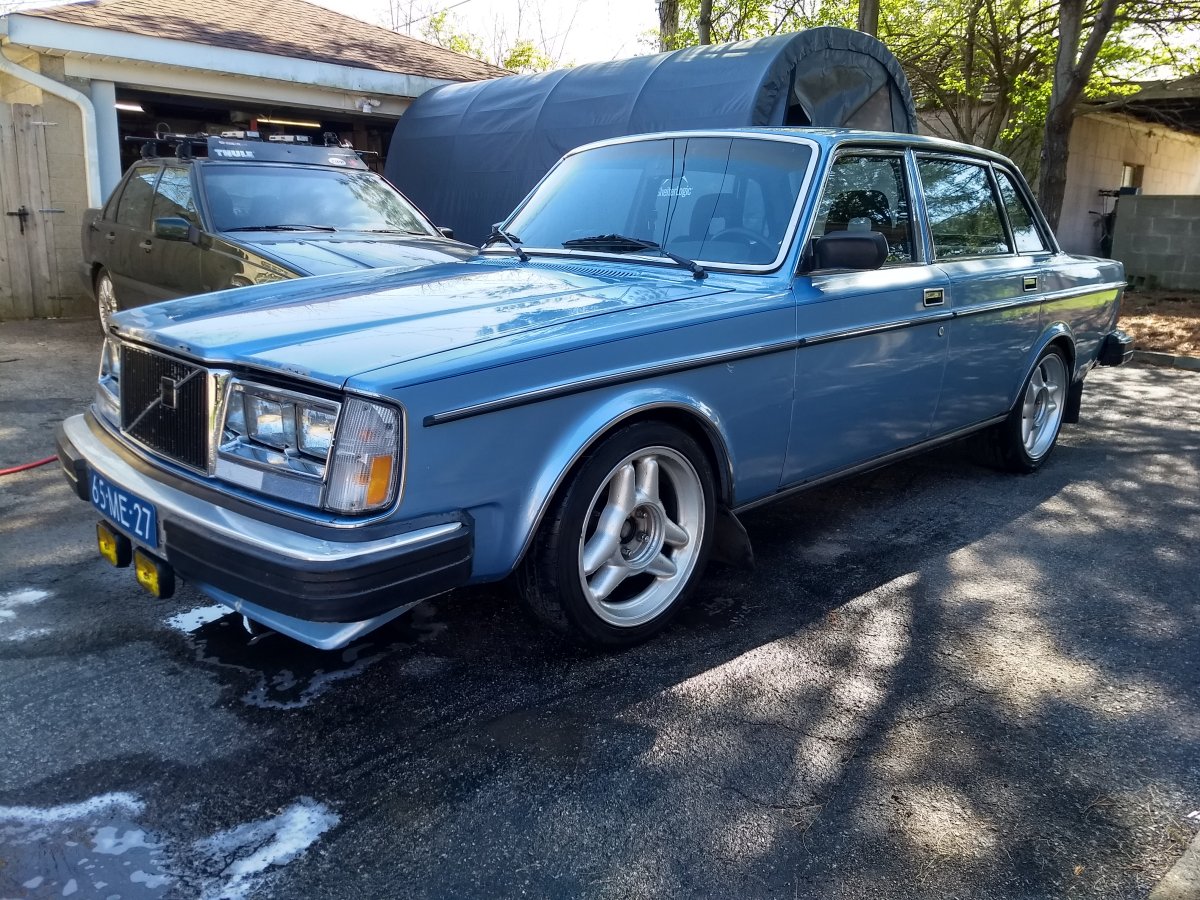 I've had this thing for about 7 years and have done a moderate amount of work to it in that time. You can see the project thread HERE.
The backstory is that it sat in a barn in Wisconsin from 1994 until sometime in 2013, when I bought it. It looked well enough, and had been repainted at some point in the '90's. Unfortunately, that paint job hid some so-so body work in the back of the car. The car itself is solid, I just don't want to deal with the rusty butt-cheeks, etc.
I put the car on the road New Years Day 2014, in the middle of a blizzard. That was the only winter/salt the car saw in its time with me. I also have tried to limit its time in the rain, as well as keeping it stored under a cover in a carport or garage.
Details:
- '83 B21FT on MS1 (V3.0) w/ Extra. LH2.2 Dist
90+ exhaust manifold and T3 turbo
2-1/2" exhaust
Spartan 2 WB
Mann ProVent
Electric rad fan
90A alternator
AC delete
740T in-tank pump
Factory IC
- M46 Trans w/ Aspirator shifter
- 3.54:1 rear
- 17x8 "Tri-Spokes" on 25mm adapter spacers with fair tires (225/45 Falkens)
- Adjustable panhard bar with poly
- Poly torque rods
- Front Control arms reinforced with Yoshifab plates. Poly bushings.
- ZF rack (It does have a slight rattle on the PS side over low-speed bumps)
Issues:
- Rust in buttcheeks and lip under taillights.
- Small hole in drivers floorpan
- Pass rear door has non-working window and the latch has jammed up (Just never got around to digging into it to fix it)
- Heater core started to leak last year, and I just bypassed it.
- Original hood was trashed, so it will come with the black coffin hood from the '78.
Parts I will be keeping:
- IPD sways
- Dash pad and triple gauge pod (will swap in pad from the '78)
- Turbo Steering wheel (have original steering wheel for it)
- Seats (will swap in seats from the '78)
- front chin spoiler
- Volvo floor mats
- Rear speakers and headunit
- Fog Lights
- Front Plate
I'm thinking about $1,500 for the car in the above listed state.
Aside from the couple of rust issue areas, the rest of the car is solid. The rust along the rockers in the pics below is all surface stuff, and the rockers are good, as far as I can tell. No rust around the windshield. The sunroof works. The paint cleans up nice for its age and the car looks great going down the road.
The rust just bugged me more than I thought it would.
I need to get this thing gone by the end of October. I need the space and want to get things situated to work on the new one. If it doesn't sell like this, I may offer it up as a much more stripped down non-running roller and grab more parts off of it. I have limited time in my schedule to let it sit around, and I'll be tearing into it starting the weekend of the 12th, if it doesn't move as listed.
The car is located in Indianapolis, IN.
Let's talk and thanks for looking. More Pics below.
Chuck
cwarren@indy.net