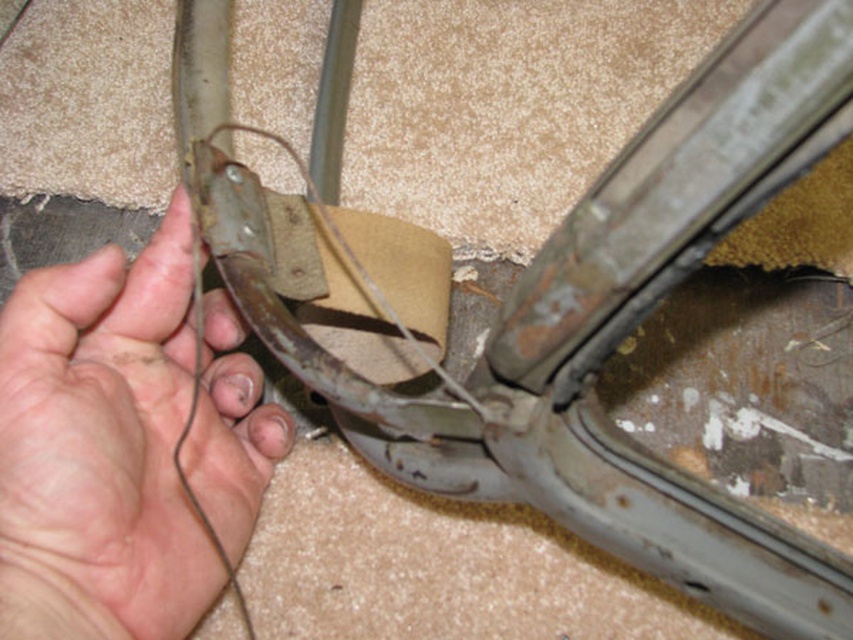 With the car nearly done, it was time to install the top. Tigers are not known for their excellent top design. Quite the opposite, in fact, as Tigers have traditional, early British, erector set-type tops.
That said, once you finally get a Tiger top erected, they are rather effective at keeping out the elements, offer good head room and remain relatively quite on the highway.
Most Tigers came with simple black vinyl tops, and they're still the most common option in the aftermarket. There is one company, however, that can make you a beautiful canvas top in black or other colors: Robbins Auto Top Company, Inc. They made us a beautiful navy blue canvas top that looks truly regal and fits perfectly.
With a Tiger, you must determine two things: which top do you have and which top do you want? All early Tigers used an awkward cable system that tightens the top along the top of the side windows. Later Tigers (and Alpines) used an updated Velcro system to hold the top down above the side windows. You can take the cable system out of your early top, which we did, and install the easier-to-use, better-sealing Velcro system with just a drill and some rivets.
With the top frame cleaned, painted and installed, we test-fitted the latches and made sure everything fit well. A couple of notes here are in order, as the top frames were originally gray, not black. You need to take special care that the rather complicated top frame is straight, fits correctly and is well lubricated. This is a trial and error process. Be cautious when dealing with the mechanisms near the B-post that allow the top to go up and down. If they can't move freely, you will have major problems once the canvas is installed.
While installing a top is best done by an expert, we did it ourselves. We made sure to center it carefully and work our way slowly around the back of the top, screwing in the hold-down strip a little at a time.
From there we worked your way around to the sides, always checking, pulling and making sure that everything looks is taut and correct. From there, we moved to the front for that final seal along the front edge. We did have help from our neighborhood Tiger buddy who has done this job several times. Slow and easy wins the race when it comes to installing a Tiger top.
Our results turned out perfectly and we are very, very pleased with the look and feel of the Robbins top. We would highly recommend this top for your Tiger.