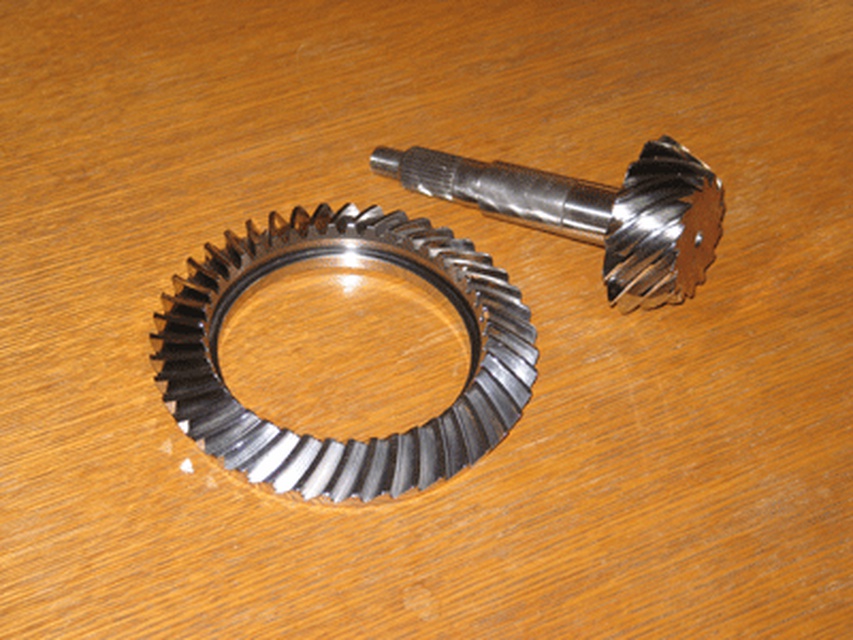 With our Tiger unibody out of our way and at The Body Werks for final sanding and painting it was time for us to turn our attention to finding some parts. To keep from going crazy, we find you need to look at parts procurement on a restoration project on a systems basis. Anytime you can break a restoration down into systems, it looks a lot less daunting.
Since we wanted to make our car a "roller" as soon as we got it back from the paint shop we focused our attention on the front and rear suspension systems.
We started by taking our differential to Volusia Drivetrain. While some home enthusiasts can rebuild differentials, we find it to be one of those areas best left to experts. We have worked with Tim at Volusia Drivetrain for a long time and have always been satisfied with the work he has done. In an effort to improve our car, but keep it nearly original, we opted for a 3.07:1 final drive ratio coupled to a limited slip differential. All Tigers were originally equipped with a 2.88:1 final drive with no limited slip. While this rather tall 2.88:1 ratio is probably the best overall compromise for highway driving, we wanted to be able to come off the line a bit quicker and were willing to sacrifice top speed a bit to do so. The next step up, and a modest one at that is the 3.07:1 final drive. We procured these parts from long time Sunbeam Tiger racer, Barry Schonberger (teamtiger21@aol.com).
While we had things apart we also took the ring and pinion gears over to Crane Cams to have them treated with their new Mikronite process. Mikronite is the brand name for a surface finishing process that strengthens, smoothes and polishes materials to enhance their performance. Reputedly, Mikronite improves sharpness, durability, lubricity and impact resistance while reducing friction, resistance and corrosion. Bottom line, our gears would run cooler and last longer with this process done to them. We had to admit, we were impressed with how the gears looked when we got them back. They looked as if they had been chromed. We'll check dif temps when we get the car together. For more details, check out www.mikronite.com for details.
Once apart, we realized we had a damaged axle. Long time Tigers East/Alpines East member John Webber, came to our rescue. He had good used axle that he gave us. We cannot say enough about joining the club as soon as you decide to restore a car. We joined Tigers East/Alpines East (www.teae.org) and signed up for Team.Net's Tiger list. Both have been extremely helpful. There are other good Tiger clubs including CAT (California Association of Sunbeam Tiger Owners, www.catmbr.org).
For used parts we have gotten most of our stuff from the Rootes Group Depot, and most new parts we have ordered from Kurt at Classic Sunbeam Auto Parts (www.classicsunbeam.com). Both have proven to be good honest suppliers.