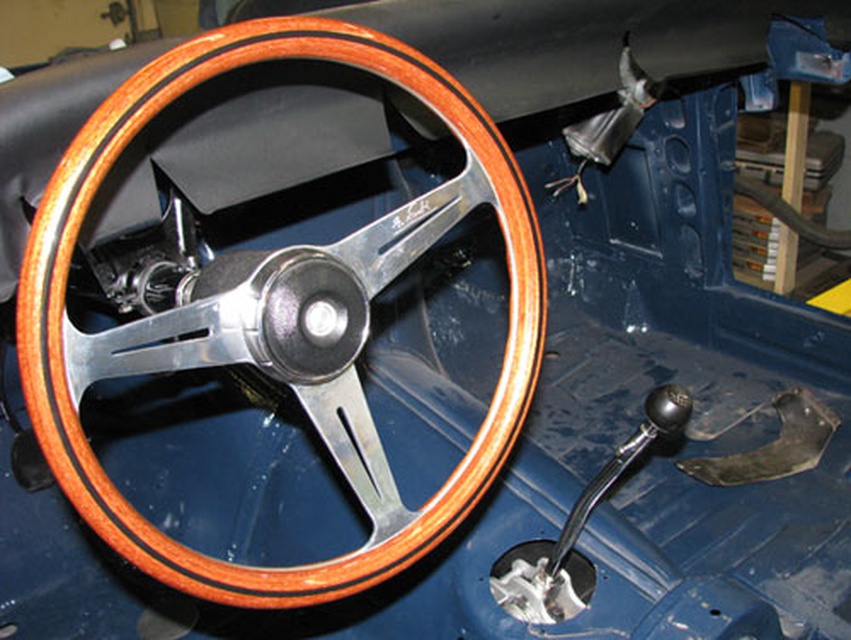 The car is now a roller. We have been dying to be able to move it, as it has been trapped on our lift for six months. In our last update, we outlined the front-end installation. With this step completed, it was time to install the steering wheel. Our stock steering wheel was missing when we bought the car.
While a buddy of ours found a stock wheel at a swap meet and gave it to us, once we looked it over we decided that it was too spindly and too big in diameter for a driver to easily slide in and out of the car. If our primary driver was not, let us say, plus-sized, this might not be such a problem.
Nardi makes a beautiful, traditional wood-rimmed steering wheel with three satin-finished, aluminum spokes. It's about an inch smaller in diameter than the stock Tiger steering wheel. What makes this wheel a good fit for a Tiger is that it has a very similar black band around the rim, just like the stock Tiger wheel. Unfortunately, while Nardi still has these wheels available, they have long since run out of hub kits to fit a Tiger.
Fortunately Bill Martin of the Rootes Group Depot has not only cornered the market on Nardi hub kits for Tigers, but he has also machined a new center post to mount the stock steering wheel adjuster nut and steering wheel center to the Nardi hub. The finished product is a near-stock looking assembly that still adjusts and uses the stock Tiger center nut and surround.
The Nardi wheel gives us the luxurious look we want in our car and looks period correct.