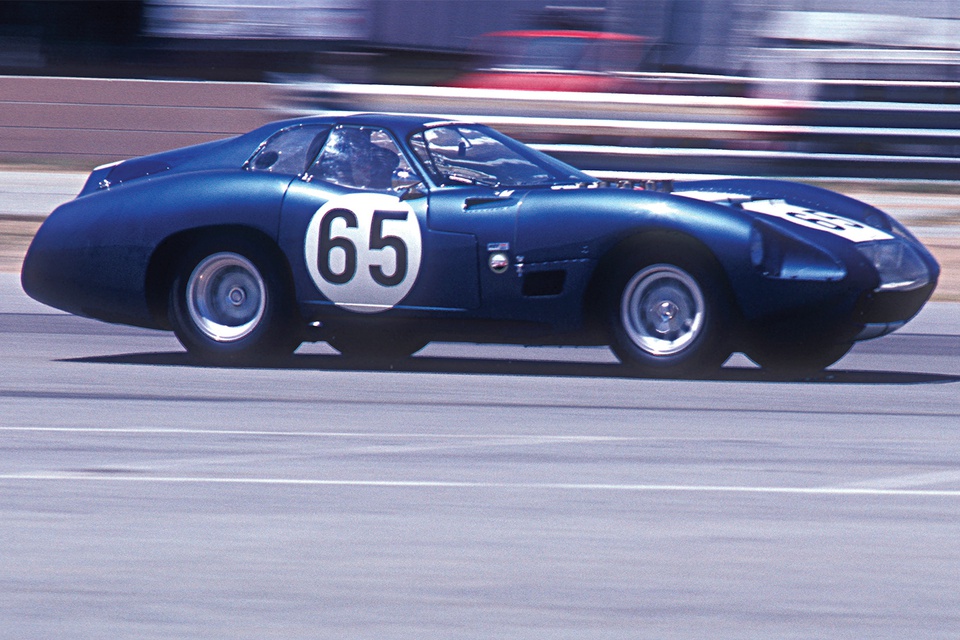 Carroll Shelby's incredible success with just two of his GT Class Daytona Cobra Coupes against the full might of Enzo Ferrari's 250 GTOs in 1964 had proved to the world–and to most of top management in Dearborn–that the Texan's tiny California-based team had the guts, intellect and experience to go against Enzo's Prototypes for the overall wins in 1965. As mentioned in Part 1, Ford's own plans with its still underdeveloped Mk I GT40s hadn't gone as well as expected, so Shelby's wins with the Daytonas had filled in nicely, encouraging Henry Ford II to continue with his plans for an even more powerful 427-powered Mk II version of the GT40 for 1965. There was just one problem: The '65 season's racing program had been verbally promised to both Holman-Moody and to Shelby!
If the contract for developing and racing the exotic Mk II Ford-designed and -built racers somehow wasn't going to be awarded to Shelby for the '65 season, as had been indicated by Ford's Ray Geddes, the cagey Texan still wanted to be ready to go it alone against Ferrari and Ford with our own 427-powered Ferrari killer. Based on the '64 season's record with the Daytona Cobra Coupes, there wasn't much doubt that our newest Type 65 coupe would be fast and reliable. Ford management was certain that their latest Mk II coupes would be faster, but just to be sure, they selfishly didn't want any additional, internally supported competition from another Shelby-built Prototype. Millions of dollars had been lavished on their GT40 program, and those responsible for its success certainly didn't want the embarrassment of having another $1.98 special from Shelby screwing up their plans. What to do? There was no way they could legitimately rescind the previously promised GT40 project from Holman-Moody without creating more political problems, so nothing was decided as the '65 season moved ever closer.
With the complete redesign of the 289 Cobra roadster's rather antiquated chassis in late 1964 by Ford's suspension wizard Bob Negstad, Shelby had again asked me to pen a new aero-cheating coupe body for this latest, but slightly larger, more powerful Mk II Cobra roadster chassis. With power from Ford's ground-shaking 427 side-oiler, the expected combination was truly seductive.
Since the Texan's latest Mk II roadster had not yet been produced in sufficient quantities to qualify as a true "production" GT car (at that time 100 examples had to be built prior to FIA acceptance), our latest one-off coupe would be required to compete in the Prototype category for the overall win, not only against Ferrari's P4s, but also against Ford's new 427-powered Mk II GT40s, creating the ever-increasing moral and political dilemma within Ford, since the program had now been verbally promised to two different teams.
With more time to carefully refine the Daytona's now well-proven aero concept, I lofted a new set of lines to go over the more sophisticated Cobra 427 chassis. Interestingly, Negstad, then second in command at Ford's suspension engineering office under director Klaus Arning, had also been responsible for redesigning the Mk II Ford GT40's suspension.
Classic Motorsports's Peter Brock knows the Cobra Daytona Coupe story well: He designed the thing. Photograph Courtesy BRE.