Disclosure: MaXpeedingRods sent me a set of coilovers in exchange for a review. As part of that arrangement, I have a referral code and link that will get you 8% off orders over $200. The link is https://bit.ly/2RdsHvb and the referral code is Keith.
About me (in case you're finding this via search engine): I have worked at Flyin' Miata for over 18 years, and one of my primary roles has been suspension development. I have done clean sheet coilover design for every generation of Miata. I've written three books on the Miata, one of which was heavy on handling theory. I am not reviewing these coilovers as a representative of Flyin' Miata, but that is my background.
-------------
These coilovers retail at $246 shipped at Maxpeedingrods.com, which is scarcely believable. I know that my colleagues in the suspension industry are trying to figure out how to deal with the flood of suspension pieces at this price point. Are they any good? Well, I'm going to review these without taking cost into consideration, looking just at the merits of the components. You can decide for yourself if the attributes and the cost line up.
First, an unboxing picture. They didn't travel all that well on the way from California. A couple of dings in the aluminum bits but no real damage that is apparent.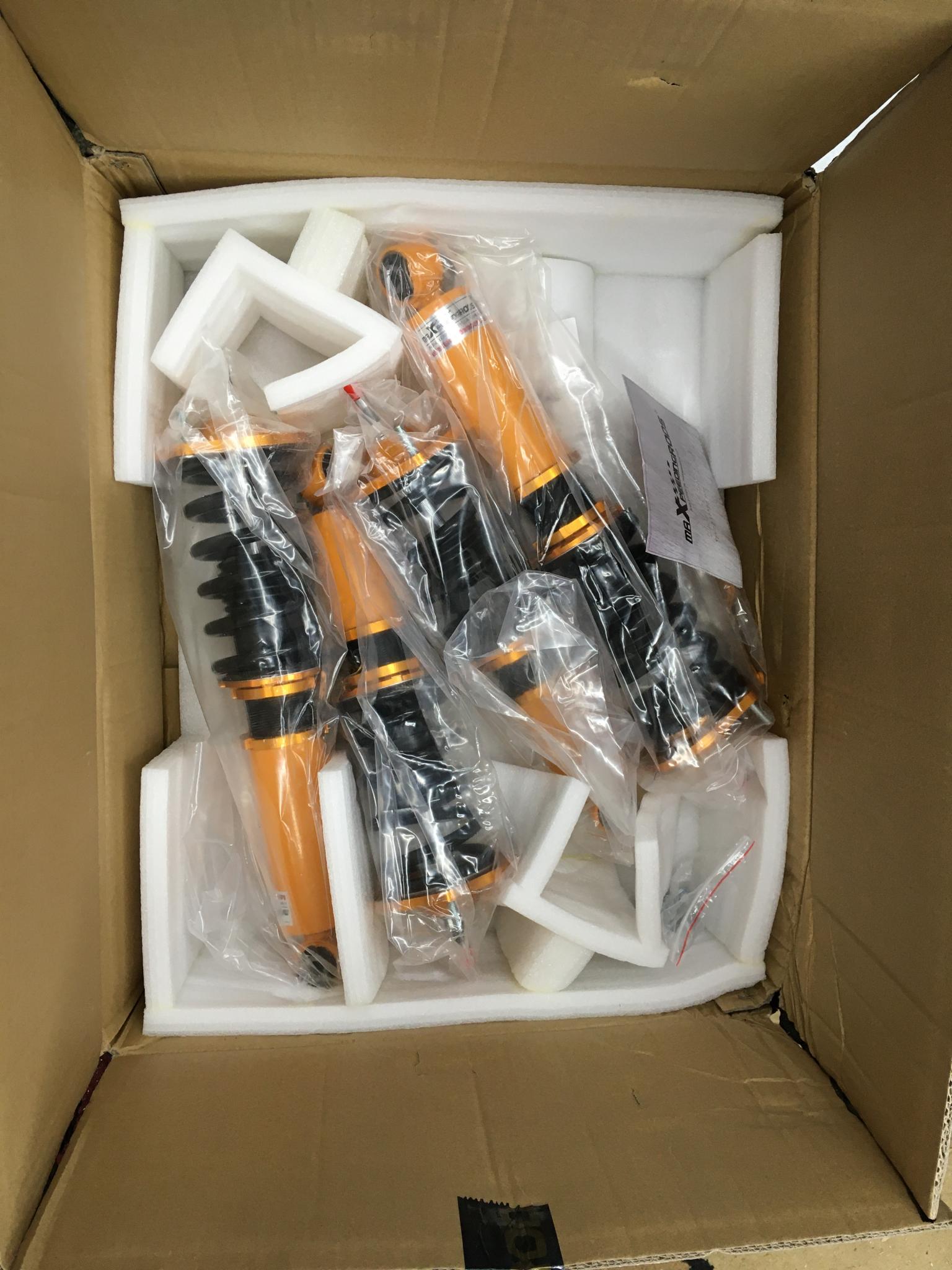 Here's a front (top) and rear coilover. Two-piece bodies, aluminum upper mounts with spherical bearings (which a section of the industry calls a "pillowball"), springs, etc. They are available in a range of colors, I chose gold for luck. And yes, these are studio shots because our photo booth is right beside my desk and it's easier than putting them on the floor :)
They certainly look good when you pull them out of the box.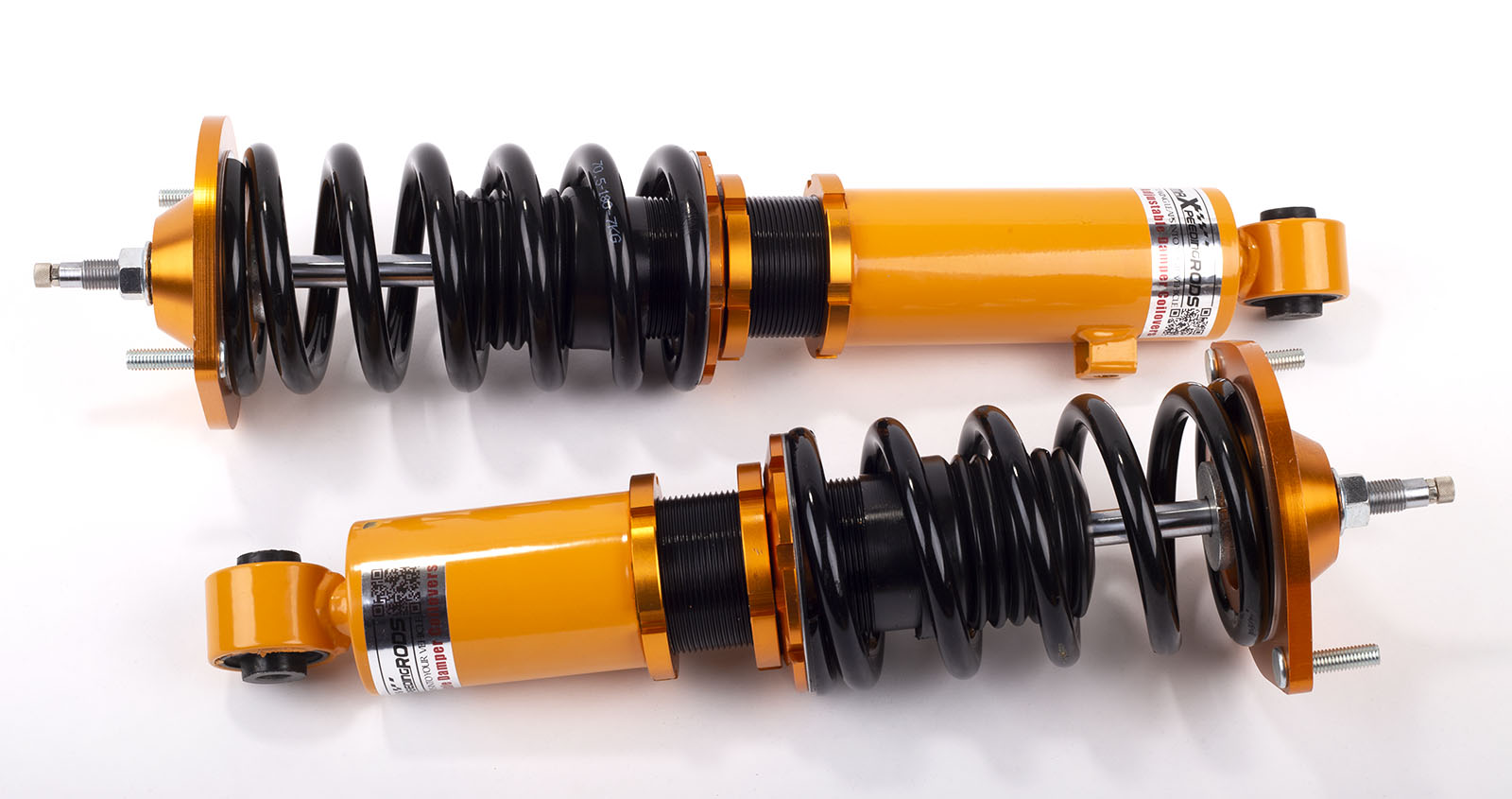 Contractually required logo shot. And also a very entertaining slogan.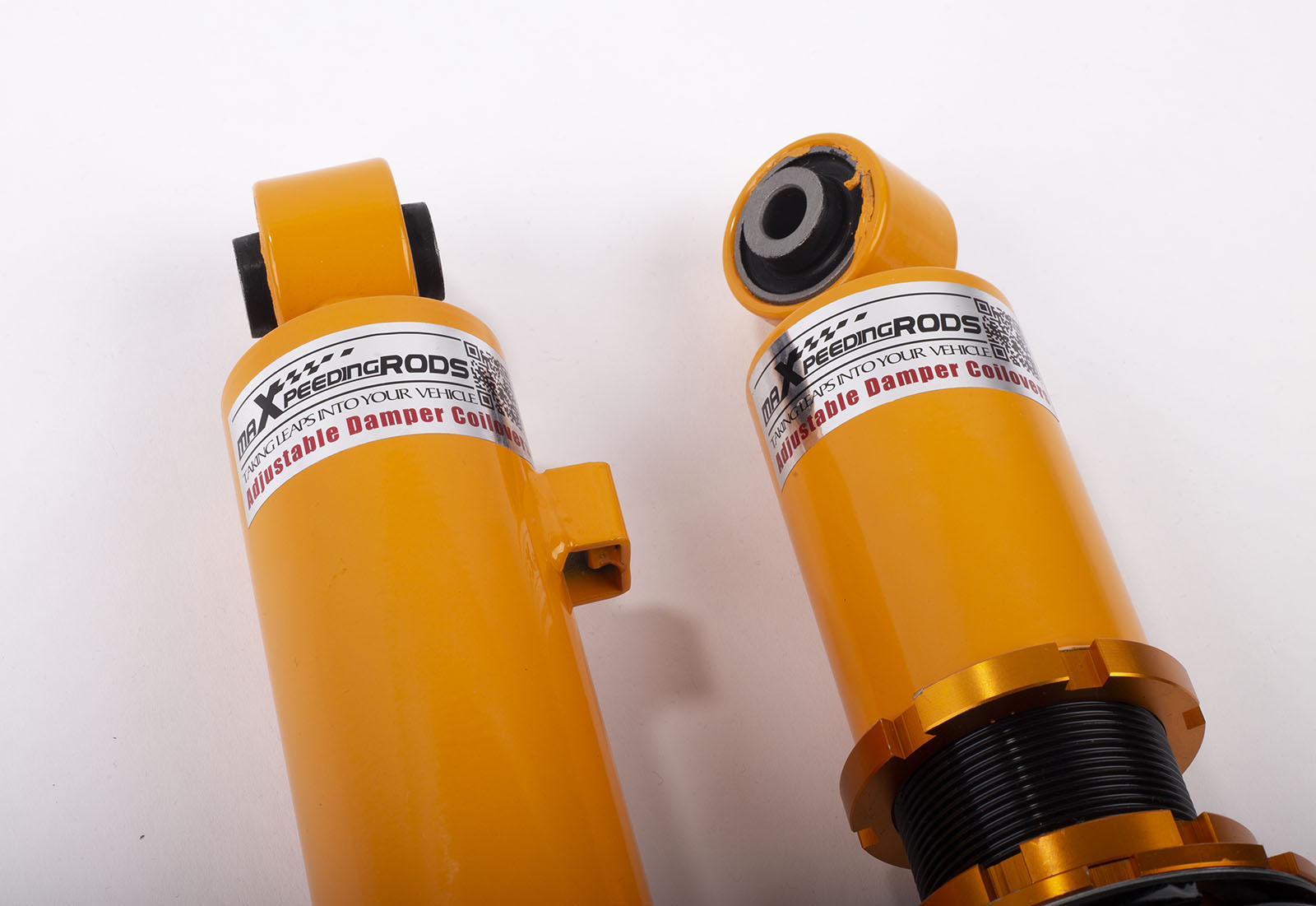 Other than the upper mounts, these are made of steel and you can feel it in heft. The fronts weigh 11.25 lbs fully assembled. A Fox Racing setup is 8.25 lbs.
Color matched wrenches are a nice touch. The allen key apparently fits the adjustment knob, which moves easily so it doesn't seem completely necessary. Note: if you've been to Harbor Freight, you know exactly what these coilovers smell like.
Not pictured: instructions. That's because there weren't any. The sales page for these coilovers gives a suggested damping setting, and otherwise you're on your own. The lock nuts for the lower section were loose on delivery which means you can rock it back and forth on the shock insert, which feels really bad and would lead to all sorts of rapid wear and noise if you didn't know to tighten down those nuts.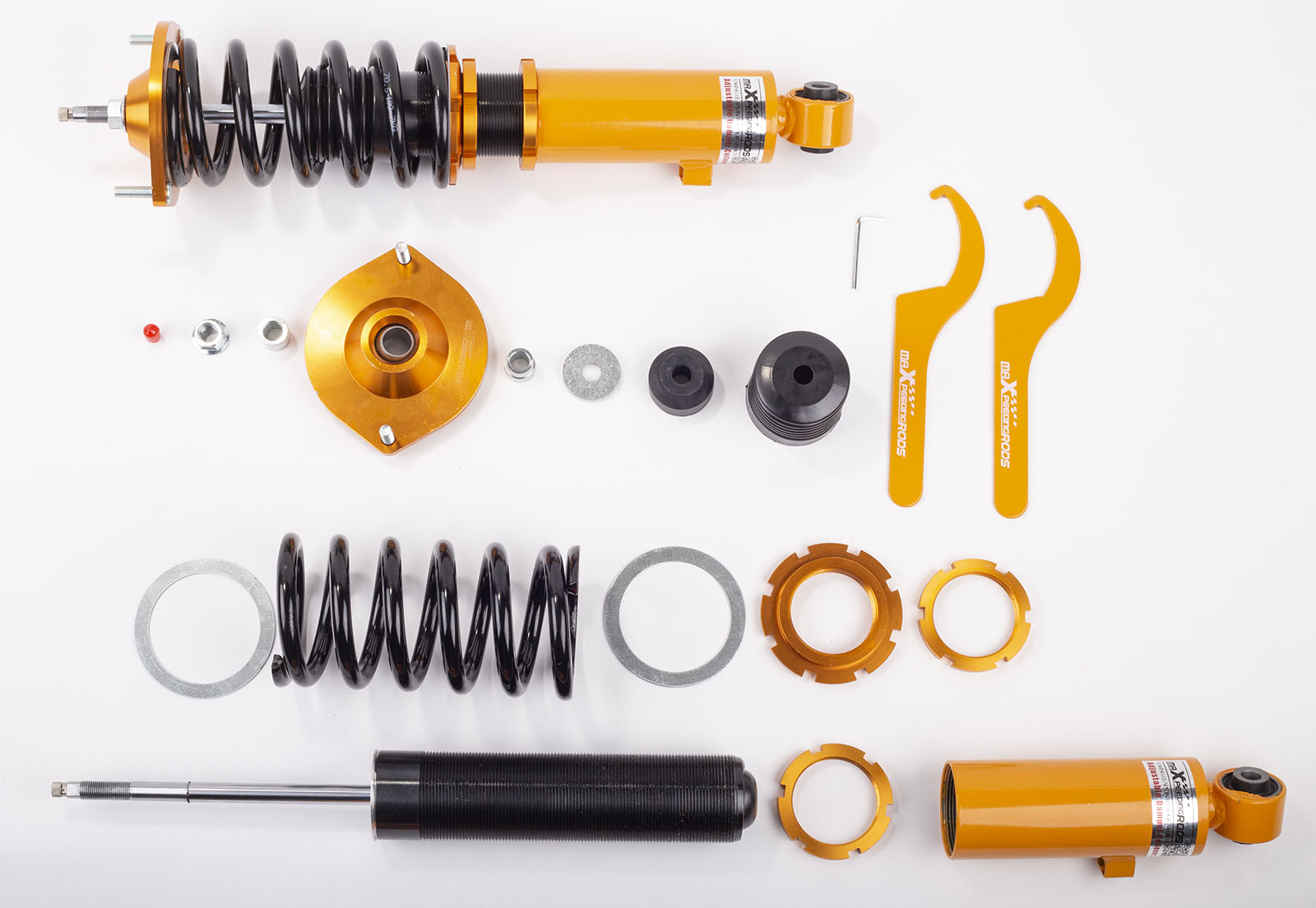 Those big washers are there to act kinda like Torrington bearings, allowing the spring to twist as it compresses and extends. It's a nice touch. Oddly, the rear shocks had a plastic piece as well as the steel bit. That's a better choice, but why not on the front?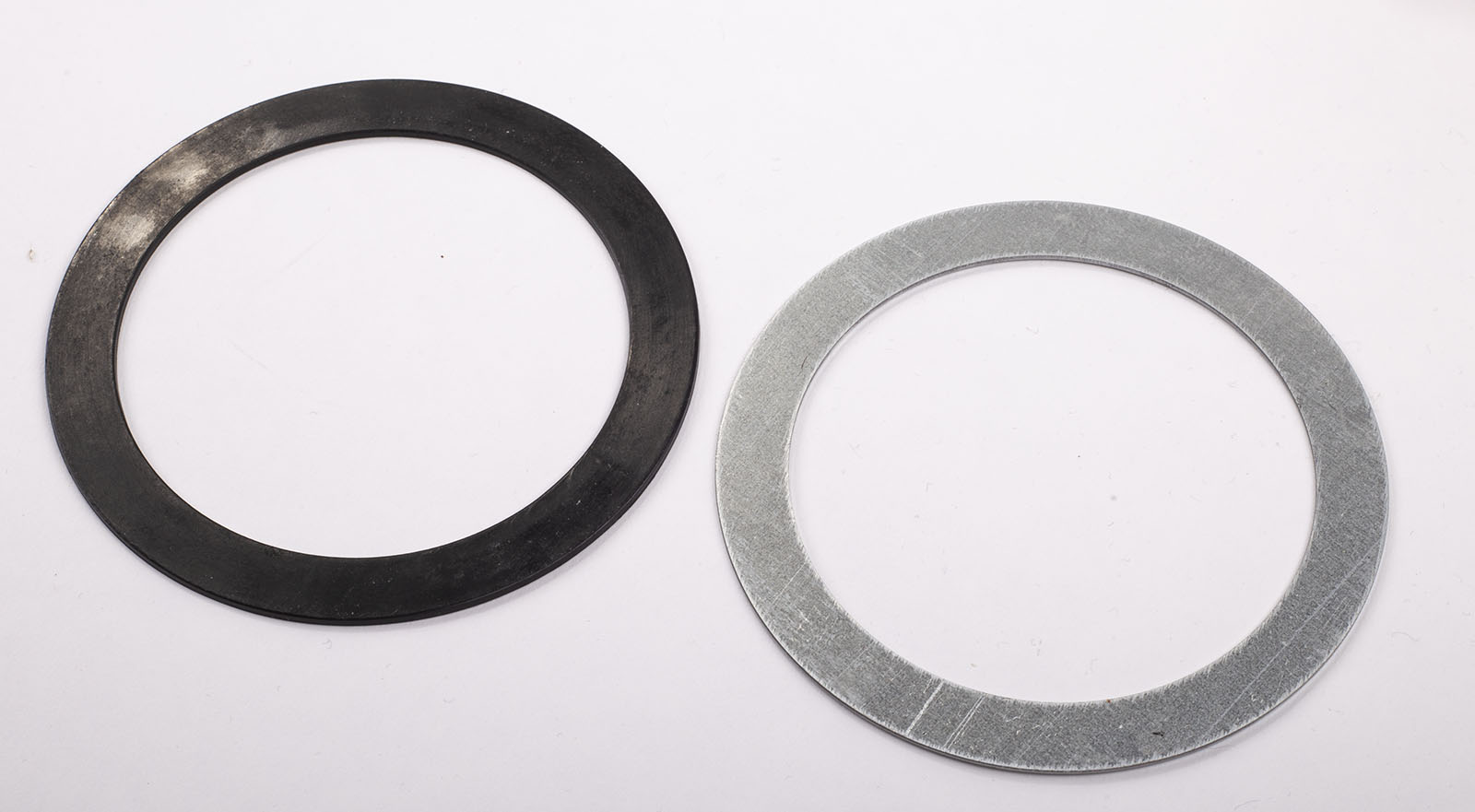 I did not tear a shock apart to investigate the internal build quality because I cannot see a way to recharge the gas. I think they're a monotube, which would imply that there should be some pressure in there. They don't seem to mind getting turned upside down which also means monotube. Odd.
The spherical bearing in the upper mount is loaded axially, which is not something that spherical bearings like very much. They can hammer loose. One solution is to specify a bearing with a very tight fit - we do this on one of our products. These bearing are amazingly tight. Too tight to move. They're there to allow the shock shaft to change angle as the suspension cycles, but if they don't allow it we have potential for all sorts of stiction problems as the shock gets side loads.
The upper nut is 18mm across the flats, which is a weird size for a Miata :)
So there's your unpacking and initial inspection.