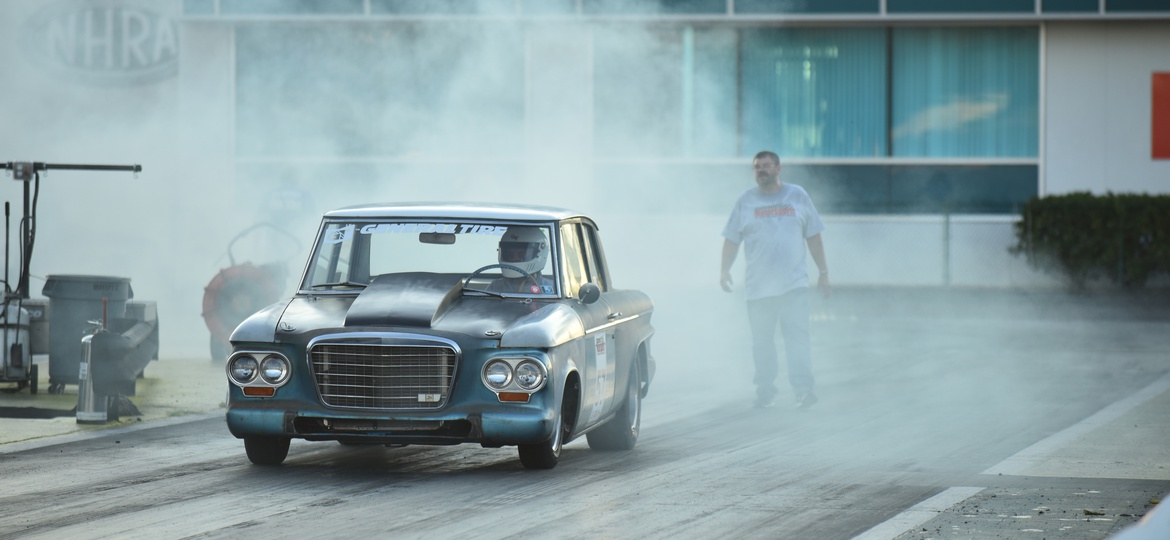 [Editor's Note: This story originally ran in our May 2017 issue. Good news! Calvin Nelson is once again coming back to the $2000 Challenge in 2019 with the Studebaker. We can't wait.]
Story by Tony Sestito
Do you want to rile up some older folks? It's simple: Just say the word "millennials." Then back away slowly.
You'll soon hear that today's kids are lazy, carry a false sense of entitlement, and listen to crappy music. They are all too dominated by their smartphones, tablets and gaming systems to care about anything else. There have even been reports that today's twenty-somethings aren't even interested in driving cars, let alone working on them. While the distrust of a younger generation by their elders may be nothing new, there are always individuals who throw those stereotypes straight out the window. One of those individuals is named Calvin Nelson.
Calvin is a 23-year-old hailing from York, Pennsylvania, who recently graduated from college with a degree in engineering. He is also the owner of a car that, we admit, is not actually a Falcon; instead, it's a contemporary of the Ford that is also a good 30 years older than he is: a 1963 Studebaker Lark.
This is no stodgy old Stude, either; underneath that midcentury bodywork and gritty patina, it is a modern hotrod.
Ignoring more stereotypically millennial pursuits such as playing video games and shopping for ironic headgear, Calvin was out in the garage cutting, welding and sculpting his Lark into a brutal street/strip machine that would mark his arrival at the Grassroots Motorsports $2016 Challenge as a builder in his own right. There he would not only place fifth overall in the event, but see the car he built post a blistering 11.622-second run in the quarter-mile. Calvin himself would go on to win the Rookie of the Year Award. Not bad for a first build, huh?
The Force Is Strong in This One
Nelson. Wait, that name sounds familiar, right? That's because Calvin's dad is Challenge veteran and reigning $2000 Challenge winner in 2016, Andrew Nelson.
The Nelsons are GRM Challenge regulars, with their attendance dating back to 2004. They run under the PACC Racing banner, and in addition to Andrew the team includes his wife, Paula, and their two sons, Calvin and Cameron. They build their cars in their modest shop as a family affair.
While the Nelsons have powered many of their builds with masterfully tuned Chevrolet V8s, they also have an affinity for old Studebakers. Right now, there are no less than four of them in their collective possession, including Calvin's Lark.
The Lark was Calvin's first car, in fact, purchased for $200 back in 2010 from Jim Thwaite, a fellow Challenge veteran. It still had the original inline-six under the hood, and it was rough around the edges, needing some rust repair among other things.
Remember, this isn't a Camaro, Civic or a Miata, so replacement parts aren't just a mouse-click away. Rust repair panels are largely nonexistent for the Lark, and outside of the factory R1, R2 and R3 performance engines, there's not much for Studebaker speed parts.
Turning this car into a serious performance machine would be a daunting task for even a seasoned veteran. Luckily, Calvin's dad is no stranger to extreme builds, and having that kind of talent at your dinner table every night is akin to hitting the car guy lottery.
So the Lark was stripped down and gutted for the rust repair and some chassis modifications under the tutelage of good ol' dad. Calvin learned how to wrench, cut and weld like a pro.
Calvin also learned another important Nelson talent: How to scavenge for speed parts on the cheap via Craigslist, online forums and local swap meets. He and his dad picked up some nice hardware for the car, including a complete Mustang II front suspension setup and a GM 10-bolt rear end; the Mustang front end would help improve the car's handling, while the GM rear axle would provide the necessary strength for their planned engine swap.
Neither of these items were bolt-in affairs. The front frame needed to be sectioned to incorporate the Mustang II parts, while the rear end's axle tubes needed to be narrowed for proper fit.
Calvin not only learned how to weld from his dad during the process, he also picked up some tricks regarding chassis bracing and suspension geometry along the way. Father and son also had to cut out and replace the rotted-out parts of the body.
Power for the Lark came from similarly ingenious solutions. They bolted together a 262-cubic-inch Chevy V8 using the block from a discarded '70s Chevy Monza and some cylinder heads from an early-'90s Caprice taxi. The engine was backed by a Turbo 350 automatic transmission.
Jedi Academy
Then the Studebaker got better–and a whole lot faster. Calvin took an interest in engineering, and after high school he was accepted to Penn State University, where he majored in electrical engineering. While he was at school, the Studebaker took a back seat to his education, but once Calvin graduated from college and secured a job in the field, he started thinking about his Studebaker again. He set a goal for the refresh: the Grassroots Motorsports $2016 Challenge Presented by General Tire, CRC Industries and Miller Electric. After all, his family was probably making their annual trip there anyway, so why not?
The event itself was only a few months out, so Calvin and company quickly went to work transforming the car from a cruise night special into a serious competitor. The Nelsons hit up their local haunts in search of cheap speed and came up with a couple of dirt-cheap LQ4-spec V8s. What's that? It can be called the iron-block, 6.0-liter version of GM's famed LS engine. The LQ4 can be found in countless GM trucks produced during the bulk of the 2000s, meaning these engines are inexpensive and plentiful. One would go in the Lark. They also scored a carbureted intake manifold along with a Holley carburetor from a guy on Craigslist.
Then they went to work "adding lightness," bolting on some fiberglass front fenders found at a swap meet and fabricating a homemade fiberglass hood. Various mounts, braces and brackets were given the Swiss cheese treatment, while the stock gas tank was swapped for a used-but-good fuel cell. As required by the rules, the entire car was built for less than $2016–in this case, just $1923.87.
Andrew has been known to go as far as to weigh drive belts in order to find the lightest ones for his builds, and that obsessive attention to detail was passed along to Calvin. And the results were the real deal: a factory-delivered 1963 Lark weighed well north of 3000 pounds, while Calvin's tips the scales at just 2802 pounds with him in the driver's seat.
The family finished the work in fairly short order, but they didn't have any time to test before leaving for the big event. "It was pretty much fire it up, do a burnout in the driveway, and see if it has three gears," Calvin recalls. "Let's go to Florida."
Much to Learn
The Nelsons towed two cars to the $2016 Challenge: one rig for Calvin's Studebaker, and another for the family's V8-powered VW Beetle. The lack of testing time before the event meant that Calvin encountered a few hiccups that he didn't anticipate.
For one, the larger engine meant more power–and more unknowns. "My adrenaline was going nuts before I even did a burnout," he admits. "I was hardly able to eat dinner I was so nervous."
Opposite Calvin for his first pass in the fortified Studebaker? His dad's Challenge-winning, 10-second Beetle street rod.
Even with a botched shift or two, Calvin was able to click off an impressive 11.94-second run at 113 mph during his first trip down the quarter-mile–faster than just about any new car ever sold, less a short list of high-dollar exotics. After he made a few passes and was still having trouble getting a feel for the car, he tossed the keys to his dad. Andrew knocked off a few more tenths, eventually posting an 11.62-second pass at 116 mph, which is right where Calvin had hoped the car would be.
The car didn't have the additional safety equipment needed to satisfy the NHRA rules for a sub-11.50-second pass, so it was put on the trailer for the rest of the evening.
A New Hope
Today, Calvin is still working diligently on perfecting his Studebaker. Since getting home from $2016 Challenge, he has already scored and installed a budget-friendly fuel injection swap using factory parts. He used his skills as an electrical engineer to adapt the factory Studebaker wiring harness to the harness from the EFI setup's donor vehicle.
Calvin is hoping that the computer-controlled EFI will provide easier tuning and reliability, because he plans to drive the car all over the place. Look for Calvin and his Studebaker at other national drag events as well as local races and cruise nights. After all, it is his first car, and he wants to thoroughly enjoy it in its ultimate streetable form. As for the future, he can see an NHRA-approved roll cage getting installed, and making the car even faster.
So say what you want about the millennial generation, but as in all the groups before it, there are always individuals who rise to the top and defy stereotypes. You can count Calvin Nelson and his radical 1963 Studebaker Lark among the best his generation has to offer–and this fledgling has just gotten started.