long post ahoy.
A long-time friend of mine is an off-road instructor, and a good one. He does work with Ford and Toyota as well as teaching private clients. And for the past few years, he's been training Rivian employees in off-road driving. From what I can tell, he was involved in some early testing (he's talked about overheating inverters on certain surfaces) but now Rivian is sending him groups of staff to learn how their vehicles work and what off-road driving really is. It's a three day course that involves a lot of recovery as well as driving techniques. Bill let me sit in on part of class #67.
I didn't get to talk to all the students, but we had a powertrain software engineer, a platform engineer, a testing engineer ("I come up with failure modes and the engineers have to figure out how to make the truck fail gracefully"), a field tech, an advanced concepts designer and one more. There was some very valuable cross-pollination going on. The rear suspension creaked. The software engineer wanted to know what that noise was, and then what a "bushing" is. The field tech wanted to get underneath to check the rear trailing arm. At our next stop, the two of them were under the truck doing a little show and tell.
The truck itself is a production-spec R1T "Launch Edition" that is on loan from Rivian and has over 5000 miles of off-road use on it from what I could glean. It's stock other than a bunch of recovery/safety gear and some Cooper off-road tires in the stock size - the Scorpion sidewalls are a little vulnerable for our environment. We also had a modified 4Runner with open diffs (because you learn more with open diffs) and a Range Rover Classic that has been in use by the school for decades. I didn't get to drive, I rode along all day as we wandered around the OHV area in the desert. Surfaces included packed dirt, sand, steep climbs, extremely tight gullies and a number of articulation-testing sections. The next two days were going to be on rock with a number of fairly big ledges. The purpose of the day was to teach students, not test the truck.
How did it do? In short, extremely well. The truck has four motors, which means the torque delivered to each wheel can be adjusted and it can make maximum use of each contact patch. Bill was wondering about a "locker" emulator where the rear wheels would be rotated at the same speed, but that may not be necessary. The thing that impressed me was the traction on loose (not sandy) climbs. There was no sign of any intervention, just smooth traction.
The four wheel independent suspension meant the Rivian didn't have the articulation of the Range Rover, but with the four wheel torque vectoring it wasn't that big a deal to hang a wheel from a drive standpoint. You still had less contact patch, but at least you didn't have a spinning wheel in the air.
A few pics to keep your attention.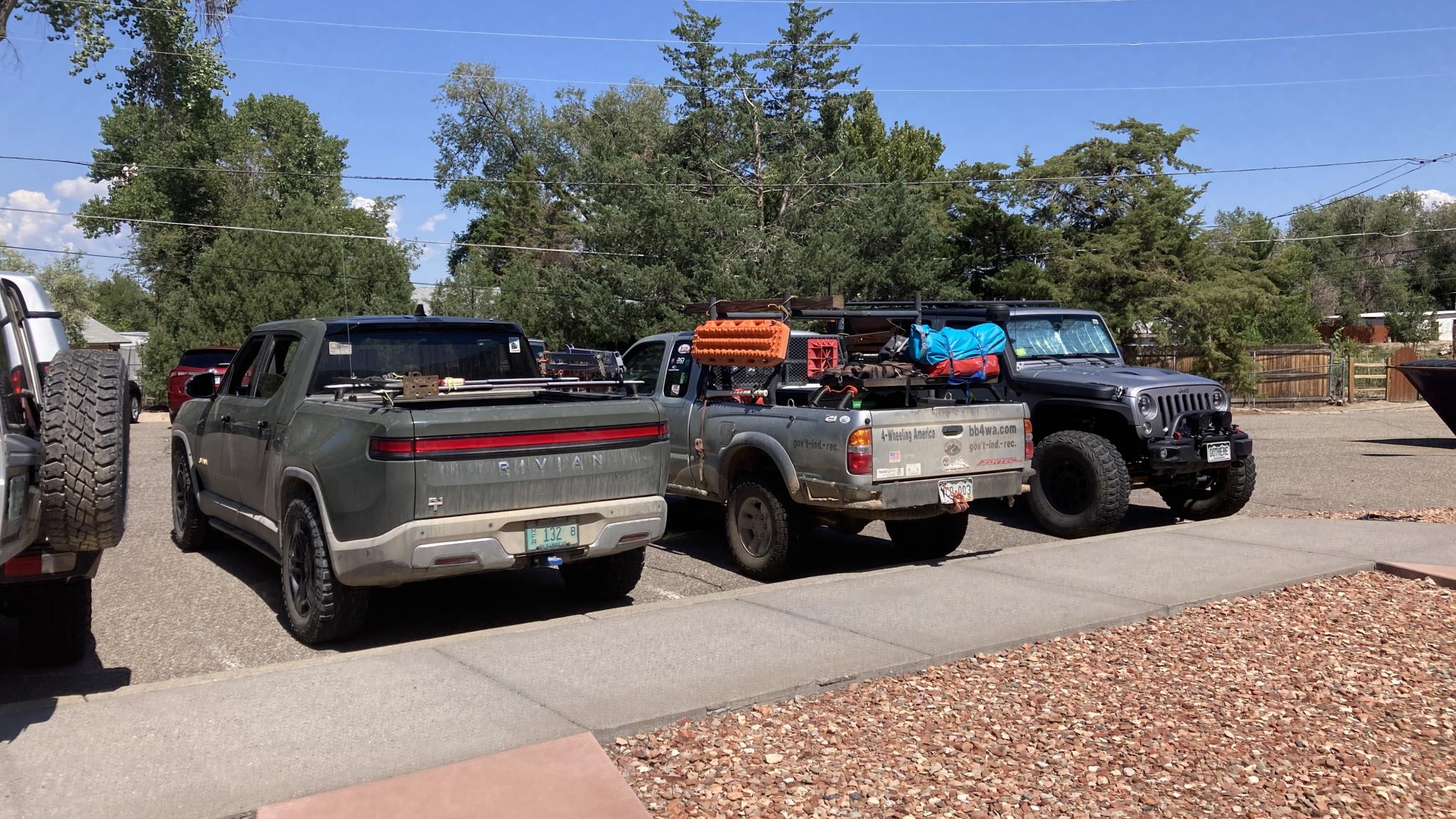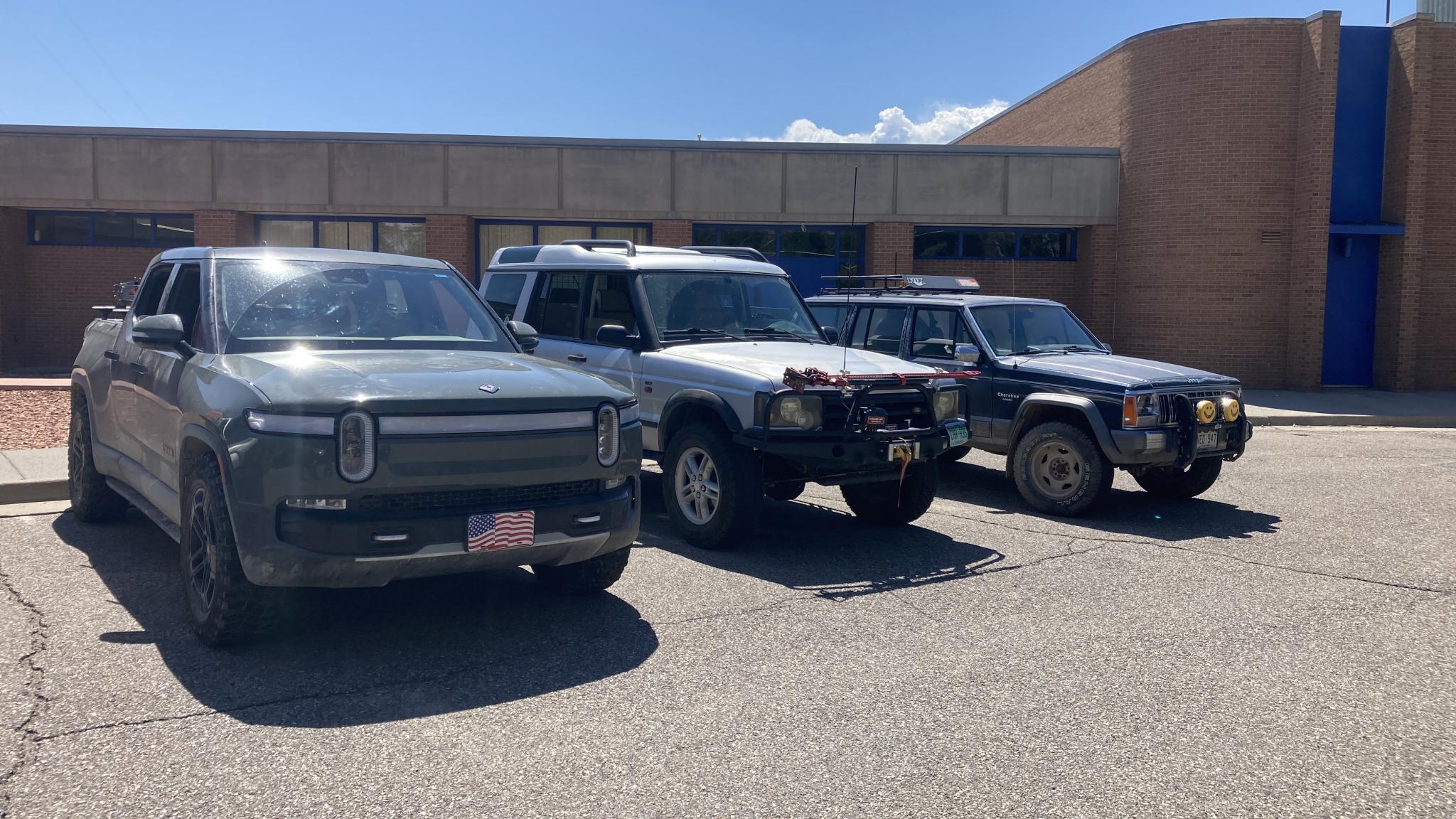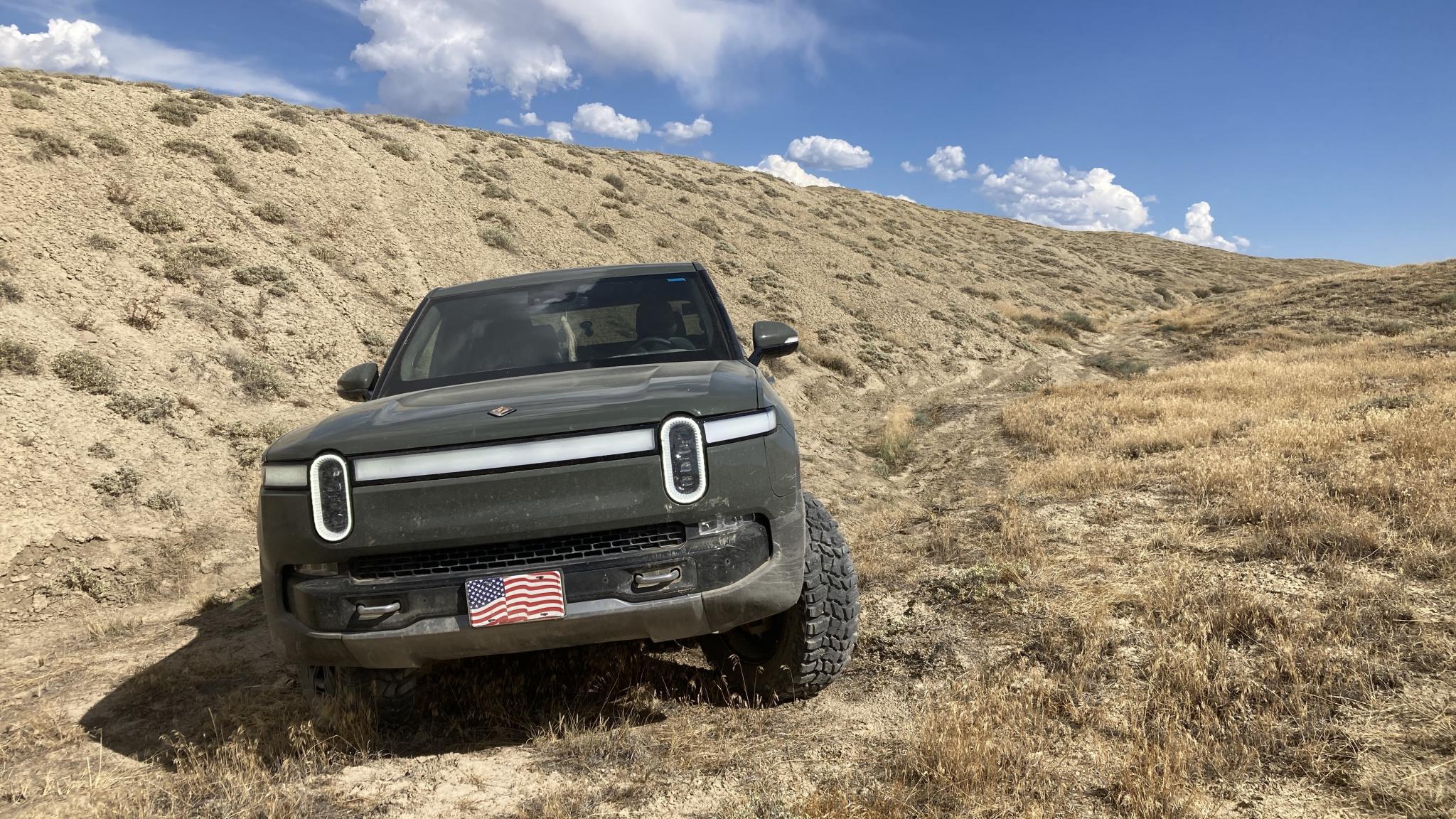 Note the smooth underbelly. That's good for aero, but pretty useful for off-road. Also, note factory sliders.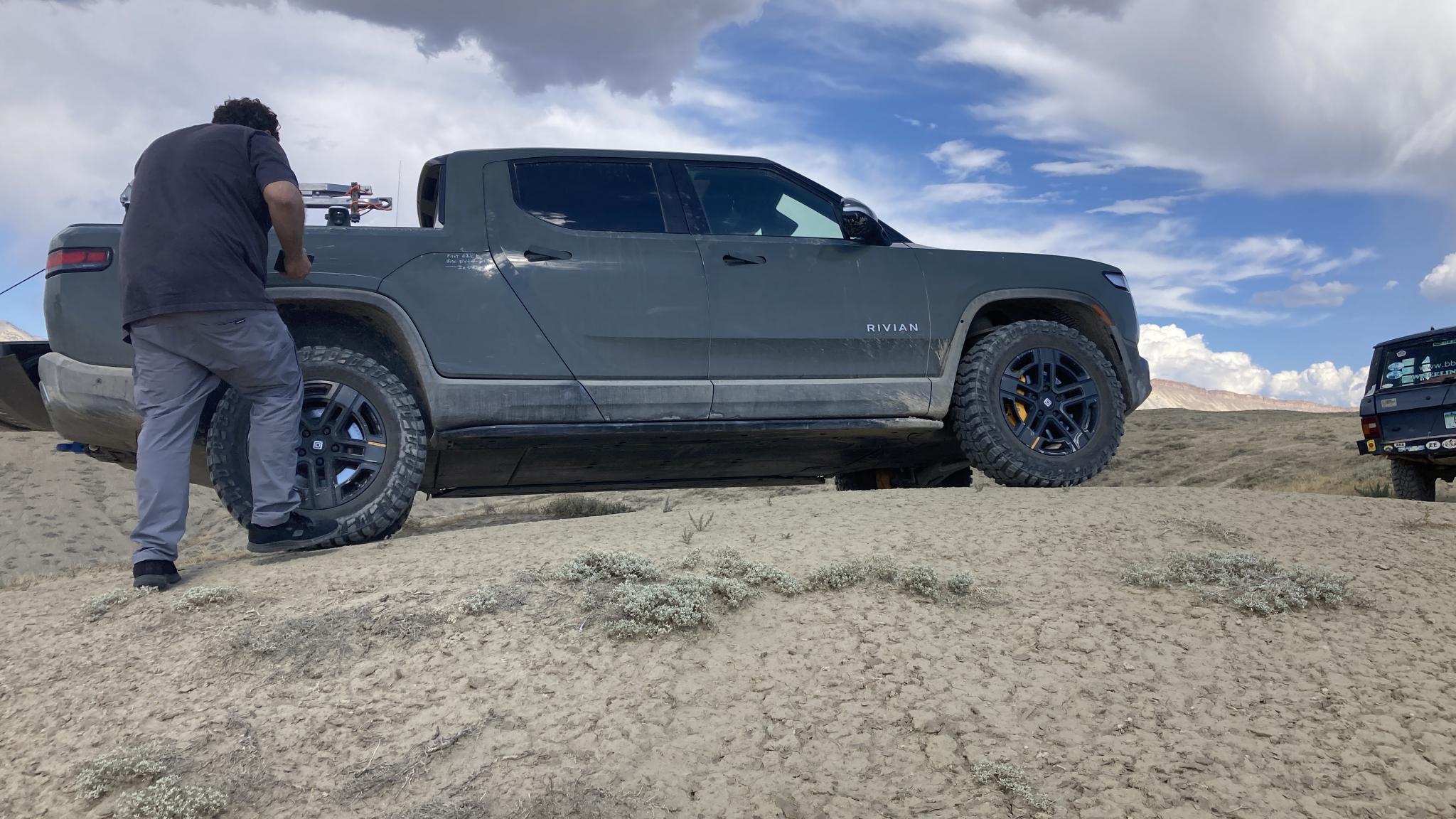 Only treated with the greatest respect.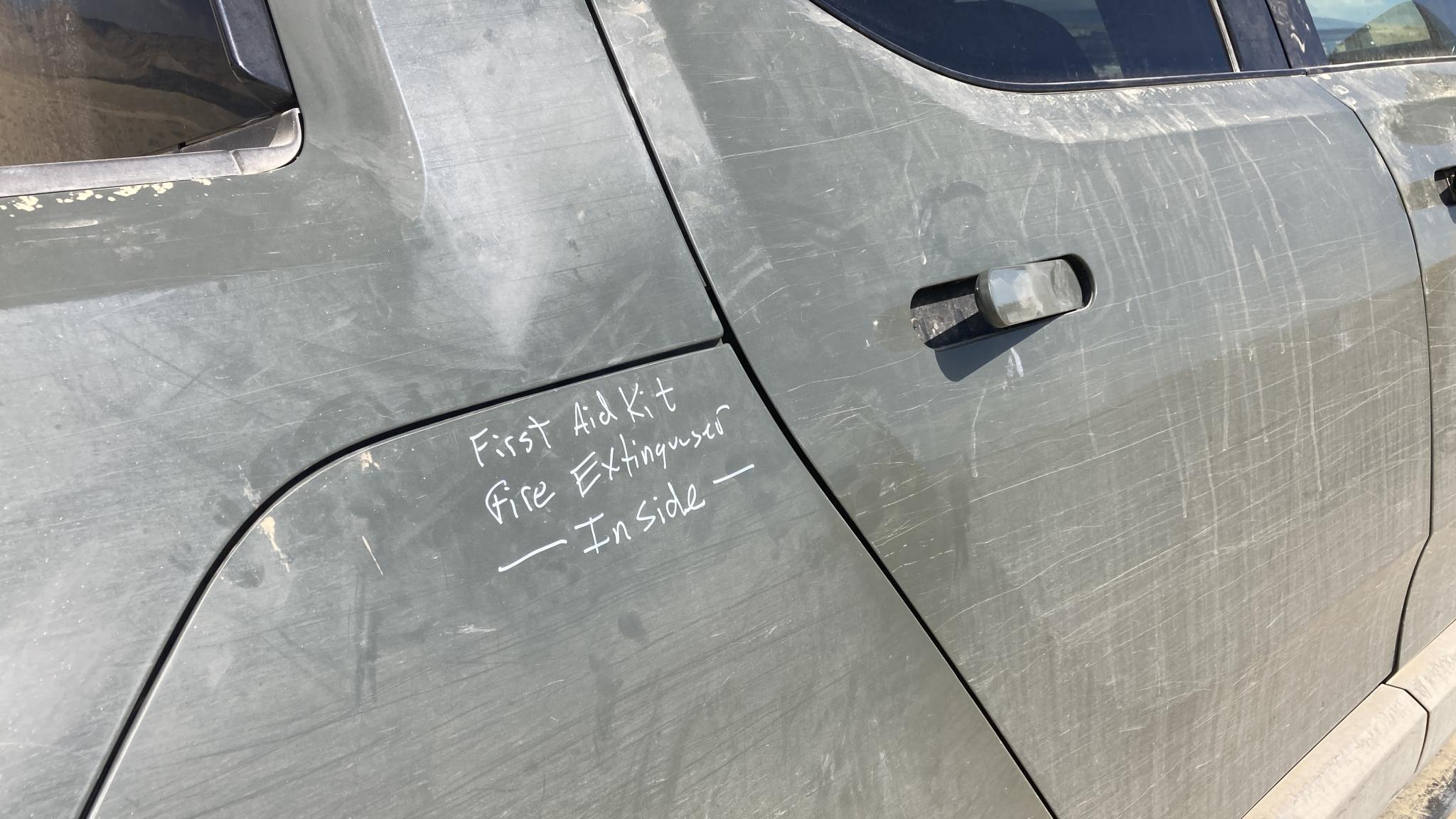 Now for more detail....