So I've mentioned having parted out cars in the past, and that I have a lot of experience selling stuff on eBay and I was asked to make a post about it. I decided to try to make a sort of log of my latest attempt.
Right now, parting out a car is complicated by two kids (one almost 3 and the other 4 months) and a shop that's in dire need of renovation. But the best time to do something is now, right?
I have a 2001 MR2 Spyder with a blown engine, and so have been cruising Craigslist for a suitable donor. I really wanted to do the 2zz swap but with my minimal time availability and plethora of other projects, I knew that wasn't necessarily the best idea. A 2003 MR2 Spyder with major front end damage showed up with the asking price of $1500. I texted the seller on a Thursday night back in May and they had someone coming to look at it. Dang! Well, Friday rolled around and I checked with them and - surprise - the other person didn't show up. I made arrangements to go check it out in the evening.
The car presented well but turned out to have an SMT transmission. I was a bit disappointed as I had hoped that I could just swap subframes and avoid separating the engine and transmission. That's the fastest way to do an engine swap on these, and saving time is always a good thing in my life. Well, it would turn out later that the SMT was not a down side for financial reasons. I could not get the car to start, but it turned over strongly with no odd noises. I tried to get the seller to flex some on price given that it wouldn't start, but they were in a hard spot with having only owned the car for about 48 hours before totaling it. Turns out they bought it for their college age son intending to sell his Ridgeline to pay for it. The spyder had bald rear tires on it so they told him not to drive it until he got new tires on it. You can guess what happened next; they bought it Friday and their son spun it into the concrete median on the freeway that Sunday.
I ended up plunking down $1500 cash and completed a bill of sale with them and told them to expect the tow truck the next day.
So then the next morning, this pulled up: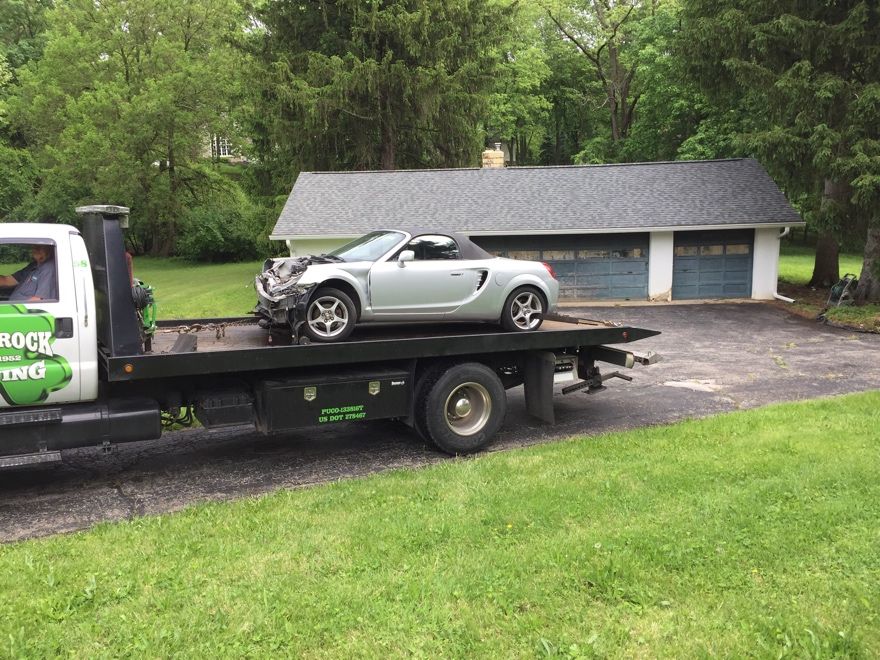 I'm committed now. I need to get some room in my shop to tear the car apart, free up room to store and list the parts, and somehow find time to do it between working, fixing up an enormous house, raising two kids, and taking care of a 3.5 acre yard. Somewhere in there I need to sleep.
Follow along as I try!