If anybody is interested in wading though this story...Here it is. The story of rebodying my 1992 Miata with a 1994 tub I bought from Metalman.
I bought my 1992, "Weezer" (named after my cat who died, NOT the band) in spring of '03 for $4,500. Ive taken many trips in the car, including, and in no particular order: Four of my five trips to Deals Gap, Three trips for a drive around Michigan International Speedway, Many trips to visit family at Torch Lake, one of the ten most beautiful lakes in the world, a must visit for anyone in Michigan, At least twice into the Upper Peninsula of Michigan getting to drive over the Mackinaw Bridge, which is always great, A trip down to southern Illinois to pick up a Neon from a GRM member for my buddy Devon, Lots of trips pulling my Sunfish sailboat, Used on my first date with my future wife, Used on the trip to the Gap to propose to my wife, Been on two sailing trips to Boyne City, Many club detail days, rides, and Sunrise to Sunset, Two trips through the tunnel of trees, Then, it was rear ended by some crazy old lady in '06. Brought it into my garage for disassembly in January '09 after driving around with a smashed up rear and rusty quarter panels.
Jan 13: Brought Miata into Garage, let thaw and removed headlights. Removed part of front fender.
Jan 20: Removed fenders, bumper and lots of under hood stuff.
Jan 22: Removed seats, and center console.
Jan 24: John Brown and his son Tanner came over and helped remove the engine and transmission.
Jan 25: Broke engine apart from transmission. Need rear main seal. Clutch looks good. Almost got front subframe out, ended up getting my finger stuck in the frame rail up front. Jamie had to come save the day, as I couldn't get my finger out. Lots of WD40 and out my finger came. Pulled more stuff out from the engine bay and called it a night.
Jan 26: Worked on subframe some more, still not removed.
Jan 28: Sub frame finally out! (Dont worry, Im only working in small bursts, it didnt take over all that long to remove the subframe)
Jan 31: Disassembled front subframe. Removed uprights, upper and lower control arms, and balljoints.
Feb 1: Removed Dashboard. That was fun.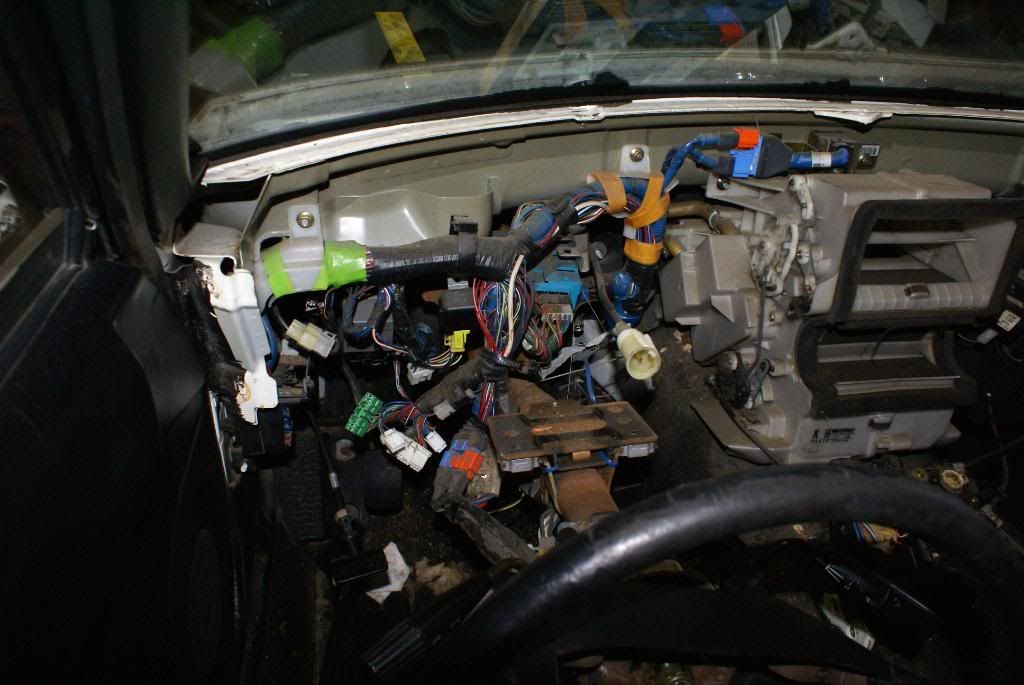 Feb 9: Flyin Miata frame rails arrived. They look great. Blossom is content: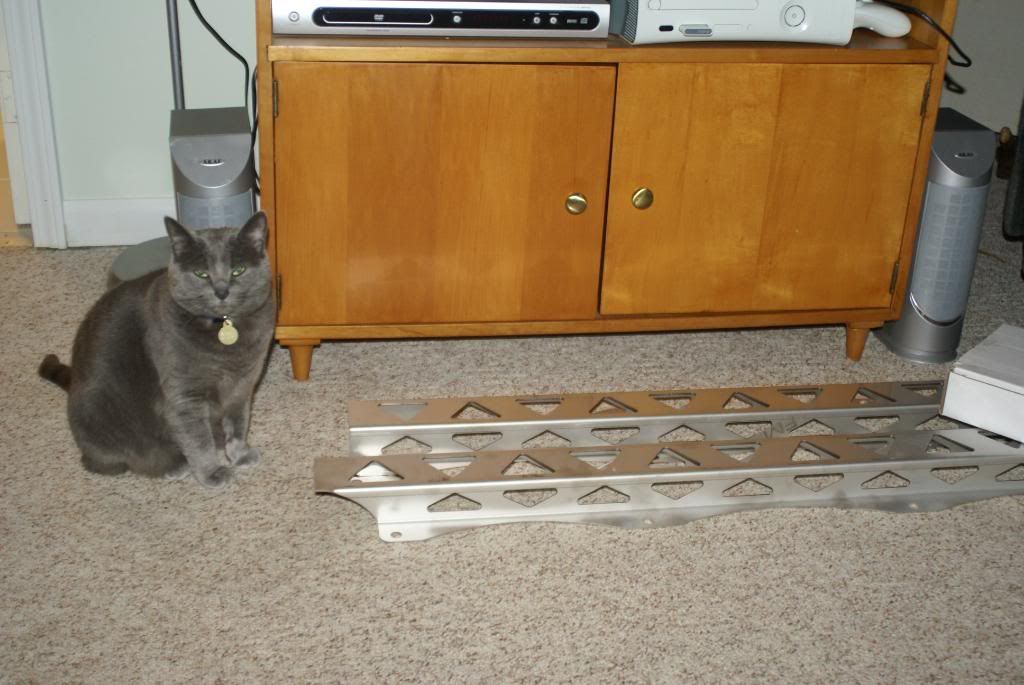 Miura is unsure: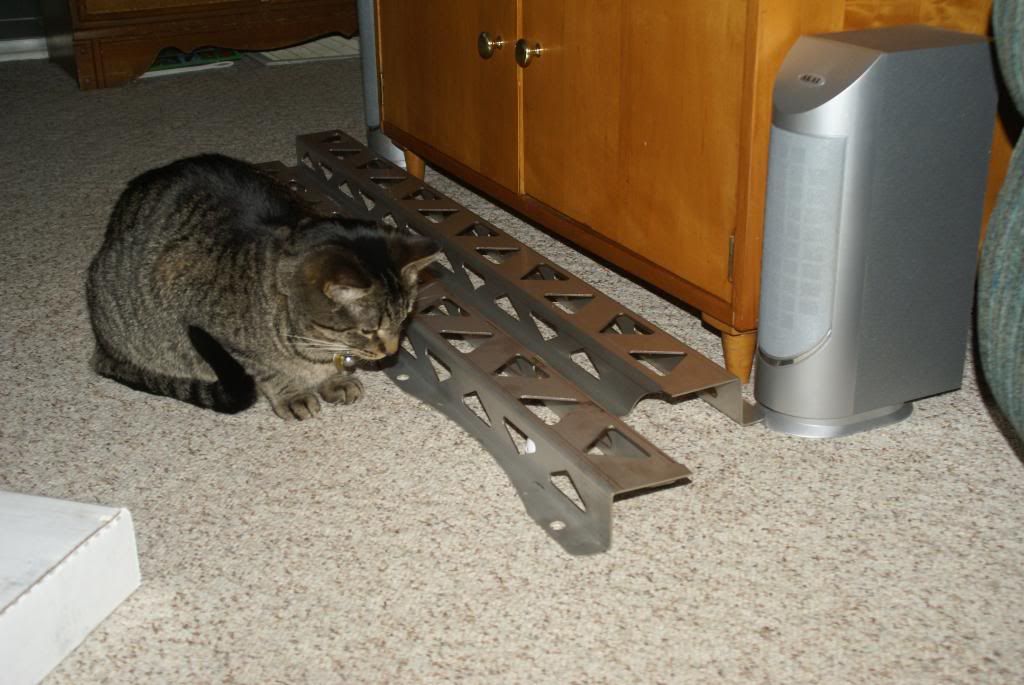 Feb 10: Disassembled rear subframe. Nasty with rust. Cant get rear uprights free of control arms. Heat, my shop press, impact wrench, none of it works.
Feb 13: Removed more underdash stuff, and HVAC stuff. Stupid AC stuff is now gone for good.
Feb 14: Valentines day! Removed wiring harness.
Feb 16: Dad sandblasted some of the control arms. They look great!
Feb 19: Removed doors, more interior bits and the carpet.
Feb 21: Removed the rest of the rear wiring harness and homemade trailer hitch.
Feb 23: Cut front core support off, as of this point I still intended to chop up the car myself. Took off some more interior bits.
Feb 24: Removed the last of the interior bits, and removed the top.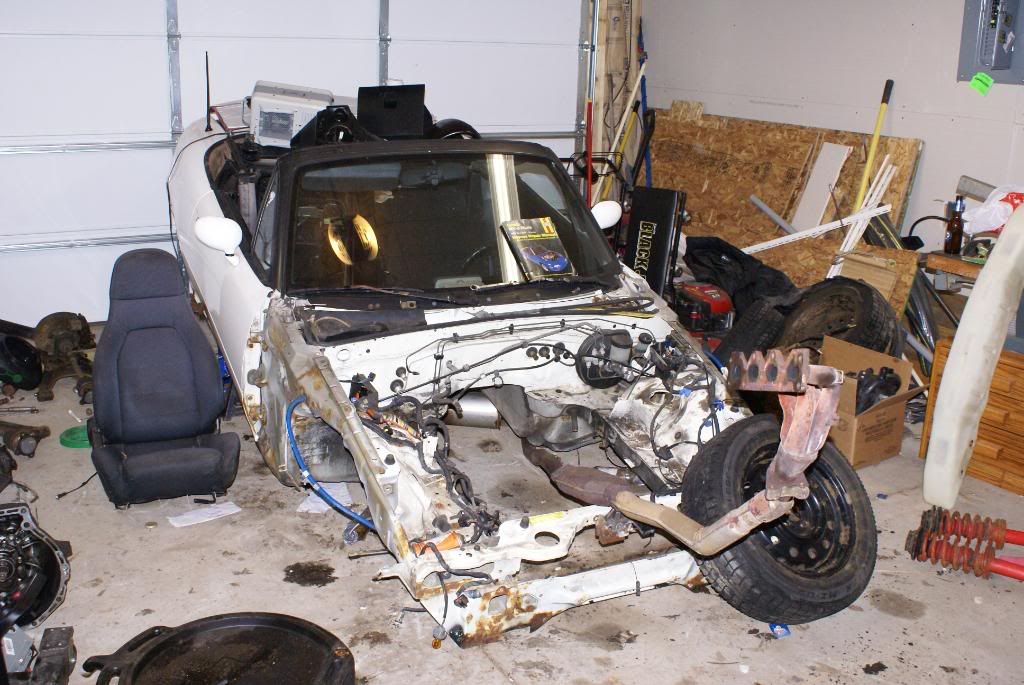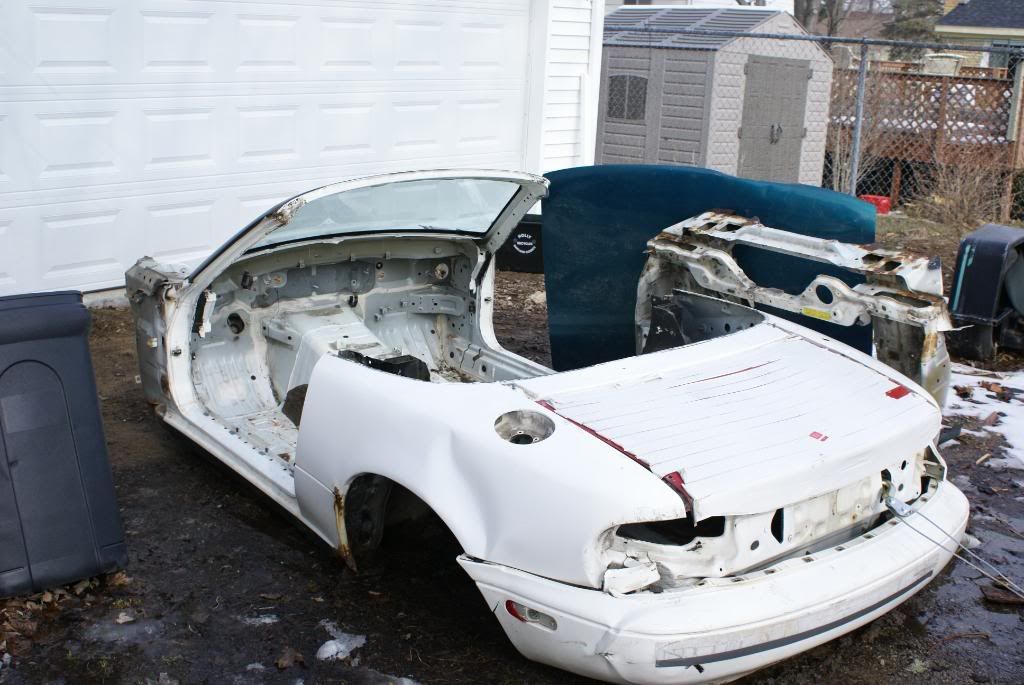 Feb 28: Spent the day cleaning the garage, and sorting out some pieces. Cleaned some intieror parts in the bathtub...Windshield header, dashboard, and HVAC ducts. Pulled 1994 Body into garage.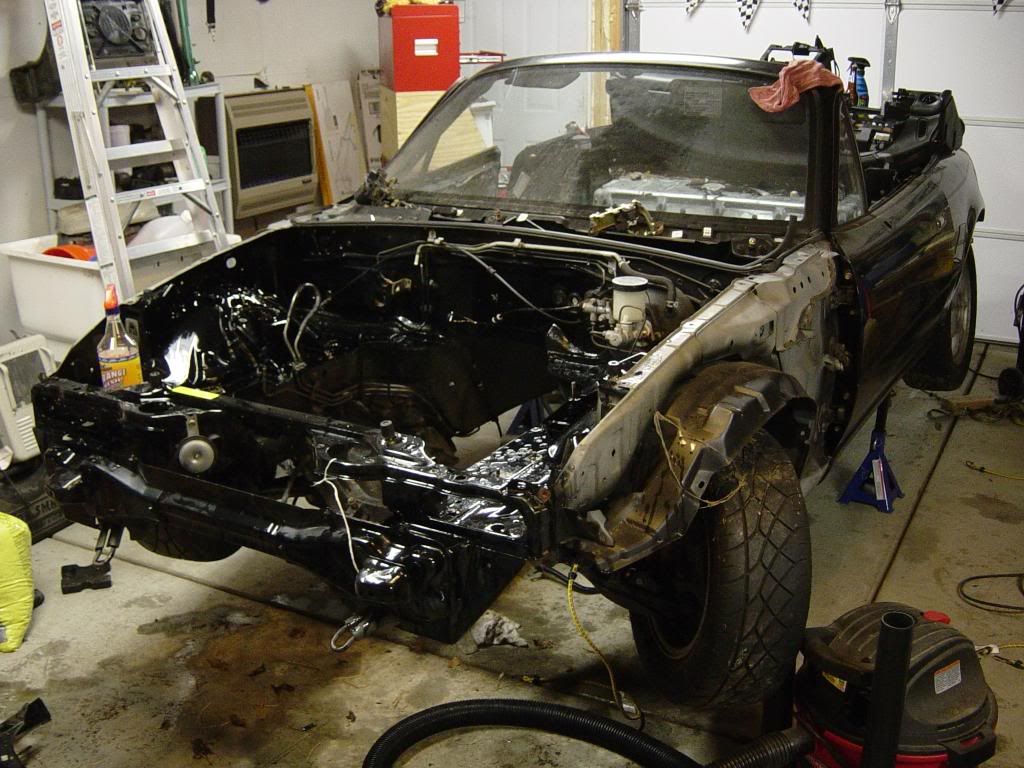 Mar 3: began removing 94 wiring harness, and cleaned out the trunk.
Mar 4-5: Kidney stone.
Mar 7: Finished removing 94 harness and started cleaning engine bay.
Mar 9: Tried some control arm painting, and put some extend on control arms.
Mar 10: Put three coats of paint on engine bay.
Mar 11: Added one final coat to engine bay.
Mar 14: Removed front subframe. (alot easier on a southern car!) Cleaned and disassembled front suspension.
Mar 15: Removed rear control arms. Found out uppers are bent. Began installing wiring harness. Found out the rear part of the harness will also have to be changed, as the plugs are different on the rear part as well, and it wont connect to the main harness from the 1992. The gas tank has to be changed as well, as its full of nastiness. Also installed pedal and steering column
Mar 16: Finished wiring harness, painted two of the control arms, and the front subframe. Dad did some more sandblasting for me, and I installed the HVAC stuff.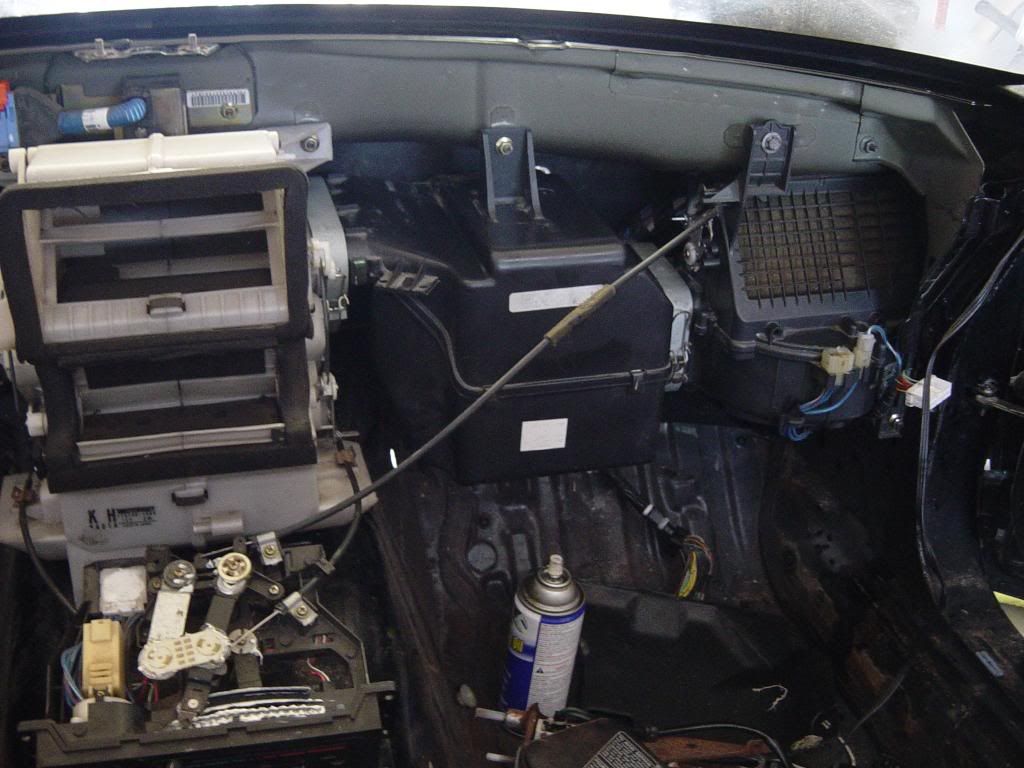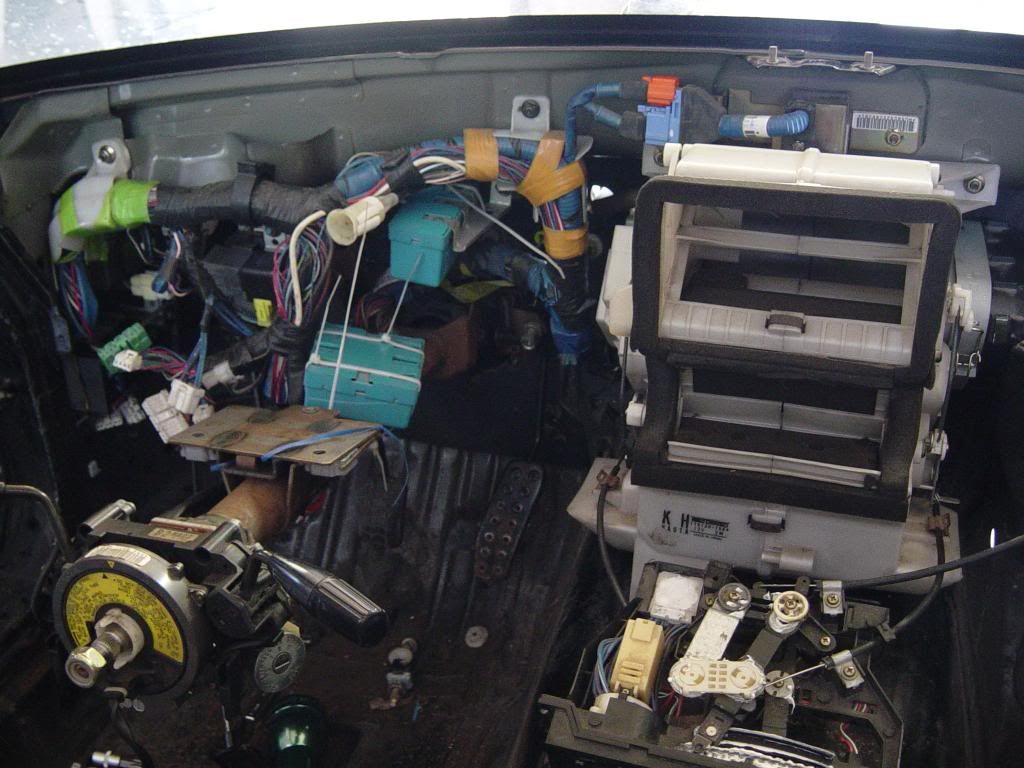 Mar 17: Installed dashboard, brake booster, brake master, clutch master, removed rear subframe for cleaning and changed gas tank. Gas tank is surprisingly easy once subframe is out of the way.
Mar 18: Cleaned rear subframe, and painted some more control arms. Removed and cleaned wheel well liners. Put extend on some interior surface rust. Cleaned alignment cam bolts, and tried soaking my Racing Beat springs in vinegar to soak off the rust. This didnt work very well, and the springs look as terrible as they did when they went in the vinegar. I also painted the steering rack with extend.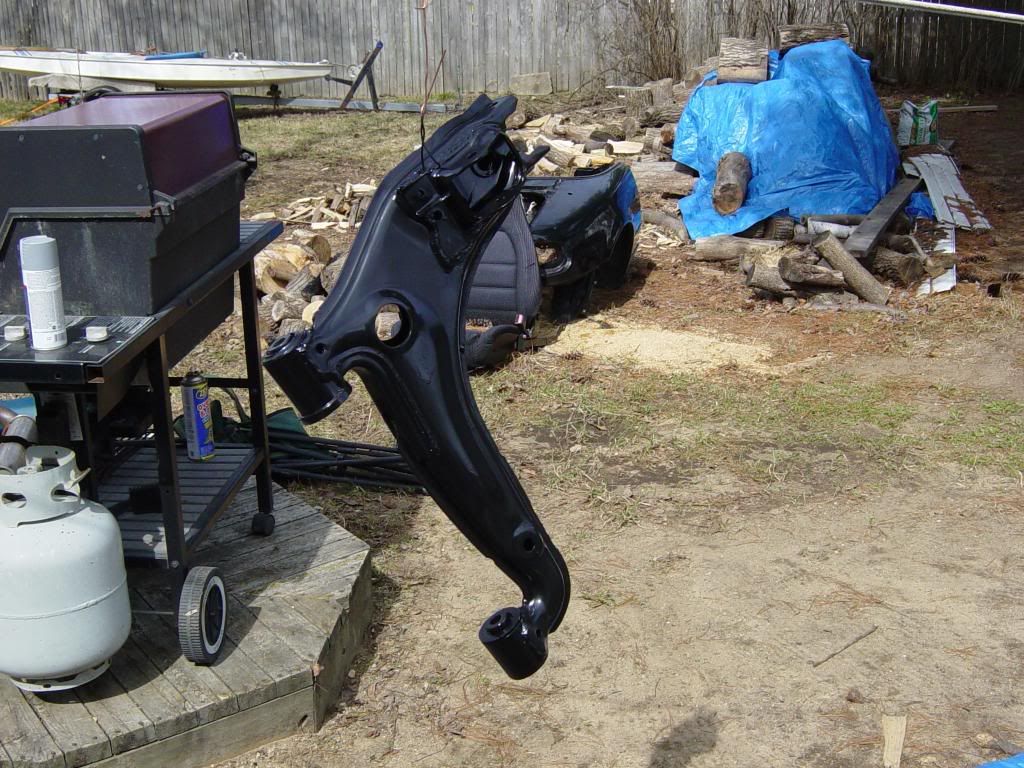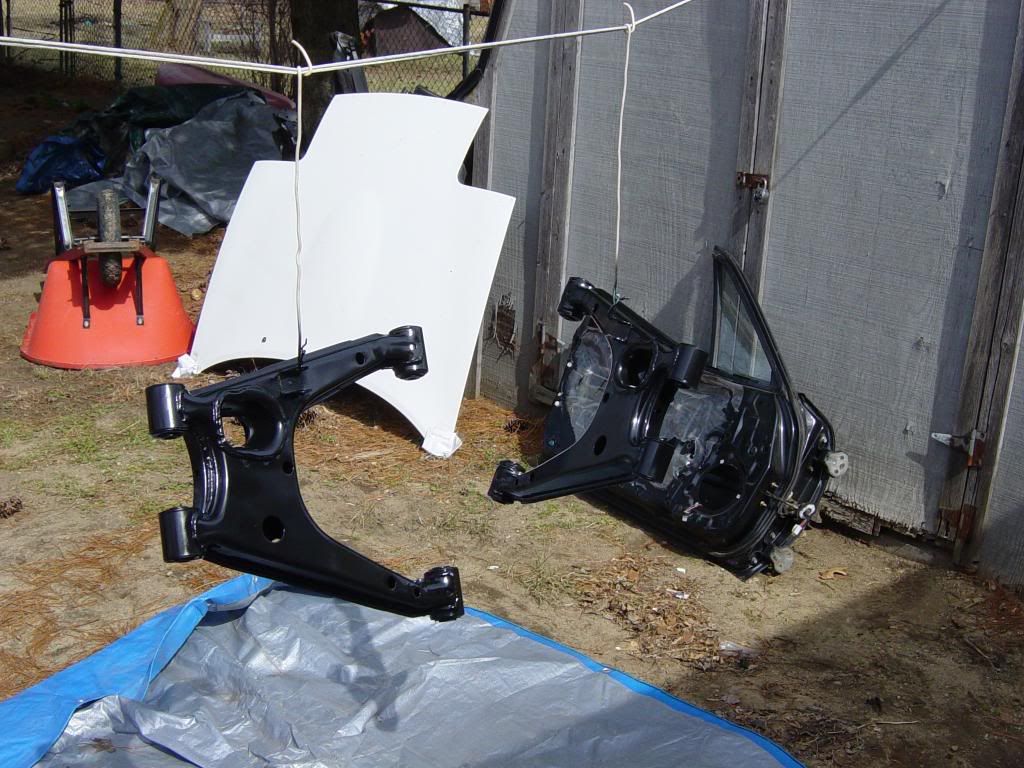 Mar 19: Installed rear subframe and differential. Painted the driveshaft with extend.
Mar 20: Not much progress today. Tried to remove uprights from rear lower control arms; again, no luck. Tried to remove axle nut, broke socket to pieces. Yay Craftsman. Decided to use some CV shafts from buddy Mikes old 1992, along with uprights from the 1994, even though the wheel bearings are of unknown condition.
Mar 21: Started to install some rear suspension, had a hard time getting axle through upright. Finally I did, but popped the other end of axle apart. Have to disassemble, clean and regrease CV. Quit for the night.
Mar 22: Cleaned and regreased the CV joints.
Mar 23: Assemble rear left suspension, lower and upper control arms, upright and axle.
Mar 24: Installed rack and pinion, and then moved on to frame braces. One rail was smooshed up pretty bad, need lots messaging to get brace installed.
Mar 25: Painted up some spots in the interior, and cleaned inside of car. Also hung 92 doors. I dont think Im going to use them, once it comes time for paint.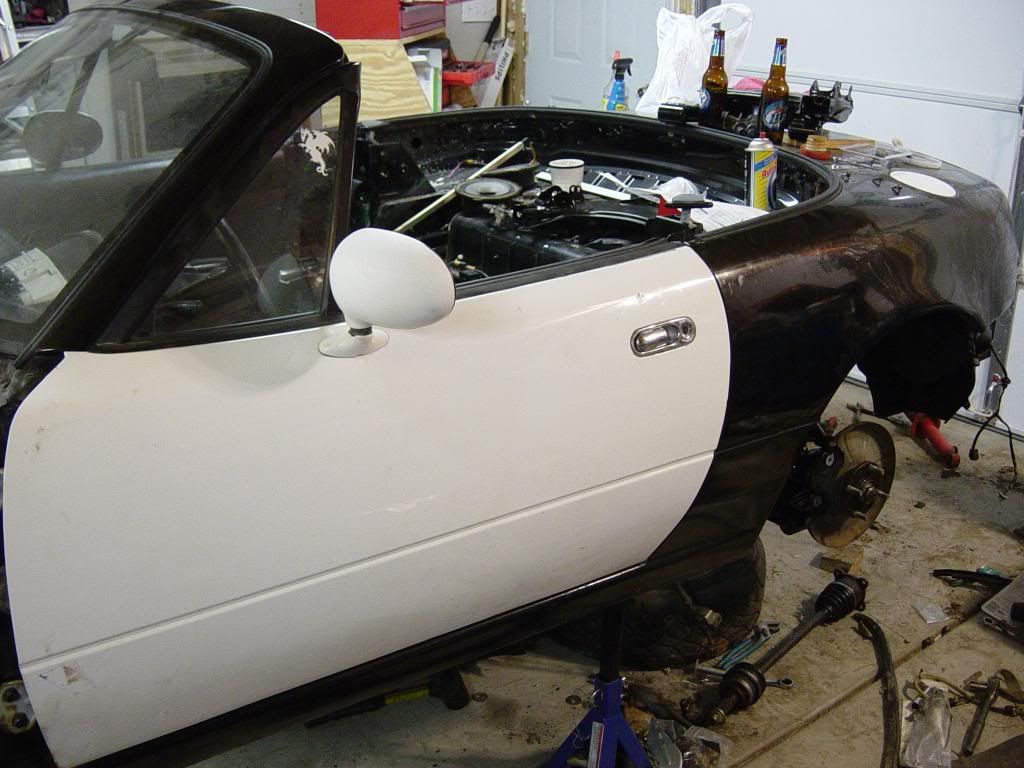 Mar 26: Installed front lower control arms, painted rear springs.
Mar 27: Assembled rear right suspension. Axle installed much easier on this side. Dont use grease, it makes it more difficult for some reason.
Mar 28: Painted springs with undercoat.
Mar 29: Disassembled rear calipers. Need new hardware kit. Fooled with the computer, and applied some undercoat to interior floor. Replaced license plate lights, and trunk lock. Changed front brake lins to stainless and connected lines to master.
Mar 30: Installed rear brakes, new rotors from autozone, and new pads, also rubber boot kit from same place. Disassembled front calipers. Need new boots and bleeders. Bought these from Murrays. Had to special order them Murrays is the only place that has the dang bleeders. Also, painted the AGX shocks, as they had a good deal of rust on them.
Mar 31: Murrays was wrong. The only bleeders they had were for the rear. Had to use some junkyard bleeders. Ford Escorts use the same bleeders on the rear as Miatas do on the front. Assembled rear shocks and installed. Aside front swaybar, rear is done.
April 1: Car is done! Ha ha, happy new year.
New grease boots for front suspension arrived. Installed on upper control arms. Put in new bushings, and painted arms. Ready to install on front.
Apr 2: Assembled front suspension, changed tie rod end boots. Installed shocks, brakes, upper control arms, and realized under coat does not work on springs. Thanks Racing Beat and your flaking paint. Let 'em rust.
Apr 3: Installed hitch. Also cleaned interior for under coat. We shall see how that works out.
Apr 4: Sprayed undercoat into interior.
Apr 7: Started to clean engine. Installed clutch, and joined trans to engine. Need to clean the whole mess. Im starting to get pretty down on the whole project. Im hopeing to have the whole thing done before I start my summer job at the park. Hopeing I will.
Apr 8: Got engine moved around and ready to be pulled into driveway to be power washed. Hope the weather cooperates.
Apr 9: Cleaned motor, and Jamie cleaned wiring harness. Power washer didnt do much good. Makes the engine look like it only has 180k miles on it...Instead of 192K.
Apr 10: Motor is in car! No bolts yet, just motor mounts.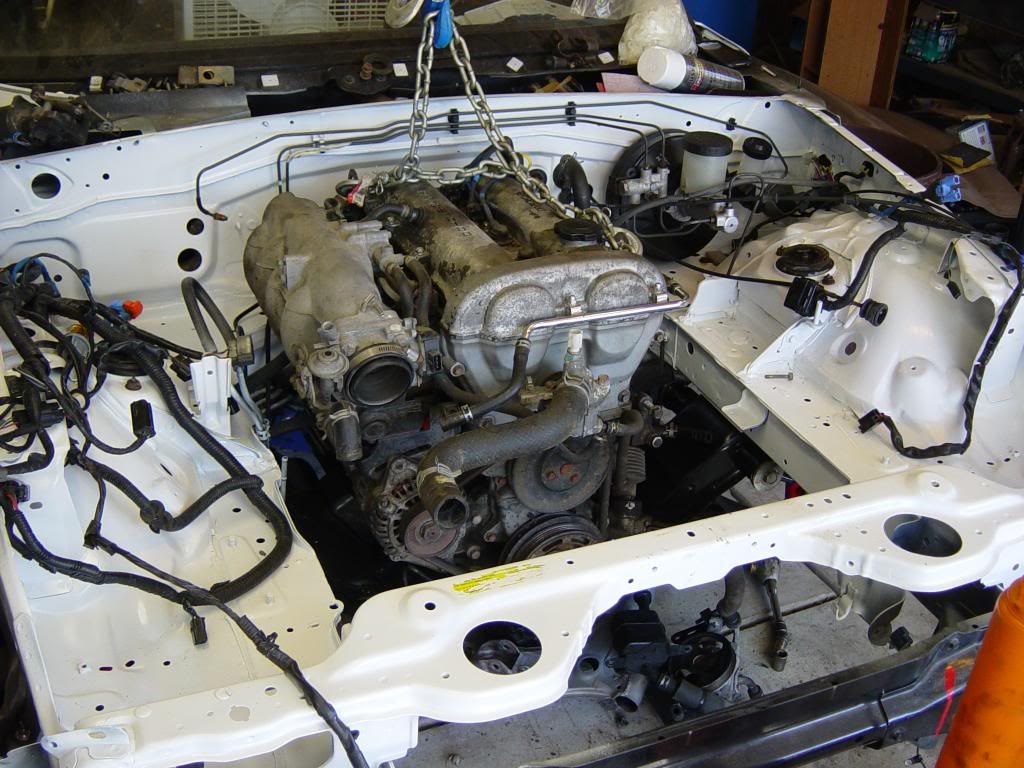 Apr 11: Put the rest of the bolts in. Trans to PPF, PPF do diff. Used 1994 wires from battery up to main fuse block.
Apr 12. Actually got motor to fire, rev and then die.
Apr 13: Talked to Keith out at FM on the phone, and he suggested a jumper from ground to fuel pump. That helped, though I think my problem is mostly timing. Got clutch bled, and it seems to be installed correctly.
Apr 14: Installed radiator and exhaust, and much of the rest of the underhood bits, and got the engine running better.
Apr 15: Installed new plugs, and ordered a valve cover gasket. Also, added some drygas to tank.
Apr 16: Installed valve cover gasket. The new plugs were cleaned and reinstalled. Wasted some time putting a new brake caliper on my Escort.
Apr 17: Installed front swaybar, and headlight assemblies.
Apr 18: Installed rear sway bar, and some airbag stuff.
Apr 21: Assembled rear parcel shelf, bled brakes, filled trans and diff, and finished airbag wiring.
Apr 22: Installed front fenders. Still need to line them up. They do have rust on the bottoms, so I Will need to find some better ones.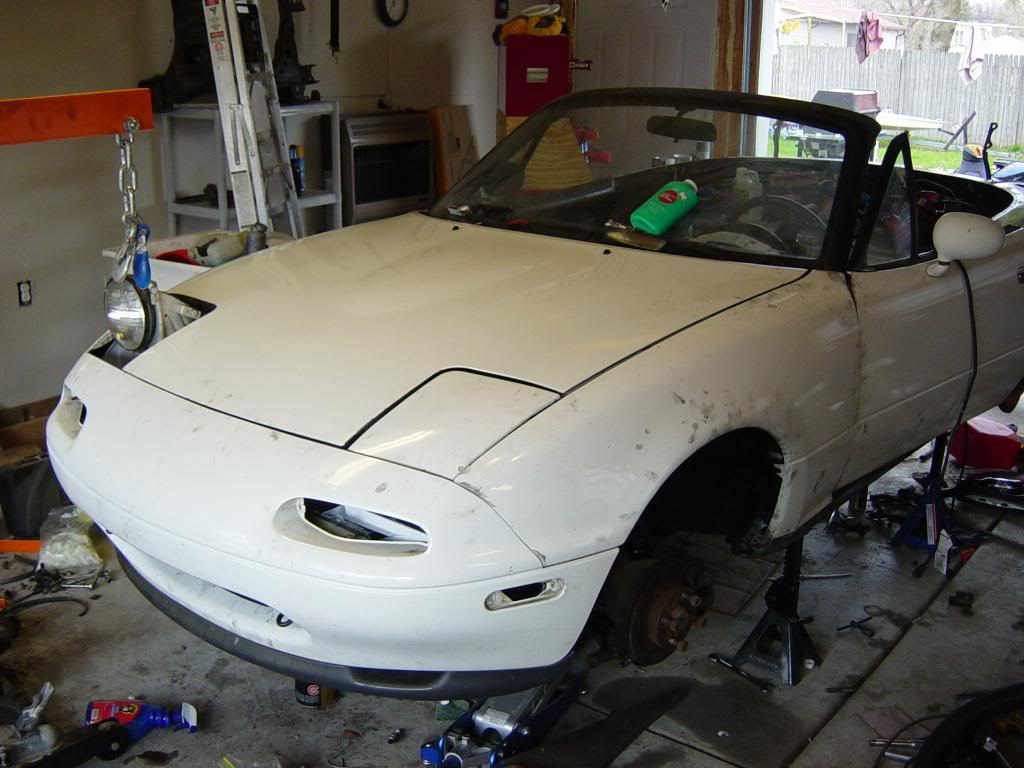 Apr 23: Painted trunk door jambs. I suck at paint. Tightened front bushings.
Apr 24: Installed front bumper, hood, seats, gauge hood, steering column cover, and changed oil in the escort.
Apr 25: Put rest of interior together, then took some of it back apart. Forgot small bolt plate at top of radio bezel.
Apr 26: Put rest of dash together, and pulled car out of garage! Took her to the car wash to rinse her down.
Apr 27: Installed top and belt trim. Tightened up front bumper and figured out some ground issues.
Apr 28: Got car aligned to Lannys alignment specs. Car drives nice. Hit Beasleys junk yard for some parts. They are way over priced, but the only place to find these parts.
May 4: Started back working at the park, and drove the car to work. Success!
More to come later.
Joey