I know that drifting is kind of a dirty word around here and there are those who take issue with it as a professional motorsport, but, damn, if there isn't some good drama involved. And the final two events of the season were Friday and Sunday at Irwindale Speedway, and they delivered.
This year, Papadakis Racing (run by Steph Papadakis of Honda drag-racing fame) signed on long-time FD driver Ryan Tuerck. Tuerck has been a solid driver over the years but has always been plagued by car troubles and has not had a championship to his name. The plan was, he would take now-teammate Frederic Aasbo's 1000hp 2AR-powered Toyota Corolla Hatchback, while Frederic Aasbo would transition to a new 1000hp B58-powered Toyota Supra GR.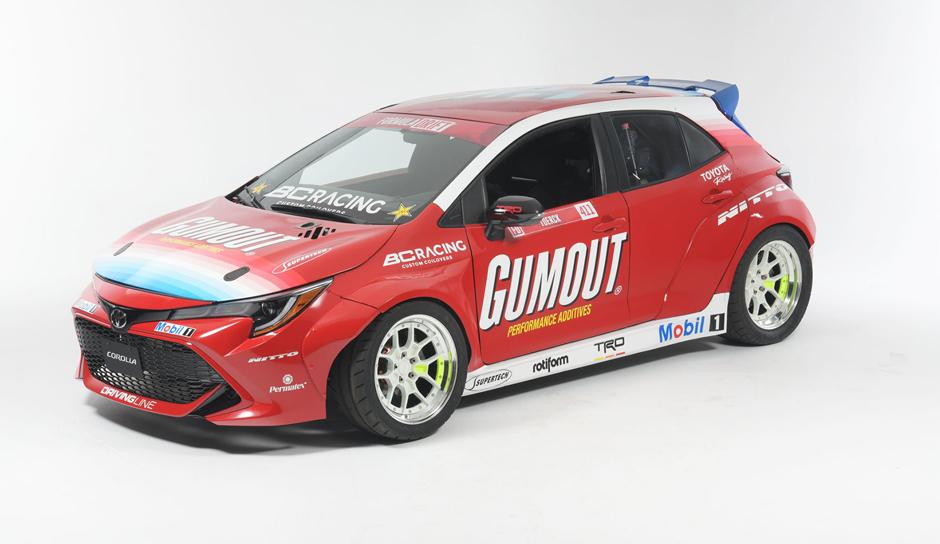 While Frederic Aasbo wasnt quite as dominant as previous years, including dropping out in Top 32 at one event when the prototype 3D-printed intake manifold exploded, that could be expected of a first year with a brand-new engine and a brand-new chassis package. Meanwhile, Ryan Tuerck, driving a proven car with a good team behind it, made waves. Second place at Round 1, third place at Round 2, a Top 16 finish at Round 3, third at Round 4, first at Round 5 and a Great 8 at Round 6. This was enough to put him in the lead of the championship points and he held onto that lead until the end of Round 6, slipping to second then but only 8 points (a tiny amount by FD standards) behind Vaughn Gittin Jr., while Frederic Aasbo held onto 5th. Aasbo was not mathematically out of the running for the championship, but it would take huge efforts.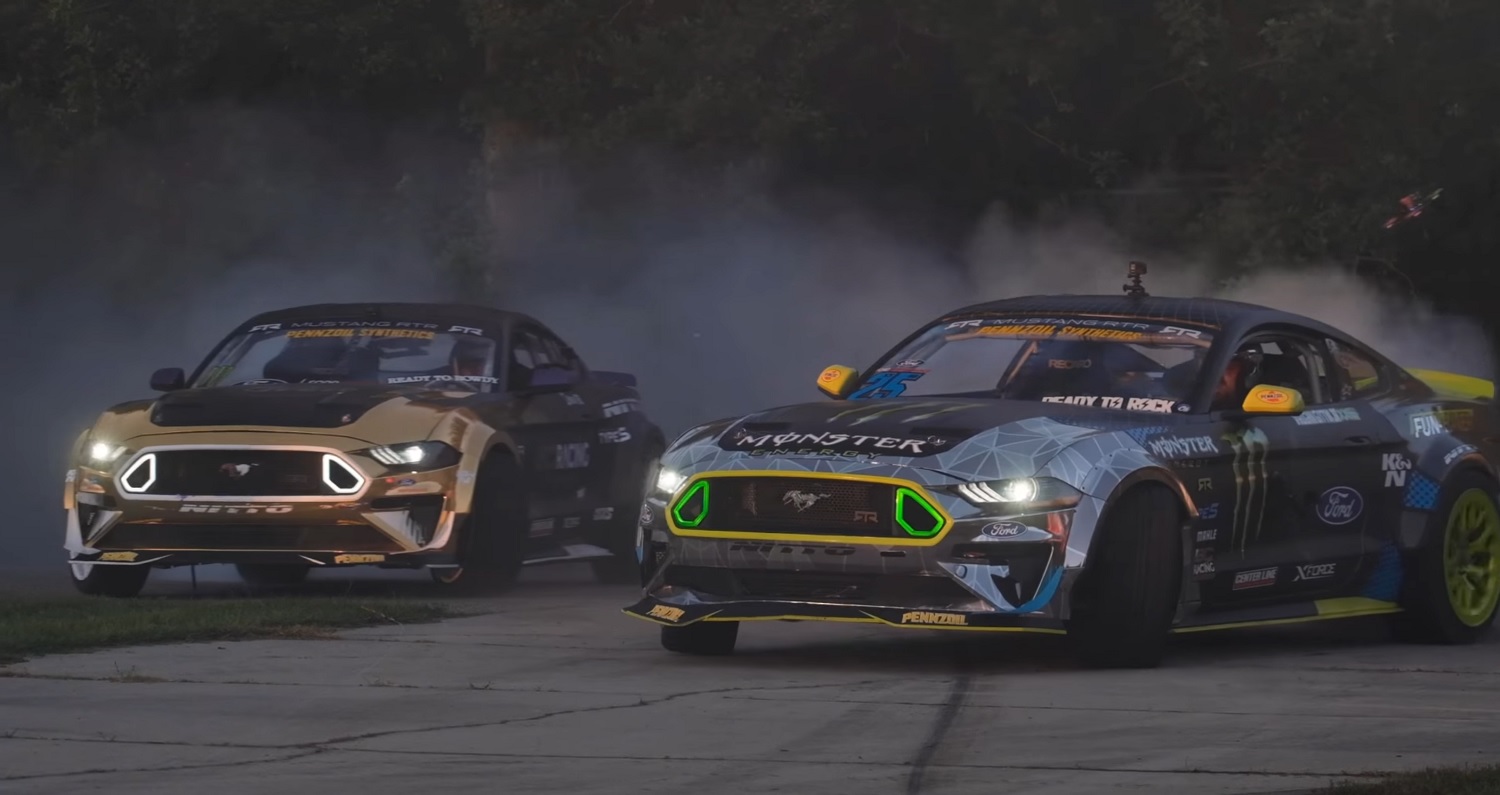 Pushing hard was Vaughn Gittin Jr., 2010 champion in his Monster Energy/Nitto Tire/RTR Mustang and his teammate and wild man Chelsea Denofa in his BC Racing/Center Line Wheels/RTR Mustang. After a disappointing Round 1 and 2, Vaughn turned it around with back-to-back wins at rounds 3 and 4, third at Round 5 and second at Round 6 and came into Irwindale in the lead, while Chelsea Denofa came into the last two rounds in 4th.
Round 7 started out rough for Papadakis Racing, with Ryan Tuerck taking an easy win in Top 32 but the coolant temps on the engine shooting through the roof and refusing to come down. The Corolla's 2AR is notoriously short-fused, but the Papadakis boys know how to change them in a hurry and put a new engine in before Top 16. In an interview, Tuerck was feeling confident in his car and team and was just trying to take things one match-up at a time. And then, in a Top 16 match-up that should have been easy for him, he made a driving error, clipped the wall and ripped the RF coilover, spindle and wheel/tire assembly completely off the car and had to bow out. While he held onto second, Vaughn Gittin Jr. placed fourth and opened up his lead to 40 points, while Chelsea Denofa came in 3rd at Round 7 and was now breathing down Tuerck's neck. Frederic Aasbo would actually win the event but doing celebratory burnouts the experimental B58 engine blew up.
Coming into Sunday, Tuerck's Corolla's front end was back together and ready to go. But things were looking bad for Aasbo. After spending Saturday building another B58 for the Supra at the Papadakis shop, they installed it and did a few test donuts only for the new engine to develop rod knock. A spare engine and the two blown-up engines were mixed and matched together to make one good engine but Aasbo got zero practice time for Sunday. Still, both were mathematically in the running to win the championship, depending how Vaughn Gittin did.
Tuerck had a bye-run in Top 32, which got him one step closer to the championship, and did it without incident. Aasbo had an easy match-up against Ryan Litteral, but made an uncharacteristic mistake, smacked the right rear of his Supra into the guardrail on the big bank and tore the suspension up. They fixed it within the 5 minute allotment, but their lead run was judged "Incomplete" and so Ryan Litteral just had to make an A-B run on his lead run without any major mistakes to knock out Aasbo. And he did. Now it was just Tuerck in the fight. Vaughn Gittin Jr. also moved into Top 16, which was bad news for Papadakis, as if Vaughn made Top 4 he cemented the championship and was mathematically unbeatable.
Tuerck was match up against a rookie in Top 16, which should have been a relatively easy win. Instead, while in the chase position Tuerck plowed into the back of Jonathan Nerren and was deemed at fault (he was closing in too fast and got tunnel vision and hit Nerren who was decelerating) and handed him the loss. At this point, no one else could beat Vaughn Gittin and he became champion (his first and last was 2010). Papadakis Racing had had two cars and drivers, both very good, who could have taken the championship and had choked it away. And then, to add insult to injury, Vaughn Gittin Jr.'s teammate Chelsea Denofa got 2nd in Round 8 and moved him up to second in the championship and bumped Ryan Tuerck down to third place for the season.
I don't know too much about Steph Papadakis or Ryan Tuerck, but if either of them went home and drank heavily, I couldn't blame them. Congrats to Vaughn And Chelsea though for a one-two finish and clinching the manufacturer's cup for Ford as well as the tire cup for Nitto.