Where do I start, swmbo did not like me working under a car that was sitting on 20 year old jack stands from Big Lots.(After a jacking incident that involved a 4' long 4"X4" which snapped out and presented me with a broken nose) Opportunity!!! flashed through may small cortex, dreams of lifts and walking under the car and sugar plum fairies. After researching the available devices and my budget, given the height of my garage factored in I picked the QJ.
Looked really simple and clean. so about the middle of July I ordered one $1000.00 extra $50.00 for home delivery and given a ETA of 2 weeks. The 2 weeks came and went when I received a call from them advising me they were backordered and I would not get mine until the end of September (2 months). Well what was I to do they had my money and I wanted the jack so I waited and about the last day of September it came, oh bouy!!
I will have this thing jacked up in 24 hours...1. opened all boxes found no instructions of any kind and also found the end on the drive motor cover crushed into the fan breaking off 3 of the cast mounting points. I called them and sent them pictures I also told them I received no instructions of any kind "oh no they said we will get you another motor sent right out, mean while a fellow rooter on here advised me how to put it together. I got about halfway through that and realized I was missing some parts. So I called them back hoping I was in time to get the missing parts and instructions sent with the motor......and then came the dreaded word again the motors were on back order.......and they would send me one "soon" so I waited a week and sent them a email asking for a ETA, "we really have no idea" well that's not good because you have had my 1k for months now and I don't have E36 M3.
It was the next day that I received a very nice email from their sales staff asking me if I was still interested in purchasing a QJ because they just happened to have some they could sell and send right out. So I sent that email the customer service rep asking him to please send me one of those motors a few more days went by with no reply, so I took all of my emails and pictures and sent the whole story to every email address I could find at their company. Abracadabra I get a email saying my motor will arrive in 2 days and 3 days later there was the new motor....you guessed it same damage motor fan cover pushed into the fan, this one not so bad. So I decide I am just going to make it work, but again no instructions so I call tech support and the guy says I will send it to you in 2 mins so I wait a hour call back get another tech guy he says ok iam sending them right now...nothing. all the while I am trying to figure out where you are suppose to ad 50 lbs of air, so I call back to tech support you add the air at the valve stems at the of each cylinder, well mine has bolts in it not valve stems....oh I will send you some right out.....I email the customer service rep asking him to send me the manual and ask him about the air "oh your model does not use air!!! he emails me the manual and at the top of each page in bold type "do attempt to assemble or use this jack without first reading and understanding this manual" it says that about 20 times, but you don't send out the manuals???
I had read other threads were the poster advised using thread lock not plumbers tape or you will have ATF squirting out of every orifice. So I used thread lock and assembled the jack the best I could, first it would go up but not come down and blah blah blah.
Here are some tips. 1. purchase 6 quarts of ATF 2. pour the first 3 quarts of ATF fluid on the floor of your garage making sure it is spread evenly across the surface. 3. take another quart and pour it all over the jack and the tools you are using making sure to cover all exposed areas. 4. take another quart and pour it on the top of your head allowing it to run all the way down until at least one of your shoes is full. 5. save the last quart to replace the ATF every time you operate the quick connects the double spoon full of ATF that leaks out every time you do this will mix right in with the first 3 quarts you poured on the floor (see tip #2) 6. have on hand at all time a good towel so you can wipe off what squirts out onto your body and to dry your hands constantly. 7. at all time keep a towel or bucket under the motor and ATF tank.
now I will attach some end result pictures which is what everyone want to know anyway. the qj will raise a 2002 E46 M3 with stock suspension about 18" off the ground.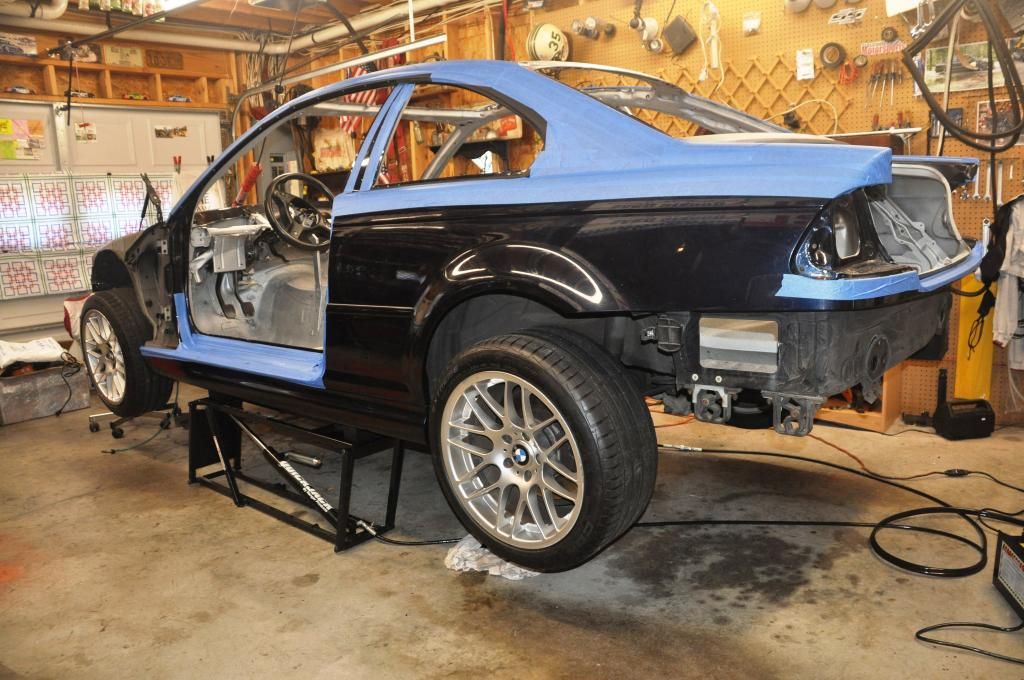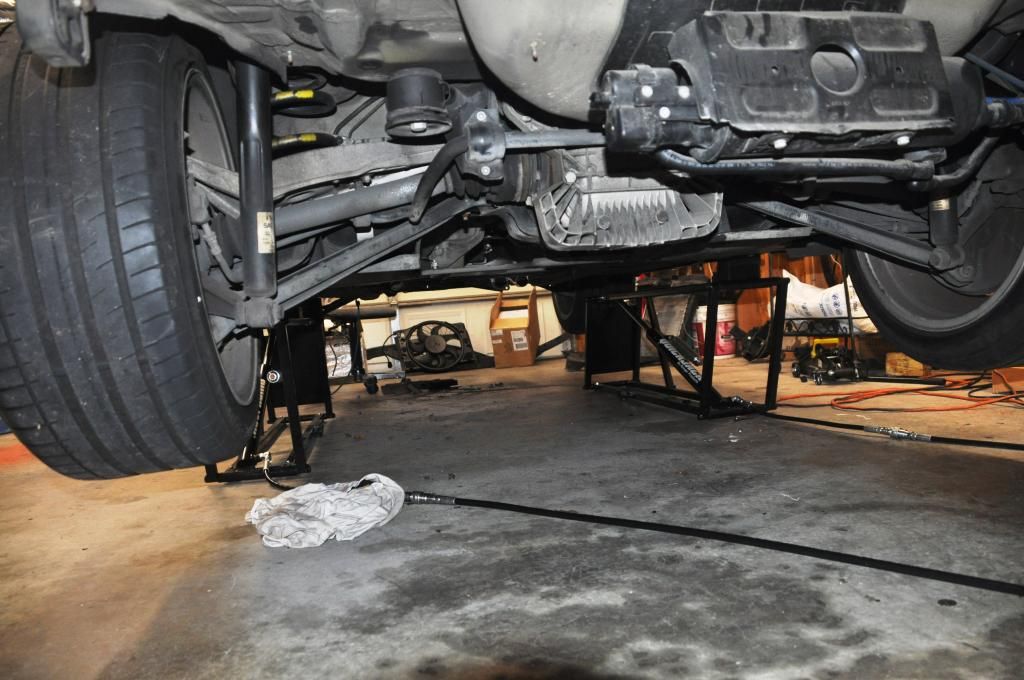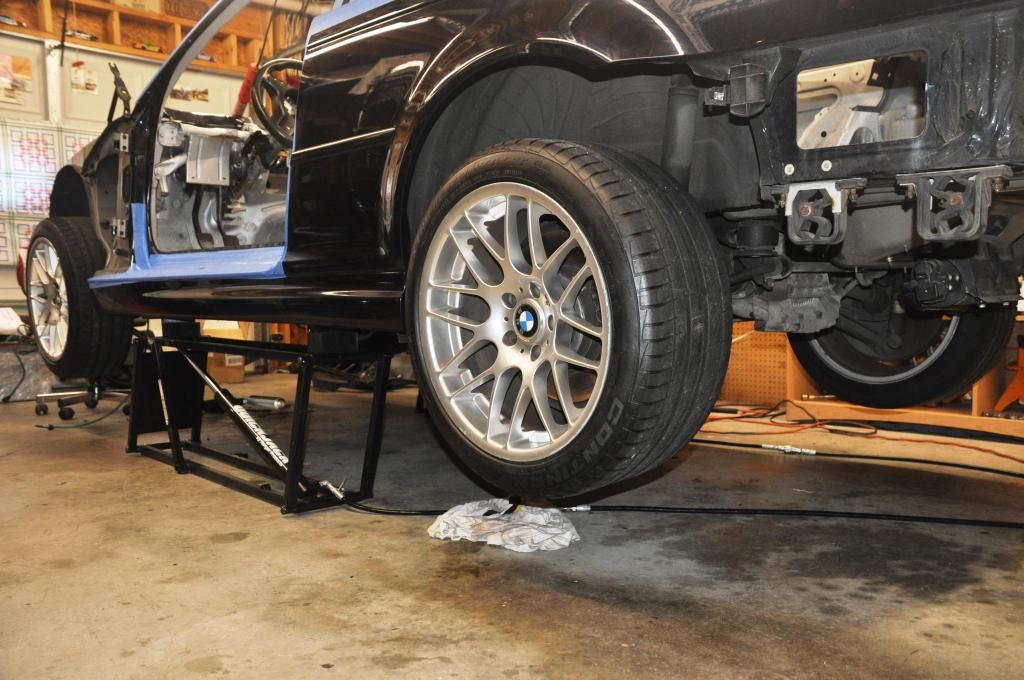 last but not least, I would not purchase a qj unless you have some kind of ATF fetish.