We take our readers behind the scenes, and once again we kicked off Monterey week with some auction tours. Alain Squindo, Vice President at RM Auctions, joined Classic Motorsports Auction Editor Andy Reid as well as Publisher Tim Suddard and Editorial Director David S. Wallens.
The RM tour visited the auction house's top lots, including the 1928 Mercedes-Benz 680S Torpedo Roadster by Carrosserie J. Saoutchik, last year's Pebble Beach Best in Show Winner. Later that week, this gem sold for $8.25 million.
Our group also got an up-close look at the 1967 Ferrari 275 GTB/4*S N.A.R.T. Spider by Scaglietti. Final hammer price was $27.5 million.
Are Japanese cars like the Toyota 2000GT future collectibles? That subject was also discussed during the tour. (Short answer: yes.)
We also spent time discussing race cars. Is an auction the best place to sell them? As we have personally learned, that can be a tricky situation. The Group 44 Jaguar XJS Trans-Am racer went for $154,000.
Next, we visited Russo and Steele where boss man Drew Alcazar said hello.
Our group also checked out this 1962 Shelby Cobra, the first one sold to the public. While originally equipped with Ford's 260-cubic-inch V8, a year later Shelby upgraded it to a 289.
Not everything consigned to be sold at Monterey had hyper-exotic roots. This 1960 Triumph TR3A showed nicely.
This E30-chassis BMW M3 also caught our eye. Will this be the next Shelby GT350?
On Thursday, we toured Bonhams--where we pretty much had the place to ourselves. Cost to attend these auctions tours? Free for Classic Motorsports subscribers.
Early Lamborghini Countachs are red-hot. We'd later learn that this 1975 model fetched $836,000.
More up-close contact. Our group got a full tour of this 1931 Bentley 4-1/2 Liter Supercharged Le Mans. Final price: $4.6 million.
To celebrate 50 years of the 911, Porsche had a big presence in Monterey. As this 1967 Porsche 911S shows, the model looks great in any color--even brown.
That evening, Publisher Tim Suddard along with Classic Motorsports columnist Peter Brock participated in a Hagerty panel discussion on classic car values.
Thursday night, the Classic Motorsports staff along with On the Road Again classics hosted a welcome party at Baja Cantina.
The cars present ranged from traditional hot rods...
...to British racers.
We started Friday at the Concorso Italiano. If it was Italian, it was there.
Italian bikes, too.
And puppies.
This year's show had a nice selection of Ferrari 308 GT4s. One day these cars will catch on.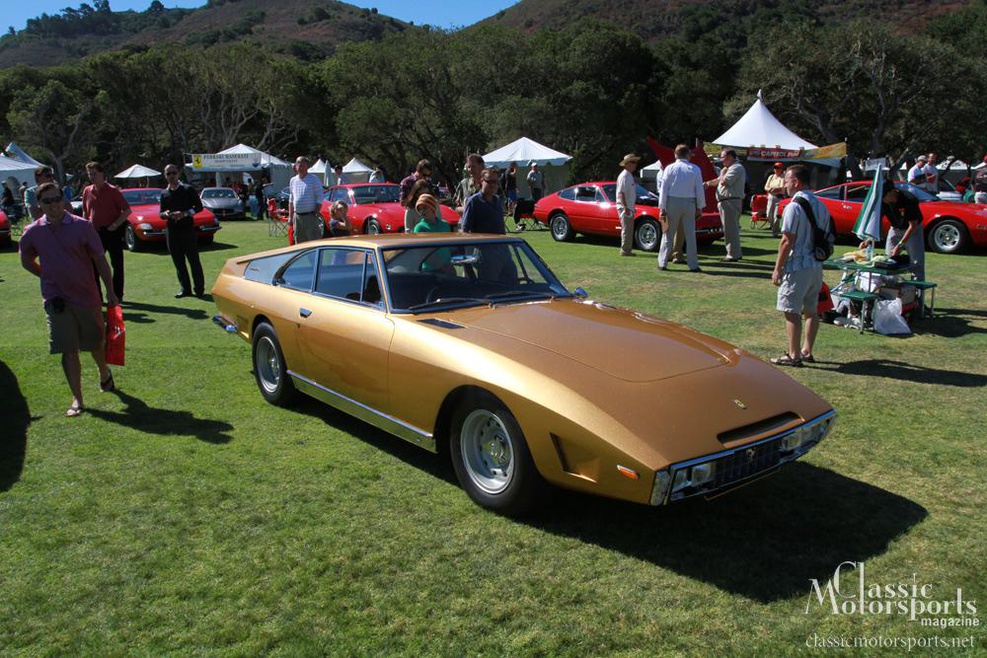 This was cool. As legend tells it, Norbert Navarro sketched out the design for this 1965 Ferrari 330 GT 2+2 on a napkin. Piero Drogo turned it into reality. And then it was painted gold.
The Gold Car is equally discoy from behind.
Fiats? Yes, lots and lots of Fiats.
When it comes to Lamborghinis, what's your preference, old or new?
Concorso attracts the unusual, too, like this 1958 Fiat 1200 TV.
One day—probably soon—we'll see these Alfa 8C Competizione coupes fetch some handsome prices at Monterey.
Music, too.
Fiat USA had a nice display, too, and use the show to unveil their 500C GC Edition. The turbo coupe gets a look that is "athletic, yet style-conscious."
Don't forget, Lamborghini didn't start with supercars—it all began with tractors.
A neat side benefit of Monterey: lots of neat classics just driving out and about.
Next up, we hit the Legends of the Autobahn, a show co-costed by the BMW CCA, Mercedes-Benz Club of America, Porsche Club of America, and Audi Club North America.
This one we have seen before, as this M6 visited us during the Tire Rack One Lap of America.
Alpinas. Lots and lots of Alpinas.
Three things we really liked about Autobahn: cool cars, parklike setting and free admission.
The name of this one is Por-she. Artist Phyllis Yes set out to give the iconic 911 a feminine touch by covering the exterior with lace. The lace was applied by hand over the course of 1500 hours.
This 1974 BMW 3.0 CS is a work in progress.
If you grew up watching Miami Vice, then AMG Benzes have a special place in your heart.
This show had full national support, too. Porsche Cars North America Paul Gregor serves as the manufacturer's liaison with PCA. He was a busy guy that day.
Saturday morning was set aside for the Concours d'LeMons--a celebration off the odd and different. This Maserati Quattroporte could be yours for just $6500.
Horsepower. Get it?
If you're going to celebrate the offbeat, you gotta have an Edsel.
No, not an illusion. Six Cosworth Vegas were present.
Dr. Steven Mandell showed off a 1974 Charly Snuggy. The fiberglass-bodied microcar is powered by 49cc--same as many scooters.
Kevin Wood has some style. So does his 1978 Mercury Grand Marquis.
The event brought out Doug Browner of NBC Sports Network.
In our next life, we want to come back as Coker Tires's Corky Coker. Why? Because he's easily the coolest guy we know. Seriously.
Japanese classics were celebrated, too. Bruce Dewing has owned the 1972 Honda 600 for 35 years.
Craig Parada brought the Amphicar—and the matching getup.
The rest of the weekend was spent at Mazda Raceway Laguna Seca for the Monterey Motorsports Reunion. One of the first cars we encountered was Warren Aplin's Corvette Challenge car. Look for a feature on this one in a future issue of Grassroots Motorsports.
With the changing of the guard at Monterey, eligibility has been opened to later race cars, like this Audi S4 GTO.
Pre-war cars are still part of the mix, though.
The stuff seen roaming the paddock is just unreal.
Wolfgang Denzel built this dual-purpose machine. Sadly it didn't fit in the overhead compartment.
Spied in the paddock: a Singer 911. The attention to detail is just beautiful.
This 1974 Porsche 911 had a rough life. Sometime during its life, it received some poorly tacked-on fender flares. So Ned Bacon turned it into a desert racer.
The access offered during the Monterey weekend is pretty darn amazing.

Mazda brought out so many cool race cars from their history that we needed to use the panoramic feature to capture them all.
Porsche brought out some amazing cars, too. Patrick Demsey was one of their drivers.
Saturday wrapped up with a big collection of Corvettes. While spectators were allowed to mingle with the cars, Bob Bondurant talked about the good old days.
Need something to brighten up the home? It was for sale at the track.
Let's buy some cars! Russo and Steele went into high gear Saturday evening.
Vintage race-ready Shelby, anyone?
Few people move like Drew Alcazar. Their auctions are more than a sale--it's an experience.
Russo and Steele use an auction in the round format, allowing perspective buyers a front-row seat.
RM was on fire in Monterey. While the $27.5 million-dollar Ferrari made the national news, it wasn't the only big sale. This perfect 1969 Alfa Romeo 1750 Spider Veloce sold for $121,000.
Sadly this one didn't go home with a new owner. Bidding for this 1973 Porsche 911 Carrera RS 2.7 Touring topped $400,000, but it's not listed as being sold.
We're going to call this one a good deal: This 1966 Shelby GT350H race car went for $104,500. We don't think you could duplicate it for that kind of money.
1954 Kaiser-Darrin Roadster, sold for $137,500.
One of the weekend's big sales: $9,075,000 for this 1953 Ferrari 375 MM Spider by Pinin Farina.
This one seemed to stump our Facebookers: What car is this?