Our Elva was mostly complete–but not totally complete. Before we really could really start our restoration, we needed to find some of the original parts that had gone missing.
In addition to needing the correct engine, we were also missing the exhaust header and tail pipe, the intake manifold and Weber carburetors, and the adaptor plate and bellhousing that fit between the engine and transmission.
More bad news: We thought–or, rather, hoped–that our VW gearbox would contain the original Hewland MK III five-speed gearset. But when we cracked it open, we found nothing but VW innards.
To find the proper carburetors, we called our good friend Mike Pierce at Pierce Manifolds. He told us that that this car should have run a pair of Weber DCOE 40 carbs with either casting number 2 or 18 on the body.
He then told us that sadly he didn't have any cores for us. Back in the day, he explained, as people needed new Webers, they simply tossed the originals and installed new ones.
So we used our outside voice and placed a blurb in the magazine stating that we needed a pair of these carburetors. We were overwhelmed with the response. We got everything from "here, let me send you some and happy to help" to "since you're a fancy magazine publisher, how would you like to pay about five times the going rate?"
We settled on a nice pair of carbs–ones that didn't need much work–that were offered for the very reasonable sum of $500. As a backup, a few friends donated some in less than stellar shape.
Mike and his team at Pierce Manifolds made quick work out of the carbs, cleaning, calibrating and preparing them. For less than a grand, we solved that issue.
J.R. Mitchell at GMT Racing suggested that we call Michael's Vintage Racing regarding the other missing parts. Michael's Vintage Racing, we were told, races Elvas.
They had a lot of what we needed, including a good Coventry Climax FWA block and head–the larger FWB head, in fact–plus the Hewland MKIII gearbox, an intake manifold and some of the other ancillaries needed to build a correct engine for our Elva.
Sadly, Coventry Climax stuff is not inexpensive. While not at Ferrari or Porsche price levels, we had to shell out about $6000 to get most of what we needed to build an engine.
But we still needed more. Chris from Sevens & Elans, Ltd., a friend from our Lotus Elan project, also stepped in. He had the necessary oil pan–in our Elva, the engine is mounted at an angle–as well as a good forged crank. These pieces represented another $1000 spent, but we were getting close. Another reader donated some wheels, and we found some inexpensive Alfin brake drums.
Now, finally, we could start the restoration work.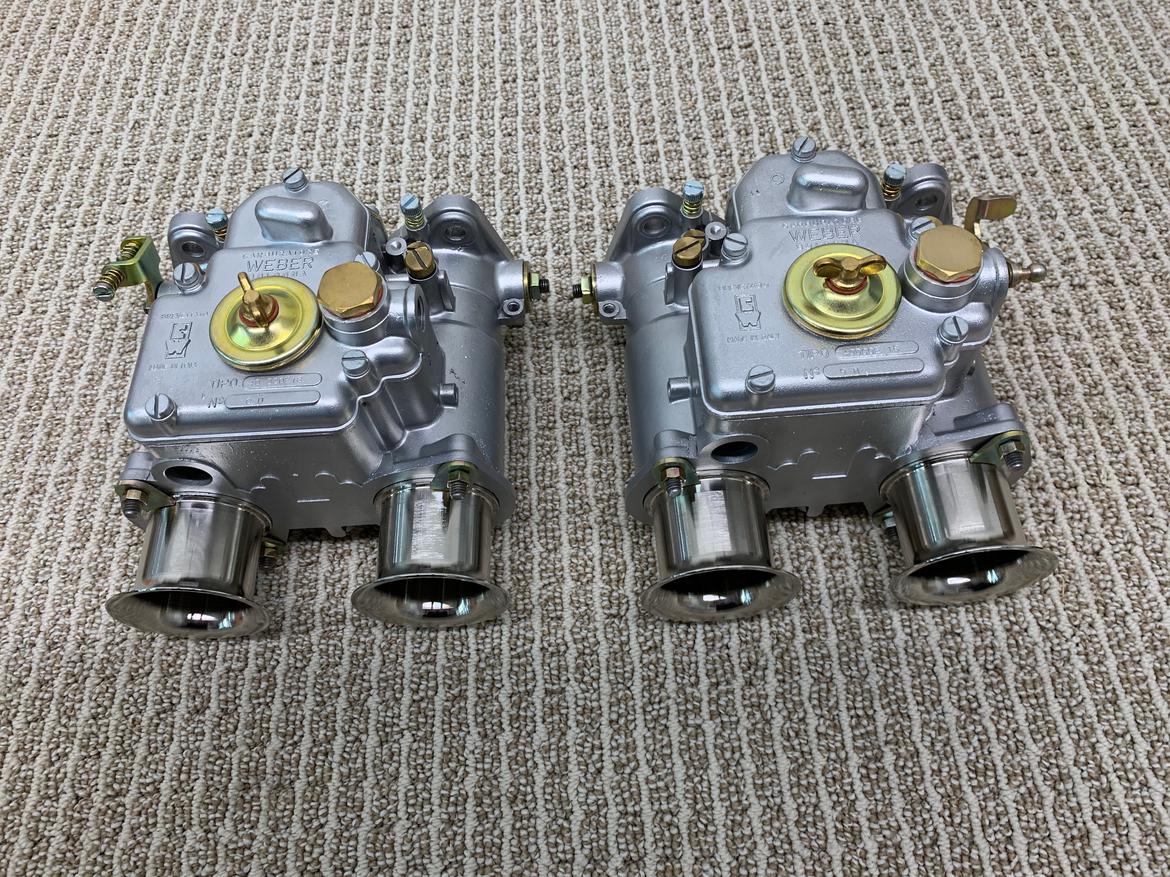 There aren't many automotive things much sexier than a newly rebuilt pair of Weber sidedraft carbs. Pierce Manifolds can make any Webers look and run like new.

This is what the correct Weber carbs and intake manifolds will look like. We found the intake manifolds at Michael's Vintage Racing, and readers sent us the correct carbs.

While we found what we think is the correct adaptor plate (above), we still need to get the correct bell housing. Hewland Classic in England told us they can make one–for a price.

We were able to find an entire Hewland MK III transaxle in pieces at Michael's Vintage Racing. Obviously it will have to be reassembled.
Comments
View comments on the CMS forums
You'll need to log in to post. Log in