So uh... track days are insanely fun.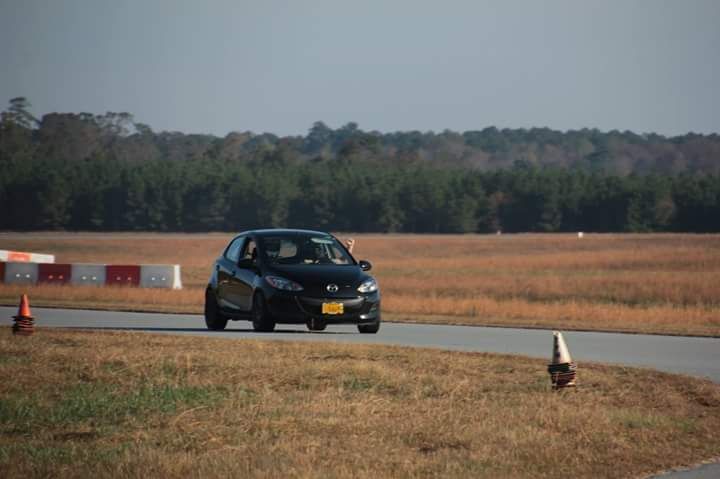 (Photo credit goes to Michael Shriver of Kamakiri Photo)
We got I think 160min of track time for $175. Can't beat that. I only got roughly 140 because of a couple "offs" so I had to clean a bunch of grass out from under my car before going back out (doh)
It was the Tidewater Sports Car Club's first HPDE/lapping event ever, and everything ran really smoothly, no major problems, wrecks, etc. People were on track at all times.
It was a MASSIVE learning experience. You cannot drive like it's an autocross at 60mph+.... I went off twice. Because I drove like it was an autocross at first (boom06)
Here's a quick clip of my second off... the first one wasn't on video but it was pretty interesting. I was nervous about going off the whole time up until that happened(about 10min into being on track... haha)... once it happened it wasn't so bad and that really helped me shake the nerves after it happened.
https://www.youtube.com/embed/_XYyYfoxlE0
Here's a clip of me chasing down a 96(?) Cobra in novice group early in the day. The guy who drove it was super nice and tickled that I was running quicker than his car... The thing is the amazing color change purple/green color. We came upon a white flag due to the slow moving Mini on the side limping back to grid, he left me on the straight, and I reeled him back in around the "peanut."
https://www.youtube.com/embed/V7vH6k2ECTE
Here's a video of me driving a couple laps later in the day after I got bumped to yellow group. I chased down a 5.0 Mustang, then got passed by a new GT350R like I was sitting still.
https://www.youtube.com/embed/IvepUTVwiVE
This was by far my favorite part of the day here... a friend of mine Jake was giggling like a little girl in the passenger seat after getting the point by from the silver Mustang, you could hear him laughing from the side of the track:
https://www.youtube.com/embed/efF5PubOvkY
I got my money's worth from these tires... there are roughly 135 autocross runs, 9500 street miles, then I had them flipped on the rims and ran 167 miles on the track at NCCAR.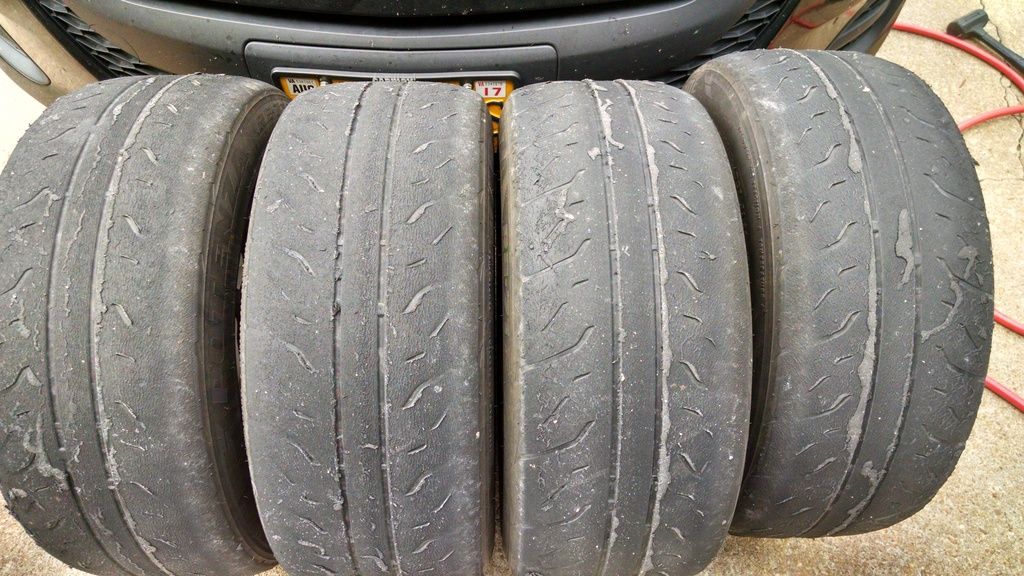 It was just an insanely fun day. Needless to say I don't think I'll be worrying about autocross next season. I was thinking about keeping this thing as a daily driver, and buying a Miata for this stuff, and while that is probably the smart/sensible thing to do... this car was just a hoot to drive because NOBODY expects it to do so well. And if I get passed... who cares? It's a Mazda2!

I'll probably still autocross it occasionally to keep my Mazda Motorsports membership valid, but I'm going to aim to do 2-3 HPDEs next year I think.
Also for fun reference, I went through 1.5 tanks of gas in 167mi on track... I hand calculated it at 12.9mpg.