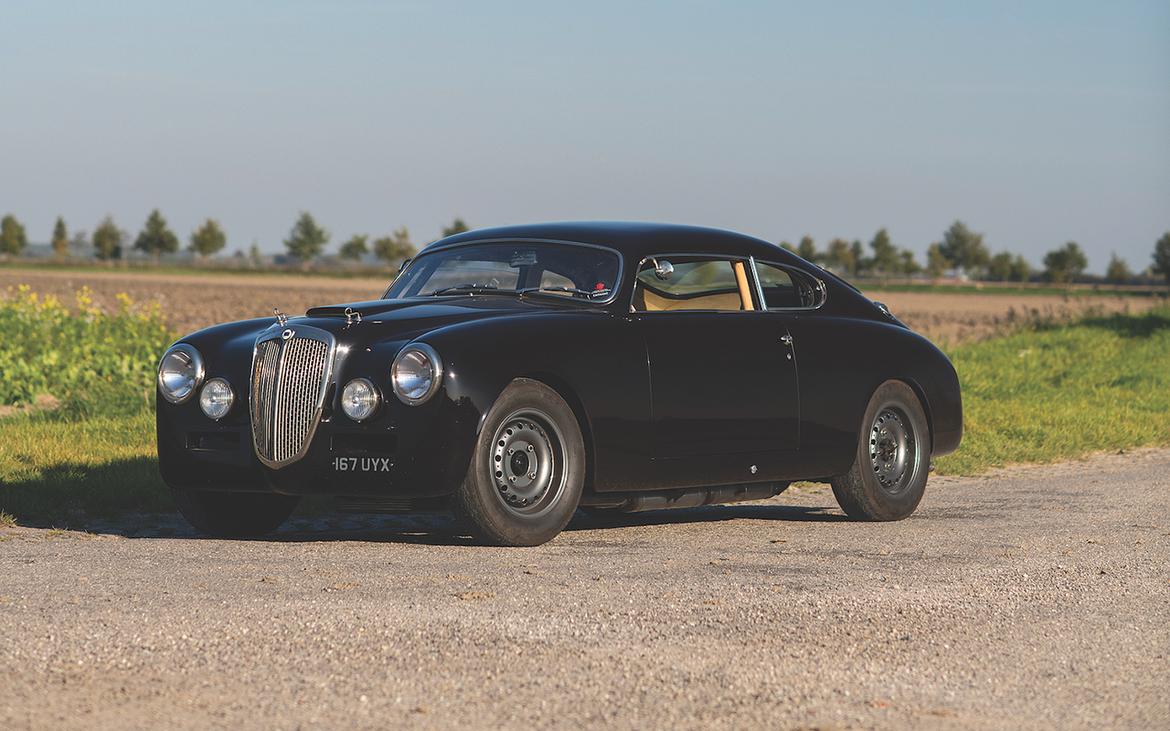 Almost everything inside the Lancia Aurelia B20 GT Outlaw has been changed as well. A roll cage has been fitted, but black paint has made it discreet.
The first thing you'll notice, likely, is the small wooden steering wheel. "We tried out a big wooden steering wheel," builder Wayne Kelham explains, "but it wasn't the easiest to handle."
You sit way low in newly made tiny bucket seats–copies of what you'll find in the Porsche 550 Speedster–and lock the four-point harness around you. The small steering wheel makes you feel the car much better.
The modern pedal box looks out of place in this car, but you'll just have to interpret it as a visible sign of the improved braking system. The Outlaw gets discs all around, making for confident late-braking antics. You can even change the brake balance if you like.
The four-speed gearbox's lever seems fastened to your right leg, offering a very intimate contact with the car. The gauges are out of the original Aurelia, with extras for water temperature and fuel hidden away in the glove box.
At low revs, that 2.8-liter V6 hums like a happy Singer sewing machine. As the revs rise, it starts growling louder–perhaps less musical than some other Italian V6 engines, but still a score full of mechanical notes. "It is never boring, not for one minute," Kelham says, "and it will run around at 115 mph all day long."
Do not expect the Outlaw Aurelia to be the most comfortable cruiser, however. There is a lot of Vegas excitement involved in the way it goes through its day-to-day business. Want a comfortable gran turismo cruiser? Go talk to Maserati.
This Outlaw requires some effort. This is the car you'll take out of the garage because you want to go drive, not because you have to go somewhere.
The de Dion rear axle is retained. "We did even out the toe setting a bit, so the tires have a better contact with the asphalt," Kelham explains. "There is no limited-slip rear differential, but she can be very tail-happy." The damping can be adjusted to taste.
As we go through the gears, hearing that glorious V6 sing from its songbook, we need to ask Kelham one final question: Could we still get one? Maybe. Of the eight that are planned, almost all have been sold.
Thornley Kelham Ltd. doesn't list a precise figure, but if you take into account the working hours, the donor car, and the material needed to create this little wonder, you land way north of $600,000. That puts us out then. Shame.