This story ran in an old issue of Classic Motorsports. Want to make sure you're reading all the latest stories? Subscribe now.

Story by Tim Suddard • Photography by the author unless otherwise credited

At their core, concours events are acts of rebellion. Think about it: row after row of decades-old machinery gleaming in defiance of the passage of time, as vibrant and manicured as the showfield grass underneath their treated tires. Where other cars succumb to entropy and the elements, these cars fight back. The goal is to make each machine as clean, correct and complete as it can be.
We've taken on this challenge with our Mini Cooper S project. After a full restoration in the Classic Motorsports shop, the car did well on its first concours outing. It received Gold Status at the Winter Park Concours, meaning it earned 98 points or more out of a possible 100.
That wasn't our only concours experience. We've taken home awards from Amelia Island, and we've been on the other side of the process as judges at Pinehurst, Hilton Head and, yes, even Amelia Island.
We have built some losers as well, we admit, but we're always learning from our mistakes. Here are 13 easy, inexpensive tips for concours success.
1. FIND AND FIX ISSUES
Walk around the car and look at it carefully. Any blemished trim, visible nicks or obvious flaws must be corrected. If you can see the problem, so can the judges. Our initial inspection revealed a dinged, scratched chrome strip. Replacing it cost less than $100 and took only a few minutes.
2. GATHER YOUR SUPPLIES
Start with a good, multiple-speed orbital buffer. Our lightweight unit sourced from Griots Garage has served us well. We use modern foam pads: orange (firm) for serious buffing work, black (medium) for general polishing work, and red (soft) for delicate jobs like applying wax and fine polishing finishes.
You'll also need plastic polish, quick detailer, glass cleaner and a good general-purpose cleaner wax. For years we have used Pro Honda Spray Cleaner & Polish; it does the job and costs less than $5 per can. Finally, gather up some soft microfiber cloths and bamboo sticks.
3. KNOW THE SCORE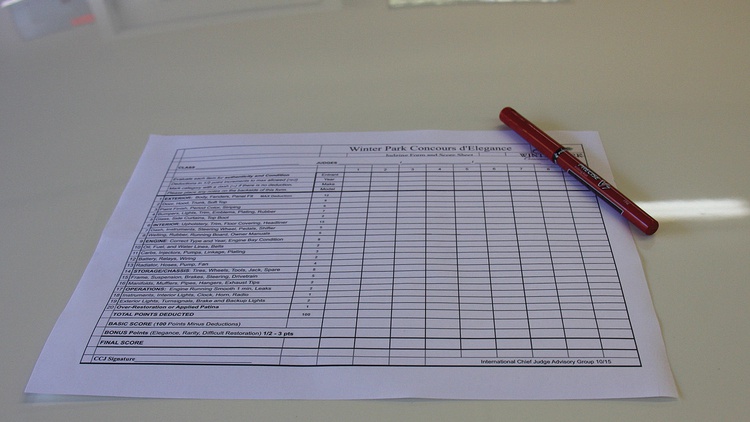 Before the event, we got a judges' sheet and scored our Mini ourselves Why? To identify any issues before the big show. Concours judging can sometimes involve unpredictable politics, but it's nice to know what the judges will actually be looking for ahead of time.
4. GET YOUR PAINT IN ORDER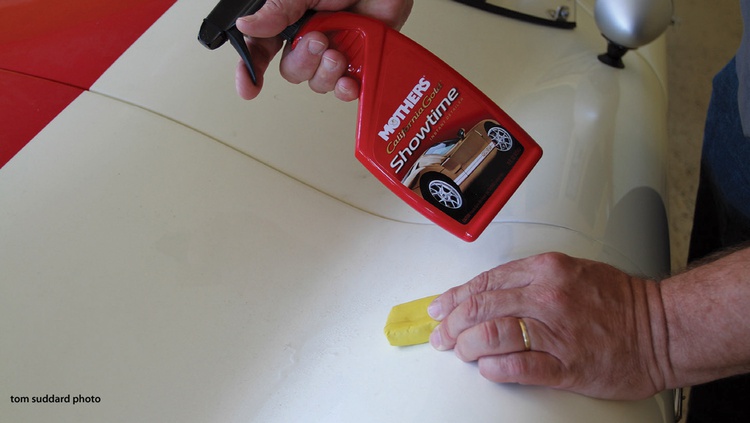 Assuming you're preparing a recently painted car and not a barn find, start the process with a clay bar. Rubbing one across the paint surface should remove overspray, sap, heavy dirt and other contaminants. Use a quick detailer to lubricate the bar.
5. POLISHING IS THE KEY
Contrary to popular belief, polishing–not waxing–is the single most important step in properly detailing a car. The polishing products you use and how you apply them largely dictate your car's level of shine. We've had good luck with polishes from Meguiar's, Griot's and P21S.
6. WAX OFFERS PROTECTION
Automotive wax's primary purpose is to make your polish job last longer. Properly applied wax also makes subsequent cleanup easier, as the wax gives provides a layer of protection that keeps dust and dirt from sticking. Swissvax is one example of a company that makes high-quality, carnauba-based concours waxes that apply easily and smell lovely.
7. YOUR EYE SEES CONTRAST
Humans subconsciously pick up on sharp delineations and prefer contrast. Blacks should be saturated black. Chrome should shine. There should be few, if any, gray areas on your car.
When mounting our Mini's tires, a wheel became chipped. We painted that chip. To create definition, we treated our tires with a dedicated tire prep product.
8. DETAILS MAKE THE DIFFERENCE
When every car is nearly perfect, concours judges are looking for subtle differences. To set our Mini apart, we painted the bolts that got chipped when tightened. Other things that judges like: factory markings in the engine compartment, correct hose clamps, and batteries that appear period-correct.
9. BAMBOO STICKS ARE THE DETAILER'S FRIEND
Inexpensive, easy to use, and readily available at detailing supply houses and even your local grocery store, bamboo sticks are amazing tools. They can excavate dirt and crud from tight crevices without scratching glass, nicking paint or damaging rubber gaskets. We used one to remove some glue we found underneath our Mini's windshield gasket.
10. EVERYTHING NEEDS TO WORK
We've seen concours entries dinged for flaws as seemingly minor as an inoperable license plate light. That's the way the game is often played. Before leaving for the show, make sure that every item–both electrical and mechanical–works. Do your side curtains work as intended, for example?
11. BRING EVERYTHING WITH YOU
People have lost concours events because they left original components at home-like those side curtains, the spare tire or the factory tool kit. In a close contest, which most usually are, these details matter.
12. GET IT DONE BEFORE THE SHOW
All detailing should be done before the show. If the weather cooperates, your work on the morning of the event should consist solely of wiping down the car with some quick detailer. Other than that, your job is to socialize, check out other cars, and make sure you're ready for judging. Oh, and make sure to meet the judges-they're usually dressed nicely–at your car. Trust us, as longtime concours judges, we like to meet the owners, hear their stories, and ask them questions.
13. THE STORY MATTERS
When rows of cars have all been detailed to the nth degree, it's usually the backstory that serves as a tiebreaker. Judges typically award additional points to cars restored by their owners. Likewise, cars with race cred, famous owners or even interesting family histories often beat similar cars without as much personality. This year at Amelia Island, for example, a rather ordinary car outscored some rare machinery all because of its great backstory.
Comments
View comments on the CMS forums
You'll need to log in to post. Log in